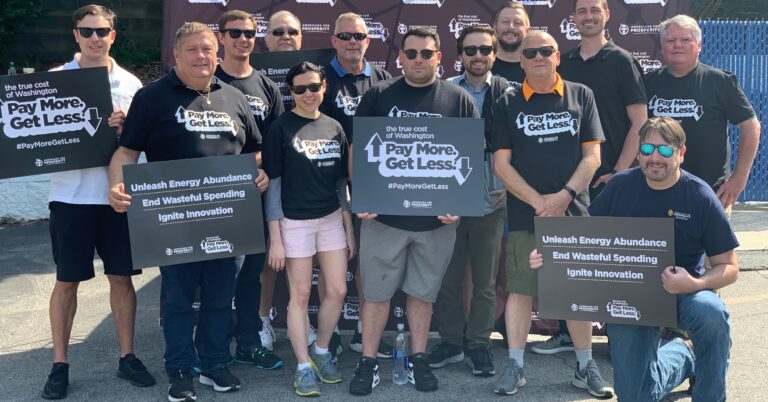 Get updates from every stop on AFP's True Cost of Washington tour
May 4, 2022 by AFP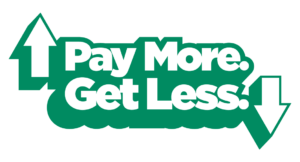 Updated May 16, 2022
May 13, Dayton, Ohio
Dispatch from AFP-Ohio State Director Donovan O'Neil
"Insane." "Sad." "Overwhelming." "Sky-Rocket High."
These are just a few of the ways folks described how they feel about the price of gasoline on our latest stop on the #TrueCost tour.
As we looked at $4.29 per gallon at the Brandt Pike Kroger in Dayton, attendees shared how these skyrocketing prices are affecting their lives.
Karen works in the K-12 education system. She travels from school to school providing intervention and support services to students. What was once around $40 per week is now costing her over $80 per week to get to her job and from student to student.
We also talked with Beverly, a nurse who provides home care. She shared how the fuel prices are having a direct impact on her and her coworkers. Even more frustrating is the cost of groceries on her patients, nearly all of whom are on fixed incomes.
Prior to rolling out to the next stop, we talked to a few folks who were loading up their cars after the weekly shopping trip. Folks have seen the price of chicken, pork, and beef double in just the past couple weeks.
Speaking with two folks in the milk aisle, where milk is $3.39 a gallon, they shared this small shopping trip that would have only cost them $20 a few months ago will now ring in at around $50 to $60 for some basic necessities.
"Ridiculous" is all they could say about the #TrueCost of Washington spending.
May 11, Kankakee, Illinois
Hello again, this is Kent  Strang with Americans for Prosperity. Yesterday President Biden visited a farm in Kankakee, Illinois to talk about rising food and gas prices. Rather than talking about lowering prices, we did it! 
At a local Shell Station in Kankakee, we dropped the price of a gallon of gas from $4.97 all the way down to $2.38, which was the price when President Biden was inaugurated. We did this to show how his administration's top-down energy regulations have affected the price of gas.
This event was wild!  There was consistently a line down the street four blocks long!
It's easy to see why as we continue to hear heartbreaking stories from families and small businesses struggling to afford gasoline & groceries.
A small business owner with a property management/contractor company told us they are paying over $650 per month on gas alone. This is impacting their bottom line as they are choosing not to pass these extra costs along to their customers.
This is the True Cost of Washington! 
We can show Americans a better way as we continue our tour to unleash energy abundance, cut wasteful spending, and unleash innovation to solve inflation and skyrocketing prices.
May 6, 2022: Fairfield, Ohio
Dispatch from AFP-Ohio State Director Donovan O'Neil:
President Joe Biden paid Southwest Ohio a visit late last week. Our team was there to welcome him with our True Cost tour at Thorton's gas station on Route 4 in Butler County.
Since January 19, 2021, the average price of regular unleaded has gone up 71 percent on Ohioans.
As of this past week, diesel is up 102 percent since President Biden took office.
These increases are fueling not just pain at the pump, but at the grocery store, too. Ohioans are seeing it in their grocery bill as the cost of delivering milk, bread, and beef goes up.
To quote Chris R. who stopped by our event:
 "Y'all are right, we really are paying more and getting less."
Several impactful stories were shared with our team:
A single mother who was on her lunch break and filling up because it was payday Friday.
A salesman who puts serious miles on the road each week working customer to customer.
A landscaping business owner who sees the uncertainty on fuel prices as the biggest challenge for his business.
One story that stood out was captured by Channel 9, WCPO – Cindy Sullivan shared that "when you see gas go up 40 cents in one day, I have to decide whether to buy gas or buy groceries."
The message was clear: Southwest Ohio knows that when Washington, D.C. weighs in, everyday Ohioans are going to pay more and get less.
Our team is working to put more of these events together across Ohio. Keep an eye out for us in Youngstown, Steubenville, Columbus, and Dayton this summer.
May 3, 2022: Greensboro, North Carolina
Hey, this is Kent Strang with Americans for Prosperity. Yesterday AFP kicked off the first of many True Cost of Washington events in Greensboro, NC at the Pit Stop gas station.
This was such an incredible event; I doubt a few sentences can do it justice!
We dropped the price of a gallon of gas from $3.99 all the way down to $2.38, which was the price when President Biden was inaugurated.
We did this to highlight how this administration's top-down regulations have impacted prices at the pump.
We heard some gut-wrenching stories from customers who are struggling to get by due to higher prices at the gas station and at the grocery store:
A landscaper literally ran out of gas in the parking lot told us how terrible he felt about raising prices on his customers (especially his elderly clients).
An expecting mother shared that she had to work extra hours just to afford the costs of gas and essentials to get ready for her new baby.
Nearly everyone we talked with were so thankful for a little temporary relief at the pump at a price that was commonplace just over a year ago.
Americans are really struggling, and events like these are a stark reminder that poor decisions in Washington have real consequences.
As we take the True Cost of Washington tour across the country, we'll continue to connect Americans to what Washington can do to unleash energy abundance and lower costs.
Check back regularly for more updates on the True Cost of Washington tour!