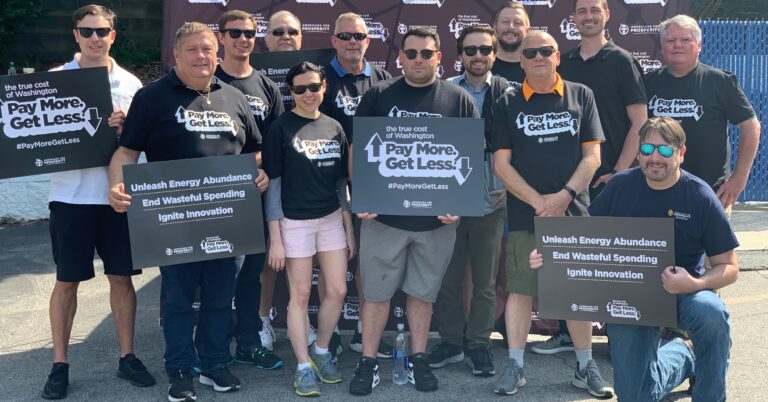 Get updates from every stop on AFP's True Cost of Washington tour
May 4, 2022 by AFP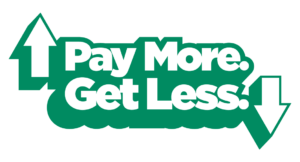 Updated July 1, 2022
June 30: Littleton, New Hampshire
From Chris Maidment, Americans for Prosperity-New Hampshire's grassroots engagement director. 
Hey! Chris with Americans for Prosperity. After a great day in Salem (see below) providing drivers with relief from gas, we brought the True Cost Tour to the North Country through the amazing Franconia Notch.
With only four fill stations at Simon's Market, the line quickly stretched more than a mile down the road! Check out this brisk walk down the line of traffic before we even opened the pumps!
Diane lined up more than an hour before the event after driving more than an hour from Conway, New Hampshire.
Her social security income has not been stretching as far with inflation and she was overjoyed to fill up at $2.38 a gallon and she has had to cut back on everything from groceries to seeing her family to stretch her dollars as far as possible.
We hope to bring the tour back to New Hampshire soon, to serve more families like Angelica's that were thrilled to be able to fill their tank for only $28.
June 30: Grand Rapids, Michigan
Kent here with Americans for Prosperity. Another successful gas rollback event in the books! We dropped the price of gas from $4.97 down to $2.38 in Grand Rapids, Michigan.
We were greeted by incredibly long lines that started at 6 a.m. for a 10 a.m. start!
Marsha was the first person in line. She is retired and lives on a fixed income. Higher prices on essential items, like gas and groceries, have forced her to change physicians and find other health care providers closer to home so she doesn't have the drive.
Rep. Peter Meijer (MI – 03) joined us at the event to discuss Washington policies that have led to the highest inflation in four decades, as well as immediate steps Congress can take to provide American families some much needed relief.
Congressman Meijer is right. Current prices are a result of Washington's excessive government spending that is driving inflation.
That's why AFP's True Cost of Washington Tour is driving the message that we need to cut wasteful spending, unleash innovation that will lead to energy abundance, and cut the red tape holding our economy back.
June 29, 2022: Salem, New Hampshire
From Christ Maidment, Americans for Prosperity-New Hampshire's grassroots engagement director. 
Chris here with Americans for Prosperity. We brought discount gas to Salem, New Hampshire, right on the Massachusetts border!
Station owner Arthur Klemm had the perfect spot to set up the gas drop to $2.38 with 16 fill stations. Even though the line stretched almost a mile through the beautiful new Tuscan Village, drivers desperate for relief from high gas prices never had to wait more than 30 minutes.
"It was like Christmas in June," Jeff told us. "Times are tough for everyone right now and to save at the pump keeps a little extra cash for emergencies."
In 90 minutes we were able to save more than 250 drivers on nearly 3,000 gallons of gasoline, giving them some extra cash in their wallets as we head into Independence Day weekend.
June 22: Kansas City, Missouri
Kent here with Americans for Prosperity. I hit up two gas rollback events in one day!
After the Nebraska stop, I headed to Kansas City, Missouri where we dropped the price of gas down to $2.12! Why $2.12? Missouri typically has gas prices that run below the national average, so that was the price of a gallon of gas in Missouri when President Biden took office.
It's amazing how this event came together. Babir operates three Fav Trip gas stations in the Kansas City area. He's been keeping up with our True Cost of Washington events on social media and saw our event in Fredericktown, Missouri and wanted to provide his community some relief at the pumps and spotlight the true causes of higher gas process.
He reached out to our AFP-Missouri team and said, "Come to Kansas City."  The event at one of his stations was such as success that AFP is working with him to do it again later this summer!
The event had over a mile long line of cars for gas as Americans continue to struggle with higher prices. AFP-Missouri's State Director, Jeremy Cady joined multiple media outlets in sharing our message of the True Cost of Washington.
Many more rollback events are coming to bring some temporary relief at the pump. Be sure to check out the True Cost of Washington schedule to see if we'll be in a city near you!
June 22: Bellevue, Nebraska
Kent here with Americans for Prosperity. We dropped the price of gas from $4.59 down to $2.38 in Bellevue, Nebraska, just outside of Omaha.
We were happy to be joined by Governor Pete Ricketts!  He talked with costumers and us about the need to explore for more American energy, to stop runaway spending in Congress, & to cut the red tape holding us back.
I met Nick, who arrived at 5:00 am to fill up his 28-gallon tank for less than $100 for the first time in months. He talked with us about how much he is struggling due to higher prices.
I also met Melissa, who has seven children. She had a chance to fill up nearly 21 gallons of gas for $50, which was a huge savings for her. She told us she has cut back on expenses, canceled vacation, and said that between gas and groceries these prices are "unsustainable." She freely told us that President Joe Biden's proposed "gas take holiday" is NOT a solution and will have no long-term impact.
She's right!
Instead of gimmicks, we need Washington tackle the real problems driving inflation and higher prices. Download the free eBook that shows the policy changes needed to make life more affordable.
June 17-18, 2022: Wilmington, North Carolina
Dave from AFP here.
What does a three-mile line look like in Wilmington, NC?
On Friday morning, we dropped gas prices back to $2.38 again at the Phoenix Mart on 17th Street downtown.  The response was both overwhelming and heartbreaking.
We spoke with so many grateful Wilmingtonians on Friday, who are really struggling to make ends meet right now.  People are angry at Washington politicians and clearly know who is responsible for our current inflation woes.
AFP-North Carolina helped us talk to the more than 200 drivers who got some relief at the pump, and the stories were sad but familiar. Too many people are having to make hard choices between food and fuel. Too many people are seeing their standard of living hurt dramatically by runaway inflation on almost all consumer goods.
And EVERYONE has simply had enough of the True Cost of Washington.
By the end of our event, we sadly had to turn away more people than we were able to help.  The line down 17th Street went for miles, and started down an intersecting street for another half mile at one point.
On Saturday, we continued our time in Wilmington as we brought the True Cost tour downtown to Ironclad Brewery. We spoke with nearly 100 people on the streets of Wilmington, and most of them joined us inside for a cold beverage and to talk about the pain of inflation.
At one point I noticed a bachelorette party walking down the street and asked them if they'd like to have some inflation relief in the form of a free Ironclad beverage. They not only came in, but they stayed and talked with us for some time.
Shelby, the bride-to-be, talked about the skyrocketing cost of everything she is having to purchase for her upcoming wedding, and told us how frustrating the recent cost explosions were for her as she approached her big day.
We also talk to several small business owners along the same street, who joined us and shared their horror stories of higher wholesale prices, dwindling supplies issues, staffing difficulties, and lower net profits – all the result of the True Cost of Washington's failed policies.
June 16, 2022: Whitsett, North Carolina
Hey! This is Dave with Americans for Prosperity.
On Thursday afternoon the True Cost tour stopped at Red Oak Brewing in Whitsett, North Carolina, to share the message that Washington's failed policies are causing the pain people are currently feeling due to inflation.
Members of our North Carolina team met with passersby over a free beverage and discussed some of the numerous solutions Americans for Prosperity has suggested to lower inflation and end the pain so many America are feeling right now.
As we trek through North Carolina, I am struck by the stories we continue to hear form people of all walks of life about the changes out-of-control inflation have caused them to make in their lives.
Inflation is a hidden tax, and it is affecting us all.
No matter where we've gone, the message has been loud and clear: North Carolinians are tired of having to #PayMoreGetLess.
June 15, 2022: Greensboro, North Carolina
Hey this is Kent with Americans for Prosperity. Our last gas rollback event in Greensboro, North Carolina was so good, we did it again!
In Greensboro we dropped the price of gas from $4.79 down to $2.38!  While we're dropping the price, we're hearing firsthand stories from folks impacted by Washington's price hike.
We met Wanda who got in the gas rollback line for discounted gas at 6:00 a.m. for an event that started at 11:30 a.m.! She beat the owner to the station!
We spoke to Johnny who is 80 years old and owns a landscaping company. He said the higher gas prices are really hurting his business but rather than pass along the cost to his customers, he has maintained his old prices which mean he's earning less.
We also had a suburban completely run out of gas while in the very long line. The gentleman in front of him (who he didn't know) towed him to the station to get discounted gas. Who says Americans can't come together to solve problems?
Events like these are for folks like Wanda, Johnny, and those in line, to connect them to the True Cost of Washington's failed policies and how to fix them!
June 13, 2022: Savannah, Georgia
Hey this is Kent with Americans for Prosperity again. What's in the mind of Georgians?  Gas prices!
In Savannah, we dropped the price of gas from $4.59 all the way down to $2.38 which was met with long lines, thankful customers, and Americans frustrated with Washington's top-down policies that have caused pain at the pump.
We met Alex who owns a small apparel company, and his business is struggling due to rampant inflation. His costs continue to go up to produce and ship his merchandise. He told us he's unfortunately had to increase his prices to keep up.
We also spoke with Casey who is expecting her third child. She told us that her family is making tradeoffs due to higher gas prices. She is focusing only on essential groceries; her family are limiting the amount they drive and cutting the family vacation to the beach due to higher prices.
Whether it's small business owners or families, the broken policies of Washington are making it difficult for Americans.
Some temporary relief at the pump is incredibly helpful to those we meet, but we need our elected leaders to make life more affordable by cutting the red tape holding our economy back, unleashing energy abundance, and stopping the wasteful spending driving inflation.
June 12, 2022: Lawrenceville, Georgia
Dave Johnson reporting from Georgia.
Our tour made its way to Lawrenceville, county seat of Gwinnett County in Metro Atlanta, for a stop at D 'Floridian Restaurant. We talked to nearly 100 Georgians about the true cost of inflation and solutions that could bring all of us relief.
This stop was interesting, as we heard from people of all ages and all walks of life.
One of the common threads at this stop was the mention of the rapidly increasing cost of rent.
We talked to one couple who were trying to figure out how to move further away from their jobs to a more affordable location, while still trying to factor in the incredible increases in transportation costs over the last year.
Another couple told us they've had to ask for adjustments in their work schedules so they could commute to work.
As we shared some of our proposed solutions to the inflation problem, everyone we spoke with agreed that increased domestic energy production was one critical answer to our current inflation woes.
We were also happy to share 50 $24 gift cards for the locally owned D 'Floridian Restaurant with those who stopped to speak with us. Two women told us they appreciated the gesture on our part and enjoyed their lunch and opportunity to catch up with each other.
One of them told us they had often scheduled weekend lunches in downtown Atlanta but were now staying "closer to home" due to the higher costs of transportation and food.
Almost everyone we spoke with agreed to check out TheTrueCostofWashington.com when they got home and to share the information about solutions to inflation with their family and friends.
June 10, 2022: Atlanta, Georgia
Hello, Dave Johnson here in Atlanta.
Our first event on the True Cost Tour occurred on the same day the government announced inflation had reached 8.6 percent. The effects of inflation are hitting everyone at this point, and the stories we heard tonight were both heartbreaking and incredibly frustrating.
Tonight, we were at the Park Bench bar in the Battery, the area just outside the Atlanta Braves' Truist Park.
We talked to a man who owns a couple of semi-trucks, who said his fuel bills have risen over the last year from around $1,500 a month to now close to $4,000. It's putting a real strain on his bottom line.
We heard from a contractor who said the cost of lumber is hitting him "coming and going." Many people are holding off on projects due to the strain of inflation on gas and food, while he makes less on the jobs he does get due to the cost of materials.
We heard from a dad of three whose kids just love baseball, lamenting that he won't be able to bring them to as many games this year as in the past because his family entertainment budget is being squeezed.
We heard from a single mom who is trying to figure out how to pay for food, transportation, AND childcare.
We heard from a young man who said he recently got his dream job but can't afford the gas to get him there every day.
We heard from a couple with small kids who bemoaned that their local pool can't find enough lifeguards to keep the pool open because the salaries the pool can pay don't make the job "worth it" for potential employees.
And we heard from a small businesswoman who does high-end interior renovations. She says the pace of inflation is causing clients to hold off on new projects, so she is having to cut back dramatically due to a lack of business.
Not a single person I spoke to tonight is blaming Putin, or Ukraine, or COVID-19 for our current inflation problems. They are putting the blame squarely on the shoulders of Washington politicians and their harmful policies, and they are all tired of having to pay more just to get less.
June 6-7: Arlington, Virginia and Washington, D.C.
Hey this is Kent with Americans for Prosperity. Big news! The True Cost truck is ready to hit the road.
In conjunction with the Americans for Prosperity Capitol Conference, a crowd gathered at our headquarters in Arlington, Virginia. Our CEO and President Emily Seidel "cut the red tape" and unveiled our True Cost Truck and van.
We also took the truck and van straight to Capitol Hill in Washington, D.C, as our federal elected officials need to hear our message most.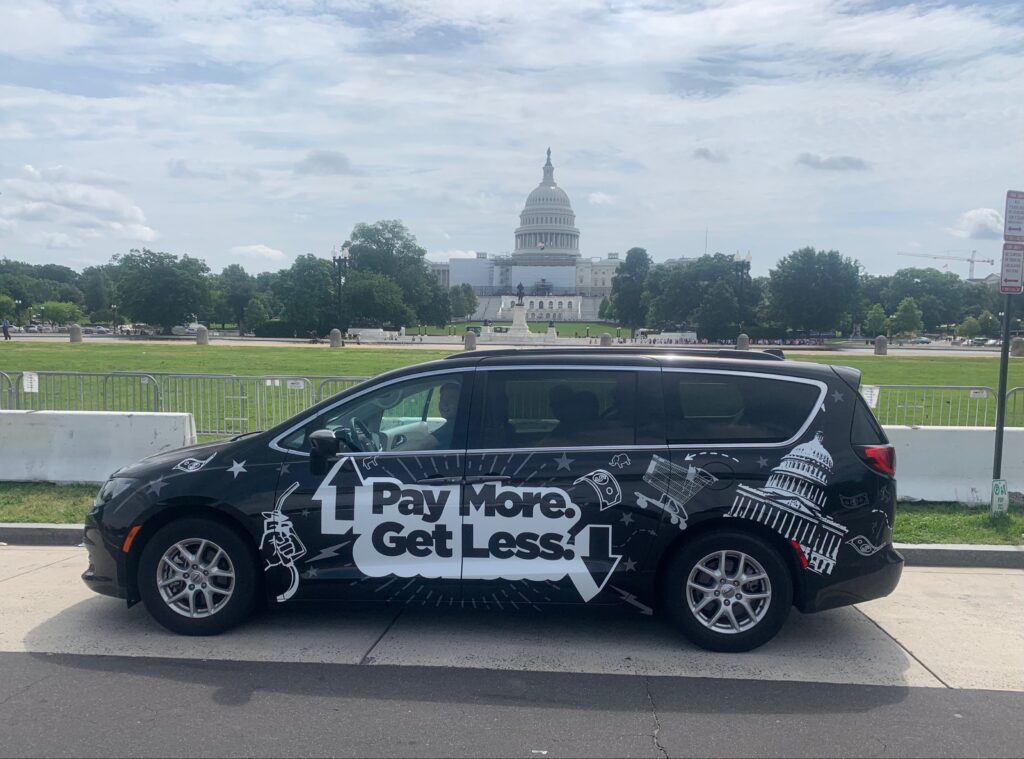 The truck and van will help take the True Cost of Washington Tour to a whole new level. Over the next 90 days we will crisscross the United States, bringing our message of how to solve inflation and higher gas prices to nearly 100 cities.
The truck may be coming to a city near you.  While cities and events are subject to change, you can find the True Cost of Washington tour schedule here.
May 31: Eau Claire, Wisconsin
Dispatch from Dave Johnson, senior director of Education & Training at AFP
On May 31 the True Cost tour made a stop in sunny — and exceptionally windy — Eau Claire, Wisconsin.
Despite gusts that literally snapped one of our True Cost campaign flags in half, we had the chance to interact with patrons of Roadside Ice Cream & Diner. Owner John Knoll and his staff welcomed us to the diner to speak with hungry customers, who we treated to a discount on the cost of their lunch.
AFP-Wisconsin's Allie Pickens took time to go from table to table inside the diner and listen to customers' stories about the challenges inflation was creating for Wisconsinites.
We had the chance to talk to:
A long-haul trucker who was concerned about keeping food on his family's table
A small businesswoman whose hopes to expand her business have been put on hold
Several Vietnam veterans who are struggling to make ends meet
A food delivery driver whose side hustle was no longer bringing in the extra cash it used to because of gas prices, and so many more.
By the end of the lunch rush, we had spoken to dozens of Americans who are simply fed up with Washington's inflationary policies, and who desperately want and need some relief from rising prices.
People in Wisconsin know inflation is a problem created by the politicians in Washington, and they are ready to demand change.
May 26: Fredericktown, Missouri
This is Dave Johnson with Americans for Prosperity. Missouri is the "Show Me State";  today we showed Missourians lower gas prices!

We fought through a rainstorm to bring a little bit of relief from inflation to customers that started lining up over an hour before the event.
Bryant, the station owner, is an AFP activist who specifically requested we bring our gas rollback event to his station. He was so excited to bring this to his community so folks could save some of their hard-earned dollars.
The customer reactions captured in this Fox 2 News story say it all: "People are fed up." "I want to cry."
However, Lisa's story shows the true cost of Washington's failures.
Lisa is a cancer patient who drives over 100 miles roundtrip to St. Louis. She's spending nearly $120 hours per week to get the care she needs. She said that between gas and the increased cost of groceries, "it's really bad."
The True Cost of Washington effort is to fight for people like Lisa by solving this economic crisis by cutting red tape that's holding back innovation and unleashing energy abundance so our communities can thrive rather than struggle.
May 26: Springfield, Illinois
Hey this is Kent again with Americans for Prosperity. Springfield was once President Abraham Lincoln's home; today it was home to incredibly low gas prices!
Residents waited in long lines that stretched down 6th street for discounted gas. The event nearly brought some of those we spoke to tears. Others said they believed the price was a mistake on the marquee.
We were joined by Congressman Rodney Davis, who talked the local media and customers about the need for Washington to approve the Keystone Pipeline and increase permits for energy exploration to alleviate the pain Illinois families are feeling at the pump.
Not only have the executive orders of President Biden increased prices, but the Illinois gas tax was nearly doubled in 2019 making prices in Illinois an incredible challenge for so many people in the Land of Lincoln.
Springfield's NBC affiliate, KPVI, covered the event — you can catch their coverage here.
May 25: Peoria, IL
Hey this is Kent with Americans for Prosperity.  Remember the saying, "Will it play in Peoria?"  I can tell you dropping the price of gas from $4.89 to $2.38 plays in Peoria!
The demand was unlike anything we've seen on the True Cost of Washington Tour so far. The lines stretched for block in nearly every direction and caused such a commotion we needed some assistance from the local authorities.
We were incredibly happy to welcome Congressman Darin LaHood as he spoke to customers and the local media about how we can bring down the cost of gas.
The incredible demand for some temporary relief at the pump is a strong reminder that we need Washington to cut red tape, ignite innovation, unleash energy abundance to solve this economic crisis.
May 24: Las Vegas, Nevada
Hey this is Kent Strang with Americans For Prosperity, and I need to break the time-honored tradition of "what happens in Vegas stays in Vegas" because our True Cost event in Las Vegas on Tuesday was amazing!
Just off the Vegas strip at the Jay's Market Shell Station we rolled back the price of gas from a staggering $5.84 all the way down to $2.38 (which was the national average of a gallon of gas when on January 20, 2021).
As the line for discounted gas stretched more than a block, there was a DJ playing tracks, a mobile billboard truck with our logos and over 20 Americans for Prosperity-Nevada volunteers holding signs and directing traffic.
We spoke to Molly, who said that the gas prices and grocery bills were putting such a dent into her budget that even with her full time job that requires about 60 hours per week, she was considering adding to that with a side hustle to make ends meet.
We spoke to many Las Vegans who work in the tourism industry and they told us that without as many visitors, they were not making as much money as they once did and the added cost of inflation was making it even harder.
Fighting inflation and higher prices at the pump is so important as we connect folks at each of these events to the policy solutions needed to tackle our biggest economic hurdles.
May 13, Dayton, Ohio
Dispatch from AFP-Ohio State Director Donovan O'Neil
"Insane." "Sad." "Overwhelming." "Sky-Rocket High."
These are just a few of the ways folks described how they feel about the price of gasoline on our latest stop on the #TrueCost tour.
As we looked at $4.29 per gallon at the Brandt Pike Kroger in Dayton, attendees shared how these skyrocketing prices are affecting their lives.
Karen works in the K-12 education system. She travels from school to school providing intervention and support services to students. What was once around $40 per week is now costing her over $80 per week to get to her job and from student to student.
We also talked with Beverly, a nurse who provides home care. She shared how the fuel prices are having a direct impact on her and her coworkers. Even more frustrating is the cost of groceries on her patients, nearly all of whom are on fixed incomes.
Prior to rolling out to the next stop, we talked to a few folks who were loading up their cars after the weekly shopping trip. Folks have seen the price of chicken, pork, and beef double in just the past couple weeks.
Speaking with two folks in the milk aisle, where milk is $3.39 a gallon, they shared this small shopping trip that would have only cost them $20 a few months ago will now ring in at around $50 to $60 for some basic necessities.
"Ridiculous" is all they could say about the #TrueCost of Washington spending.
May 11, Kankakee, Illinois
Hello again, this is Kent  Strang with Americans for Prosperity. Yesterday President Biden visited a farm in Kankakee, Illinois to talk about rising food and gas prices. Rather than talking about lowering prices, we did it! 
At a local Shell Station in Kankakee, we dropped the price of a gallon of gas from $4.97 all the way down to $2.38, which was the price when President Biden was inaugurated. We did this to show how his administration's top-down energy regulations have affected the price of gas.
This event was wild!  There was consistently a line down the street four blocks long!
It's easy to see why as we continue to hear heartbreaking stories from families and small businesses struggling to afford gasoline & groceries.
A small business owner with a property management/contractor company told us they are paying over $650 per month on gas alone. This is impacting their bottom line as they are choosing not to pass these extra costs along to their customers.
This is the True Cost of Washington! 
We can show Americans a better way as we continue our tour to unleash energy abundance, cut wasteful spending, and unleash innovation to solve inflation and skyrocketing prices.
May 6, 2022: Fairfield, Ohio
Dispatch from AFP-Ohio State Director Donovan O'Neil:
President Joe Biden paid Southwest Ohio a visit late last week. Our team was there to welcome him with our True Cost tour at Thorton's gas station on Route 4 in Butler County.
Since January 19, 2021, the average price of regular unleaded has gone up 71 percent on Ohioans.
As of this past week, diesel is up 102 percent since President Biden took office.
These increases are fueling not just pain at the pump, but at the grocery store, too. Ohioans are seeing it in their grocery bill as the cost of delivering milk, bread, and beef goes up.
To quote Chris R. who stopped by our event:
 "Y'all are right, we really are paying more and getting less."
Several impactful stories were shared with our team:
A single mother who was on her lunch break and filling up because it was payday Friday.
A salesman who puts serious miles on the road each week working customer to customer.
A landscaping business owner who sees the uncertainty on fuel prices as the biggest challenge for his business.
One story that stood out was captured by Channel 9, WCPO – Cindy Sullivan shared that "when you see gas go up 40 cents in one day, I have to decide whether to buy gas or buy groceries."
The message was clear: Southwest Ohio knows that when Washington, D.C. weighs in, everyday Ohioans are going to pay more and get less.
Our team is working to put more of these events together across Ohio. Keep an eye out for us in Youngstown, Steubenville, Columbus, and Dayton this summer.
May 3, 2022: Greensboro, North Carolina
Hey, this is Kent Strang with Americans for Prosperity. Yesterday AFP kicked off the first of many True Cost of Washington events in Greensboro, NC at the Pit Stop gas station.
This was such an incredible event; I doubt a few sentences can do it justice!
We dropped the price of a gallon of gas from $3.99 all the way down to $2.38, which was the price when President Biden was inaugurated.
We did this to highlight how this administration's top-down regulations have impacted prices at the pump.
We heard some gut-wrenching stories from customers who are struggling to get by due to higher prices at the gas station and at the grocery store:
A landscaper literally ran out of gas in the parking lot told us how terrible he felt about raising prices on his customers (especially his elderly clients).
An expecting mother shared that she had to work extra hours just to afford the costs of gas and essentials to get ready for her new baby.
Nearly everyone we talked with were so thankful for a little temporary relief at the pump at a price that was commonplace just over a year ago.
Americans are really struggling, and events like these are a stark reminder that poor decisions in Washington have real consequences.
As we take the True Cost of Washington tour across the country, we'll continue to connect Americans to what Washington can do to unleash energy abundance and lower costs.
Check back regularly for more updates on the True Cost of Washington tour!