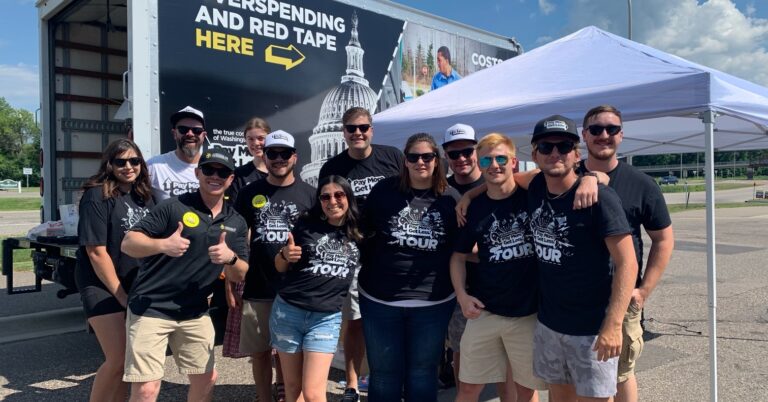 Everyday Americans share how historic inflation is affecting their families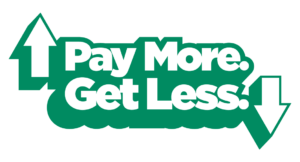 Inflation is about more than economics. It's about the lives of everyday Americans who are struggling with massive price increases at the pump and the grocery store while their incomes remain stagnant.
Americans for Prosperity launched the True Cost of Washington Tour to talk to everyday Americans about how inflation is personally affecting them.
Across the U.S., the True Cost Tour is paying for meals and dropping gas prices back to what they were before Biden took office: $2.38 per gallon.
While residents fueled up on food and gas, this is what they shared with AFP staff and volunteers about how inflation is affecting their lives:
Americans are making impossible choices everyday
On the True Cost Tour, we heard from everyday Americans about impossible choices they are having to make on a daily basis due to record-level inflation.
The impossible choices inflation is forcing families to make
"You shouldn't have to choose between filling your gas tank up and feeding your family."
– Resident in Greensboro, North Carolina
Inflation is making it harder for families to care for their kids
"[High prices are] just taking a lot of food out of my kid's mouth, you know, just to get to work. When you think you are going there to be able to take care of them."
– Resident in Greensboro, North Carolina
The sky-high prices are affecting more than just residents in North Carolina, though. AFP activists are hearing from people across the nation.
More difficult choices forced by increasing inflation
"I can't even go to church but once a month. I don't have the gas to go to church and go get food too."
— Helen Ely in Forest, Mississippi
Inflation, price increases are taking the joy out of just about everything as Americans focus on paying their bills
"I'm spending all my money on gas. All my money. I don't have money for anything else. I can't… I can't go out to eat. I can't go to the movies. I can't do anything with my life because I have to spend everything on gas."
— Resident in Las Vegas, Nevada
Stopping the inflation at its root
AFP activists on the tour are providing information to residents about the causes of inflation — but many of the people speaking with activists are already aware of the root cause of skyrocketing prices.
Inflation comes as no surprise given Washington's wasteful government spending
"What did we expect would happen when we flooded the market with money?"
— A participant in AFP's focus group on inflation
Washington needs to quit its wasteful spending if it wants to fix inflation
"I think, quite honestly, that our whole administration needs to look at what they're doing to our entire economy and our country. I think we need to quit printing money."
— A business owner from Eau Claire, Wisconsin
How increasing inflation is affecting small business owners
In addition to customers, several small business owners — including the ones who partnered with Americans for Prosperity for its True Cost of Washington events — told us how inflation and high gas prices are affecting their businesses and their customers.
The high cost of gas in 2022 is keeping customers away
"Gas is ridiculously expensive, so it has been impeding people from traveling to me."
– A business owner from Eau Claire, Wisconsin
No margin to decrease prices
"We don't have any type [of] control of these gas prices at all. Especially when these food companies actually email us what's going to be next… We actually go at a loss because we can't lower the prices on our own.

It hurts on top as well whenever the president is trying to say that…gas station owners are the ones that need to lower the gas prices down when we don't have any control over them."
– Faizan Sarwar, the Latrobe, Pennsylvania gas station owner who partnered with AFP for one of its several gas rollback events in Pennsylvania this summer.
The costs keep piling up for small businesses
"It's putting a dent in the business. You have to fill up your gas tank. You have to fill up your generators. You have to keep extra gas on hand. It's horrible.
– Shelley, barbecue owner in Toledo, Ohio
Rolling back gas prices provides a much-needed break from soaring inflation
Around the country, The True Cost Tour has been working to provide these everyday Americans with a slight reprieve from the struggles of skyrocketing inflation.
"When I drove by— and I'll start crying actually, silly as that sounds — because you just don't see [gas] prices like that anymore. It took me off-guard. I circled back around and got in line."
— Nicole from Davenport, Iowa
We're not joking about rolling back the high cost of gas to $2.38!
"I thought it was a joke… But it's true! $2.38 a gallon, and it only cost $17.62 to fill my car up… This is a gift [for] people on budgets.

I travel all around the Tri-State area, and I travel back and forth from Amelia, Ohio to Fairfield, Ohio to take care of my mom, who is 93. It's a lot, but instead of $55 to fill up, it took me $17. This is sensational."
– Terri from Blue Ash, Ohio
Slashing gas prices has provided those who stop by and fill up with an opportunity to spend their saved dollars on the things that really matter, like spending time with family.
More time with the grandkids
"This right here gives me the opportunity to spend the day with my grandkids. I can take my grandkids to the lake now. Plus I can buy some snacks while I'm there!"
— Beverly from Grand Rapids, Michigan
Enabling family trips cut short by increasing inflation
"This gas, especially when we are about to go on a camping trip, is a lot of help. My son was actually born with some health issues, so I have to stay at home for him. So, we've dropped down from being a two income family to one."
— Amanda from Grand Rapids, Michigan
For gas station owners, this was the perfect way to help people who need it most.
Giving relief to people who need it
"A lot of people who are on fixed incomes or lower incomes, those are the people who are coming out," he said. "We're really wanting to get some relief to people who need it."
– Matthew Simon, gas station owner in Littleton, New Hampshire who partnered with AFP for its True Cost of Washington gas rollback events in the Granite State this summer.
It's time to make life more affordable
While the True Cost Tour's commitment to dropping the price of gas provides a break from inflation for the day, we need more long term solutions.
As one individual put it during an AFP discussion with everyday Americans: "We have to start at the top. Stop spending. Start doing more for less."
It's important to push our government officials to work towards reducing sky high prices by unleashing energy abundance, igniting innovation, and ending wasteful spending.
"I just wish Washington will end wasteful spending," one resident from Savannah, Georgia told us.
You can do more than wish.
If your government officials aren't making the choices necessary to rein in  out-of-control government, you can take action.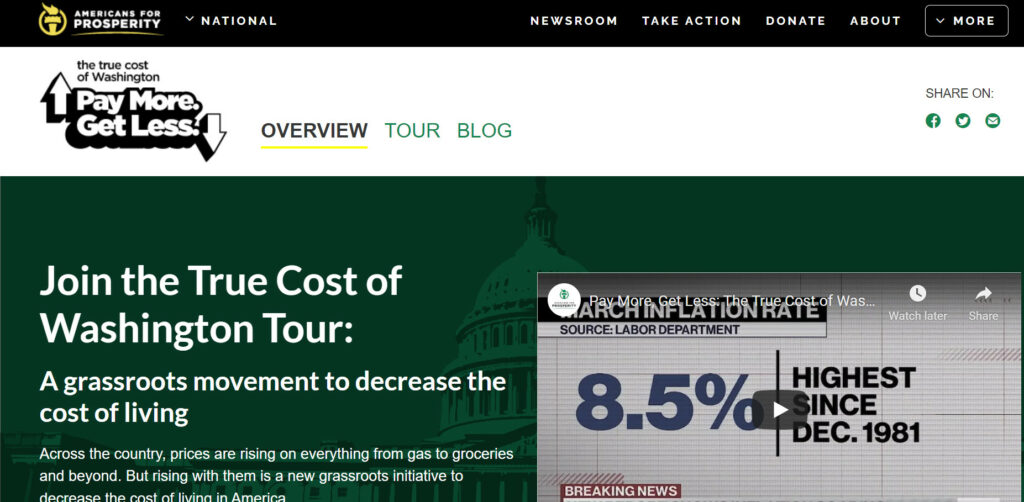 Join the movement to lower the cost of living in America today.