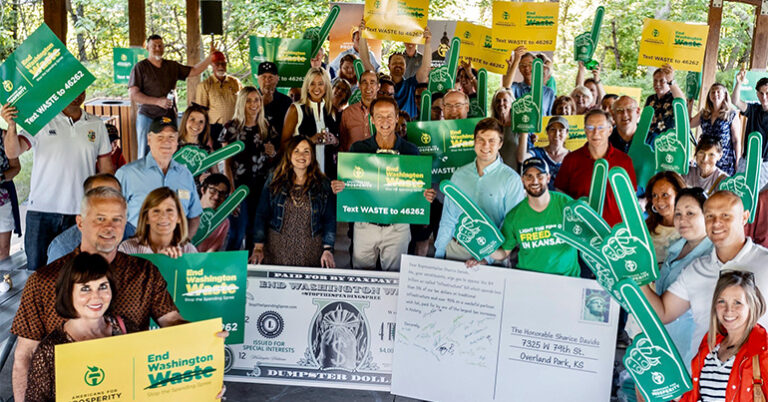 How Americans spent the last three months demanding Congress oppose wasteful infrastructure spending bills

House lawmakers may have been vacationing this August, but their constituents have not rested. 
At Americans for Prosperity events across the country, voters have continued to demand that policymakers oppose Washington's $1.2 trillion infrastructure boondoggle and Senator Bernie Sanders' (I-Vt.) $3.5 trillion "human infrastructure" budget resolution.  
House lawmakers could vote on these two pieces of legislation this week. They should listen to the thousands of Americans who, since May, have been raising their voices against these massive spending bills. 
Spring: The march across the country begins
AFP launched its End Washington Waste: Stop the Spending Spree campaign in May.
At the time, just 36 percent of Americans supported Congress' so-called infrastructure spending package. AFP committed to a seven-figure paid media effort and national grassroots campaign that would take us to more than 100 events across the county.  
As USA Today reported, our efforts started in 15 states: Virginia, Wisconsin, Michigan, New Hampshire, North Carolina, Pennsylvania, Florida, Texas, Arizona, Georgia, Illinois, Kansas, Minnesota, New Jersey, and Oregon.  
Our message was that Washington's wasteful spending would result in higher taxes, fewer jobs, and a rigged economy. 
Summer: Voices opposing wasteful spending get stronger
Within two months, activists generated more than 1.5 million letters to elected officials — the most ever for an AFP campaign.  
And instead of 100 events, we had hosted 350, including phone banking and other gatherings where people could get involved and take action.  
AFP President Tim Phillips said the voters he had heard from are worried about the impact Washington's overspending already has had on the costs of everyday goods like food, housing, and gasoline. 
"Bipartisanship should not be an excuse for bad policy, and that's what this is," Phillips told Fox Business. "[T]his wasteful spending spree reflects a bipartisan lack of respect for the fiscal responsibility Americans have been calling on their lawmakers to demonstrate."  
Phillips also made it clear that AFP's work was not finished. 
The final sprint? House vote will come down to just a few votes
In addition to continuing the AFP grassroots tour, Phillips hosted a series of Facebook Live events with lawmakers who oppose the infrastructure spending bill and budget resolution.  
Now, with the next round of votes expected in September — and Speaker Nancy Pelosi (CA) operating with one of the narrowest majorities in history — AFP is focused on 13 representatives:
Tom O'Halleran (AZ)
Stephanie Murphy (FL)
Cindy Axne (IA),
Elissa Slotkin (MI)
Haley Stevens (MI)
Angie Craig (MN)
Chris Pappas (NH)
Tom Malinowski (NJ)
Conor Lamb (PA)
Lizzie Fletcher (TX)
Elaine Luria, (VA)
Abigail Spanberger (VA)
Ron Kind (WI) 
If four of these individuals oppose the $1.2 trillion infrastructure bill and $3.5 trillion budget reconciliation package, we can avoid one of the largest tax increase in our nation's history. 
As Phillips has said, the cumulative $4.7 trillion in spending that Washington lawmakers have proposed is a "blueprint for economic devastation."
The bills are "are full of old, borrowed, and partisan ideas" that "will chill the entrepreneurial spirit we've relied on for generations to make progress toward the future." 
Ready to get involved? Contact your lawmakers now.