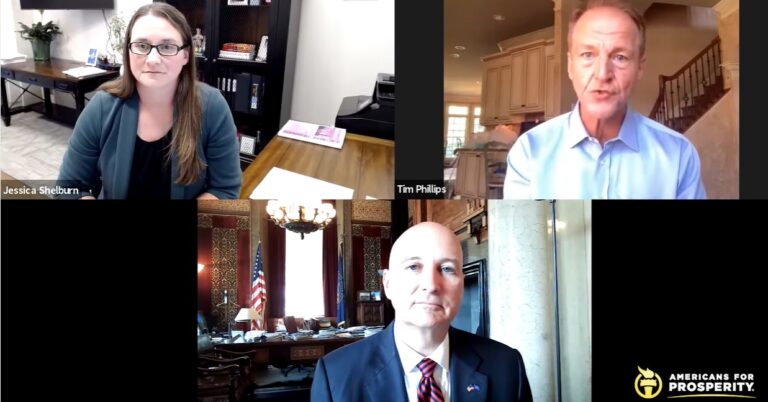 One governor tells Congress it's time to cut red tape, stop spending
If the nation's governors believed the Senate's $1.2 trillion infrastructure bill would create jobs and drive investment in communities, they would be the first to support it.
But Nebraska Gov. Pete Ricketts does not want Congress to approve this boondoggle.
Ricketts recently joined Americans for Prosperity President Tim Phillips and AFP – Nebraska State Director Jessica Shelburn for a Facebook Live event to discuss why he opposes the Senate legislation. He noted much of the spending contained in the bill does not qualify as infrastructure.
"When I think about infrastructure, I think about things that are capital investments … things that are lasting in nature," said Ricketts. "Something that people can use to create their own businesses and go to work."
The governor would like Washington policymakers to give more deference to states when it comes to deciding what infrastructure they need. He also wants Congress to act more like Nebraska lawmakers when it comes to budgeting:
"Here in Nebraska, we really look to pay as we go. We are the least indebted state in the nation whereas Delaware, the president's home state, has the sixth greatest debt in the nation. Yet our transportation system ranks much better than theirs."
One way federal policymakers can encourage infrastructure investment is to cut red tape, Ricketts said. Unnecessary regulation "delays projects and drives up costs."
Ricketts explained no one cares about the local environment more than the people who live there. When it comes to permitting and environmental reviews, Ricketts said, "give us the responsibility. We're going to be able to do a good job."
Ricketts said he is concerned Washington's overspending will continue to drive up prices.
"We've seen inflation. We see it in steel prices, lumber prices, and the consumer sees it in gas prices and beef prices," said Ricketts. "It's something that is becoming more and more evident."
One more reason Americans should make their voices heard? The Congressional Budget Office has said the nation's debt is on a path to be at its highest level since World War II.
"We ought to be thinking about how we can make sure we start growing our country in real ways and not on this sugar high of federal stimulus," said Ricketts.
Nebraska's senators split their votes on the measure. Sen. Deb Fischer voted for the $1.2 trillion infrastructure bill; Sen. Ben Sasse voted against it. Ricketts and AFP's Phillips urged concerned constituents to thank Sasse and to ask Fischer to rethink her stance.
Interested in weighing in with your member of Congress? Act now.