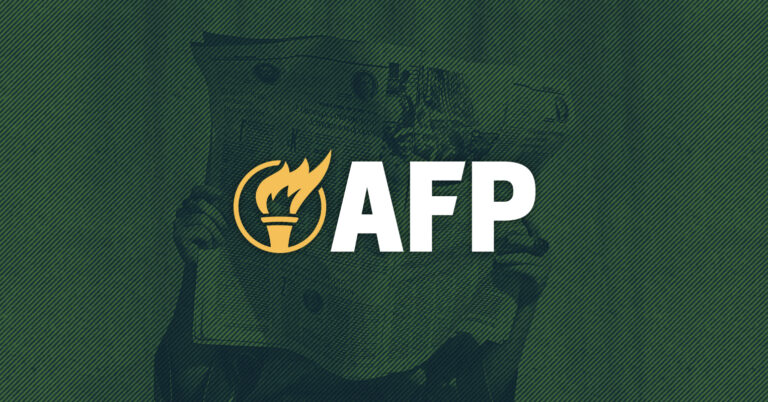 AFP Launches Seven-Figure "End Washington Waste" Campaign Opposing "Infrastructure" Proposal
Arlington, Va. – Americans for Prosperity (AFP) today launched a full-scale national grassroots mobilization campaign to drive opposition to President Biden's $4 trillion "infrastructure" proposal, a wasteful partisan spending spree of counterproductive policies that have nothing to do with improving roads and bridges, paid for by one of the largest tax increases in history. America can rebuild our economy, make improvements to infrastructure, empower families, and address other critical needs without massive tax increases and trillions in new spending.
The seven-figure campaign, called "End Washington Waste: Stop the Spending Spree," will connect Americans with the harms of the proposal while offering positive alternatives by bringing to bear the full weight of AFP's capabilities: unprecedented mobilization of grassroots activists across the country, aggressive direct outreach to Hill offices, robust paid media efforts, and more.
AFP President Tim Phillips issued the following statement:
"President Biden's multi-trillion-dollar "infrastructure" proposal is Washington waste at its worst – a partisan spending spree masquerading as road and bridge improvement. Less than five percent of the $4 trillion dollars goes to traditional infrastructure, while the rest goes to a partisan grab bag of top-down ideas that will lead to fewer jobs, tax increases that hurt workers' wages and crush small businesses, and a rigged economy that leaves everyone worse off. Handouts to benefit special interests, favors for labor unions that undermine workers' ability to find employment, and unnecessary regulation – all paid for by historic tax increases – will only devastate our recovering economy.

"It's time to end this wasteful Washington spending spree. Our activists look forward to working with lawmakers to keep tax burdens on Americans low so they can keep more of what they earn, prioritize government spending to areas of greatest need, and remove regulatory barriers so that it is easier for our country to get back to work, build infrastructure, and get our economy going again."
Background on AFP's Campaign:
AFP's "End Washington Waste: Stop the Spending Spree" campaign will leverage the full weight of the grassroots group's capabilities to drive opposition to President Biden's $4 trillion infrastructure proposal.
AFP has committed to more than 100+ events across the country to take its message directly to the grassroots: rallies, townhalls, door to door canvassing efforts, phonebanks, and other events that will see the organization partner with local communities, elected officials, and policy experts to highlight the harms of the proposal and offer better alternatives.
The campaign also includes a robust paid media effort composed of several waves of targeted direct mail, layered digital advertising, and other tactics. AFP has also set up a unique web page at StopTheSpendingSpree.com that empowers individuals to contact their lawmakers.
The first phase of the campaign focuses on 27 lawmakers in 16 states: Representatives Tom O'Halleran (AZ), Stephanie Murphy (FL), Carolyn Bourdeaux (GA), Lucy McBath (GA), Cindy Axne (IA), Lauren Underwood (IL), Sharice Davids (KS), Elissa Slotkin (MI), Haley Stevens (MI), Angie Craig (MN), Dean Phillips (MN), Kathy Manning (NC), Chris Pappas (NH), Andy Kim (NJ), Mikie Sherill (NJ), Tom Malinowski (NJ), Peter DeFazio (OR), Kurt Shrader (OR), Matt Cartwright (PA), Brian Fitzpatrick (PA), Connor Lamb (PA), Susan Wild (PA),  Colin Allred (TX), Lizzie Fletcher (TX), Elaine Luria (VA), Abigail Spanberger (VA), and Ron Kind (WI).
AFP has already been ramping up in the field and with ads to drive engagement around the proposal. With the dedicated efforts of its activists nationwide, AFP has already sent more than 400,000 letters to lawmakers urging them to reject this infrastructure proposal.
AFP objects to several provisions in the proposal, including:
Reversing components of President Trump's Tax Cuts and Jobs Act, which helped people keep more of what they earn and contributed to more jobs and higher wages.
Increasing taxes that would worsen our already devastated economy, hurt workers' wages, crush small businesses, and ultimately wouldn't come close to paying for this new spending.
Implementing elements of the PRO Act, which would make unprecedented, harmful changes to federal labor laws that would ban right-to-work laws that protect workers' from being fired if they choose not to join and pay a union, restrict workers' ability to earn a living as an independent contractor, and implement costly and unnecessary financial penalties that would bankrupt small businesses, among other things.
Implementing elements of the "Green New Deal" by dishing out sweetheart subsidies & carveouts to politically preferred firms.
Spending trillions of dollars on unrelated, unnecessary, and ineffective programs.
Lawmakers focused on improving roads and bridges should instead consider the following reforms:
Preserving federal infrastructure dollars for targeted construction projects of a national priority and putting an end to the practice of spending gas tax revenues on non-highway projects
Unleashing private investment in infrastructure assets
Returning power and responsibility to the states wherever possible
Overhauling the regulatory and permitting system to modernize infrastructure reviews and reduce project costs
Eliminating costly and unfair labor restrictions.