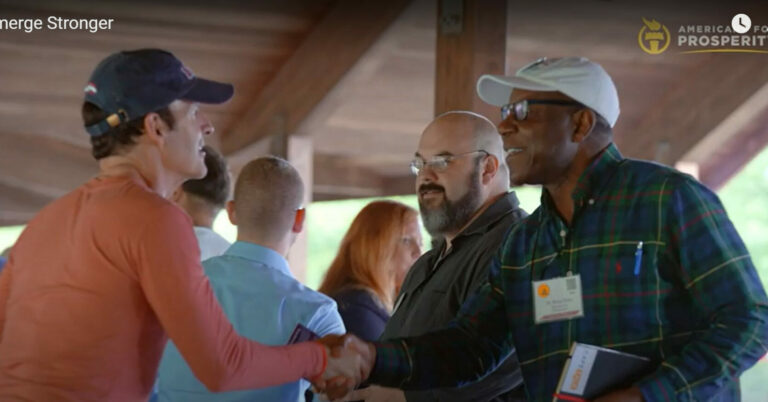 Americans for Prosperity's fight to end Washington waste draws thousands of activists

It was a summer of action.
From May to September, thousands of Americans for Prosperity activists came out to more than 300 events. Their message, highlighted in a new video, was simple: Driving the country $5 trillion deeper into debt won't improve American infrastructure.
There is a better way.
Spending should 'make sense'
As Americans for Prosperity-Ohio Grassroots Engagement Director Derrick Anderson explained, the majority of what Washington wants to spend, "is not going to roads and bridges."
Americans understand this — and they understand Washington will need to raise taxes on every family and every U.S. business to pay for its wasteful plans.
"We want spending on things that make sense," said AFP-North Carolina Deputy State Director Tyler Voight. "When we throw everything and the kitchen sink in that's not actually infrastructure, it's how folks lose trust in Washington politicians."
A growing grassroots movement making a difference
While AFP's large community of activists came out to events from Florida to Pennsylvania to Tennessee to Kansas and beyond, Americans across the country have sent more than 1.8 million letters to federal lawmakers asking that they vote against the $1.2 trillion infrastructure bill and the $3.5 trillion budget reconciliation package.
"It feels good to be part of something," said AFP-Ohio activist Sonya Gordon. "When people come together and put their minds together and it's something they really want, they absolutely can make a difference."
AFP-North Carolina activist Al Bouldin said,
"Thank God for AFP because it allowed me, who is a very passionate person, an outlet to be able to positively impact others and to feel like I am making a difference in my community and my state and in my country."
These passionate citizens are working toward a better pathway to rebuild America.
Instead of raising taxes and potentially driving up inflation by adding to the country's debt, lawmakers should:
Preserve federal dollars for targeted construction projects of a national priority and put an end to the practice of spending gas tax revenues on non-highway projects.
Unleash private investment in infrastructure assets.
Return power and responsibility to the states wherever possible.
Overhaul the regulatory and permitting system to modernize infrastructure reviews and reduce project costs.
Eliminate costly and unfair labor restrictions.
"This is who makes a difference. I can call my legislator, but I'm just one person," said Voight about AFP's engaged activists. "We have thousands of activists who are ready to do this. They're passionate. They're excited, and they want their voice to be heard."
There's still time for you to act to stop wasteful spending
AFP-North Carolina activist Theresa Yon said, "Republicans and Democrats — both sides of the aisle are engaging in reckless spending and it has to stop."
We won't rest until it does.
Federal lawmakers are still debating the budget bill and infrastructure package. It is up to Americans to end Washington's wasteful spending.