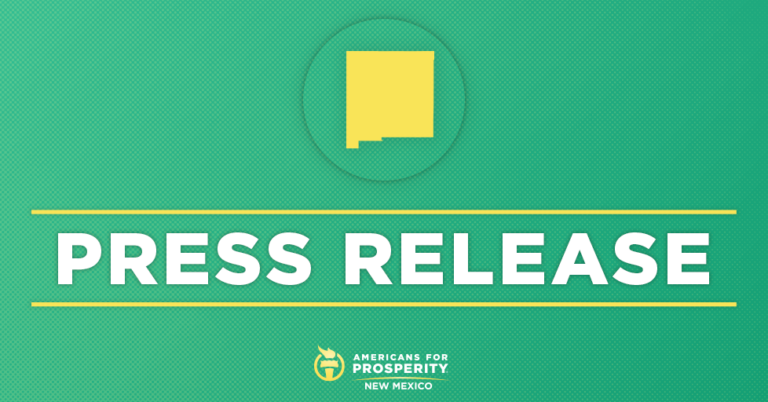 Qualified Immunity Bill Signed Into Law
SANTA FE, NM – Americans for Prosperity-New Mexico (AFP-NM) today praised Governor Lujan Grisham for signing HB 4, a bill based on recommendations from the New Mexico Civil Rights Commission that would bar the use in state courts of the qualified immunity defense and make state agencies accountable when depriving citizens of their constitutional rights.
HB 4 was the grassroots group's priority bill for the session. AFP-NM ran a statewide campaign connecting thousands of New Mexicans with their legislators to support the bill and hosted a press conference with a broad coalition that featured Ben Cohen and Jerry Greenfield, co-founders of Ben & Jerry's. The group is also hosting a virtual event tomorrow with Anquan Boldin, Super Bowl Champion and co-founder of the Players Coalition.
AFP-NM State Director Burly Cain issued the following statement:
"Today is a great day for New Mexicans with the signing of HB 4. Our state took a huge step in removing a structural barrier to good policing that will also increase trust with law enforcement and the communities they serve. For too long, New Mexicans have been unable to have their day in court when law enforcement or government officials have violated their civil rights. We thank Speaker Egolf for helping spearhead HB 4 through the legislature, Governor Lujan Grisham for signing the bill, and our coalition partners who helped educate New Mexicans about the need to change the broken status quo. This bill helps set our state as a leader on upholding and defending citizens' civil rights, and we look forward to continue making our criminal justice system fairer and more equitable."
Background:
Recently, Mark Holden wrote an op-ed for the Santa Fe New Mexican with Ben Cohen and Jerry Greenfield, co-founders of Ben & Jerry's, on how HB 4 will protect New Mexicans' civil and constitutional rights.
More than 70 percent of officers themselves say that poorly performing cops are not held accountable.
AFP-NM State Director Burly Cain wrote an op-ed with the Innocence Project on the need for qualified immunity reform.
State House Passes Qualified Immunity Reform, 2/16/21
AFP-NM Speaks in Support of Reforming Qualified Immunity Laws, HB 4, 2/5/21