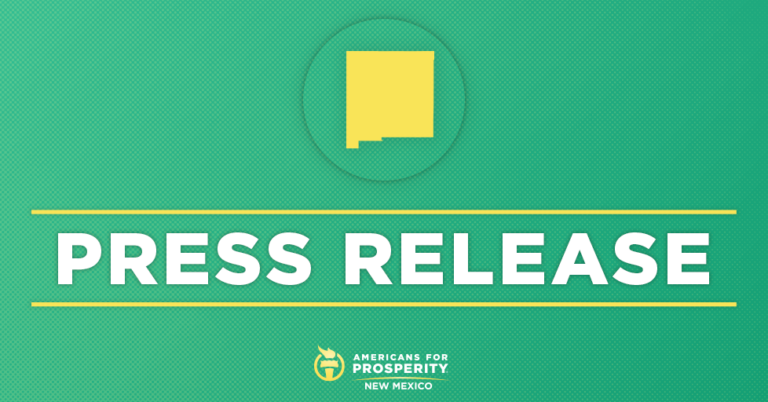 MEDIA ADVISORY: Anquan Boldin Joins AFP, ACLU For Event on HB 4
SANTA FE, NM – Americans for Prosperity-New Mexico (AFP-NM) announced it is hosting a virtual event tomorrow, Thursday April 8th to celebrate the impending bill signing of HB 4, a landmark bill that would bar the use in state courts of the qualified immunity defense and make state agencies accountable when depriving citizens of their constitutional rights.
The event will feature Mark Holden, chairman of the board of directors of AFP, Anquan Boldin, Super Bowl champion and co-founder of the Players Coalition, and Barron Jones, ACLU-NM's Senior Policy Strategist. The panelists will discuss the broad coalition that supported the bill and how the bill will benefit New Mexicans and can serve as a model for other states.
Anquan Boldin and the Players Coalition have been a strong advocate for eliminating qualified immunity. Last year, the organization submitted a letter to Congress urging support for a bipartisan bill that would end qualified immunity, with 1,400 players, coaches, and executives signing onto the letter. AFP-NM has advocated for HB 4 since the outset of the legislative session. The grassroots group ran a robust statewide campaign that enabled thousands of New Mexicans to contact their legislators to urge support for the bill.
WHAT: Virtual Event on HB 4, Qualified Immunity Reform
WHO: Anquan Boldin, Co-Founder of the Players Coalition; Mark Holden, chairman of the board of directors for AFP; Barron Jones, ACLU-NM's Senior Policy Strategist
WHEN: Thursday April 8th at 12:30 MST
WHERE: Zoom, RSVP with Kevin Brinegar at kbrinegar@afphq.org
Moderated by Burly Cain, AFP-NM's State Director
Background:
Recently, Mark Holden wrote an op-ed for the Santa Fe New Mexican with Ben Cohen and Jerry Greenfield, co-founders of Ben & Jerry's, on how HB 4 will protect New Mexicans' civil and constitutional rights.
More than 70 percent of officers themselves say that poorly performing cops are not held accountable.
AFP-NM State Director Burly Cain wrote an op-ed with the Innocence Project on the need for qualified immunity reform.
State House Passes Qualified Immunity Reform, 2/16/21
AFP-NM Speaks in Support of Reforming Qualified Immunity Laws, HB 4, 2/5/21