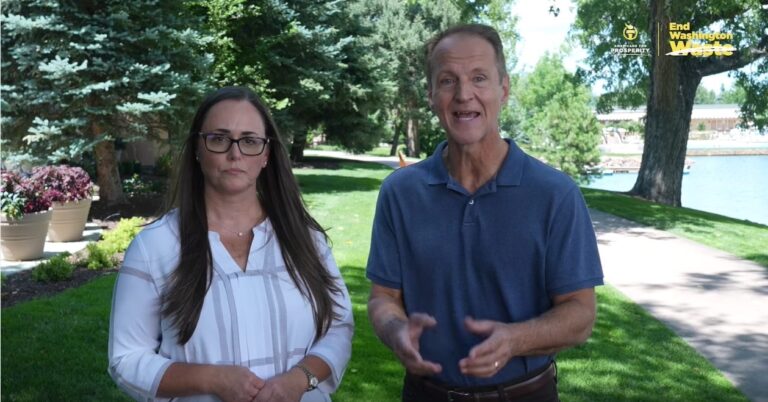 You still have time to oppose the Senate's $1.2 trillion "infrastructure" bill

The Senate will vote this week on a five-year, $1.2 trillion so-called infrastructure bill. This moment is an important one in Americans for Prosperity's efforts to end Washington's wasteful spending.   
As AFP President Tim Phillips said in a new video, this legislation is not about roads and bridges — and it's not about bipartisanship. In fact, as AFP CEO Emily Seidel explained, the bill is really just a down payment on Sen. Bernie Sanders' (I-Vt.) $3.5 trillion "partisan wish list" that will "pile debt on future generations."  
"Bipartisanship should not be an excuse for bad policy," Phillips said.  
That's why, back in May, AFP committed to a seven-figure national grassroots campaign to give families and business owners a voice in the infrastructure debate.  
Even before the 2,702-page, $1.2 trillion bill was formally introduced on August 1, concerned voters wrote more than 1 million letters to federal lawmakers asking them to oppose wasteful spending. 
The number of letters sent to Capitol Hill already has surpassed any other grassroots advocacy campaign in AFP history. Voters also made calls to Capitol Hill, engaged on social media, and attended AFP events around the country.  
The breadth of this campaign should signal to lawmakers that Americans want a better path forward. We can empower individuals, families, and businesses and rebuild physical infrastructure by: 
Preserving federal dollars for targeted construction projects of a national priority. 
Ending the practice of spending gas tax revenues on non-highway projects. 
Unleashing private investment in infrastructure assets. 
Returning power and responsibility to the states wherever possible. 
Overhauling the regulatory and permitting system to modernize infrastructure reviews and reduce project costs. 
Eliminating costly and unfair labor restrictions. 
The Senate will vote soon, but there is still time to let senators know you oppose the wasteful and reckless $1.2 TRILLION spending spree. Call 202-410-2685 to make your voice heard!