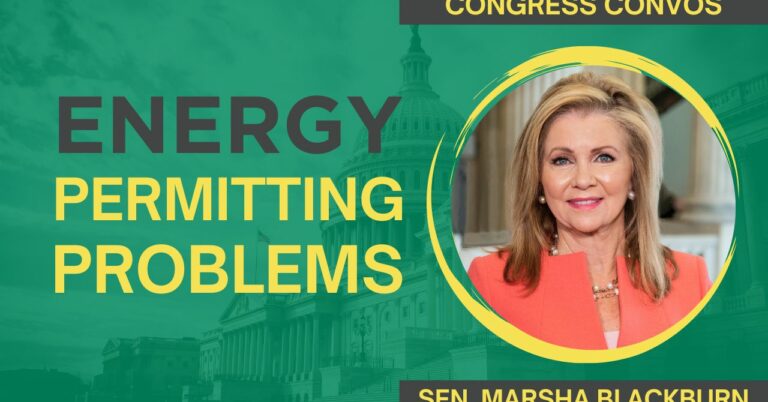 Senator Marsha Blackburn discusses how to boost growth and cut inflation
Senator Marsha Blackburn joined Americans for Prosperity's  #CongressConvos series recently to discuss the federal policies that will enhance economic and job growth.
Blackburn, the first woman from Tennessee elected to the Senate, noted that since President Joe Biden took office in January 2021, food prices have risen 13.5%. Gas and fuel prices have jumped 68%. Overall, inflation has more than quadrupled from 1.4% to close to 9%.
So, how can lawmakers boost growth and reduce inflation?
Tennesseans struggling with high gas, grocery prices
"Democrats are making the lives of the American people tougher," Blackburn told AFP Director of Coalitions Ted Ellis. As a result, people are making "real life sacrifices."
Blackburn said one mother told her she cannot afford to fill up her grocery cart and her gas tank in the same week.
Other state residents are getting second jobs over the holidays or are reducing their children's sports and extracurricular activities.
Blackburn, who led the fight to eliminate Tennessee's state income tax when she was in the statehouse, said there is an economic formula that "works every single time" to generate the economic and job growth needed to help families make ends meet.
That formula is less taxation, less regulation, and less litigation.
Unfortunately, let by President Biden, Democrats have strayed far from this model. Blackburn said the president's party simply thinks it's possible to "tax your way out of a recession."
But that's not the only problematic policy.
Senator Blackburn explains why inflation is high, and growth is nonexistent
Blackburn said there are two reasons why inflation is at historic levels. First, the president "declared war on the energy sector" by cancelling projects like the Keystone XL Pipeline.
Second, legislation like the Inflation Reduction Act (and the American Rescue Plan Act) has driven up federal spending. Blackburn is the author of the Stop The Inflationary Spending Spree Act, which would address rising consumer prices by requiring a supermajority vote for spending packages during periods of high inflation.
Blackburn said Americans should be wary of permitting reforms proposals offered by Democrats.

As Blackburn explained, for example, Senator Joe Manchin's legislation would have put in place a new top-down regime that would have taken away the rights of city utilities, state governments, local consumers, and even private property owners.
And it would have not prevented federal policymakers from shutting down projects like the Keystone Pipeline.
Blackburn prefers legislation offered by Senator Shelley Moore Capitol, which offers several ideas to enhance U.S. energy production, including:
Modernizing federal permitting regulations
Lengthening the available approval term of permits issued under delegated state water permit programs from five to 10 years
Ending the Biden Administration's interim estimates for the "social cost of greenhouse gases" and any other estimates that may raise gasoline prices
Blackburn closed by thanking the thousands of AFP volunteers who have made a difference in states like Tennessee when it comes to choices about regulation, energy, and taxation.
Watch our interview with Representative Kevin Hern for more ideas for improving U.S. fiscal and energy policy.