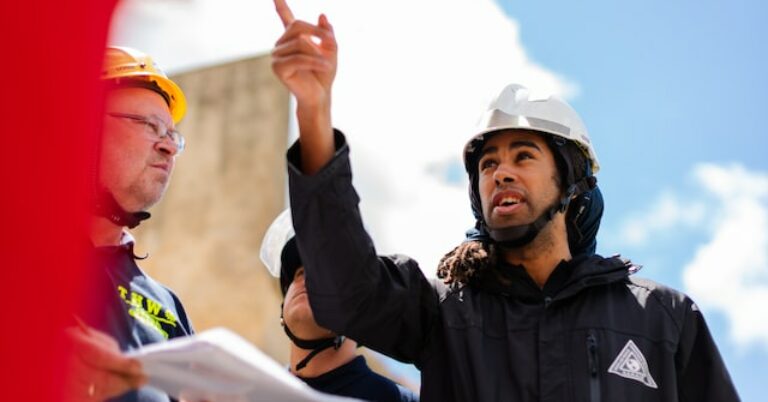 What is the Employee Rights Act, and how would it advance worker freedom?
Updated on April 20, 2023
On April 19, Senator Tim Scott (R-SC) and Representative Rick Allen (R-GA) introduced the Employee Rights Act (ERA) in Congress. Americans for Prosperity has endorsed this legislation because of its policies that advance and protect flexible work and worker choice, urging lawmakers to support as well.
Unlike the PRO Act, a bill that is strongly endorsed by President Joe Biden and focuses on a dated and rigid workplace vision that displaces American workers, the ERA would empower workers to seize more opportunity and take greater control of their futures.
What is the Employee Rights Act?
The Employee Rights Act advances policies that empower workers and entrepreneurs to navigate the 21st century economy successfully.
The ERA has several key features that would advance worker freedom and empower workers, families, and businesses:
The Employee Rights Act includes self-employment/independent contractor protections
The ERA includes the Modern Worker Empowerment Act, which would apply the longstanding "common law" employment criteria used by the Internal Revenue Service to the Department of Labor (DOL) for purposes of complying with the Fair Labor Standards Act (FLSA). This common law standard helps to determine if workers are independent contractors or employees.
Individual workers and businesses would no longer have to navigate confusing employment tests that differ across federal agencies including the IRS and DOL.
Just as importantly, it would help stop the federal government from attempting to institute a harmful, California-style "ABC" test or similar employment tests through unilateral agency rules that would threaten the livelihoods of a growing community of over 73 million freelance workers.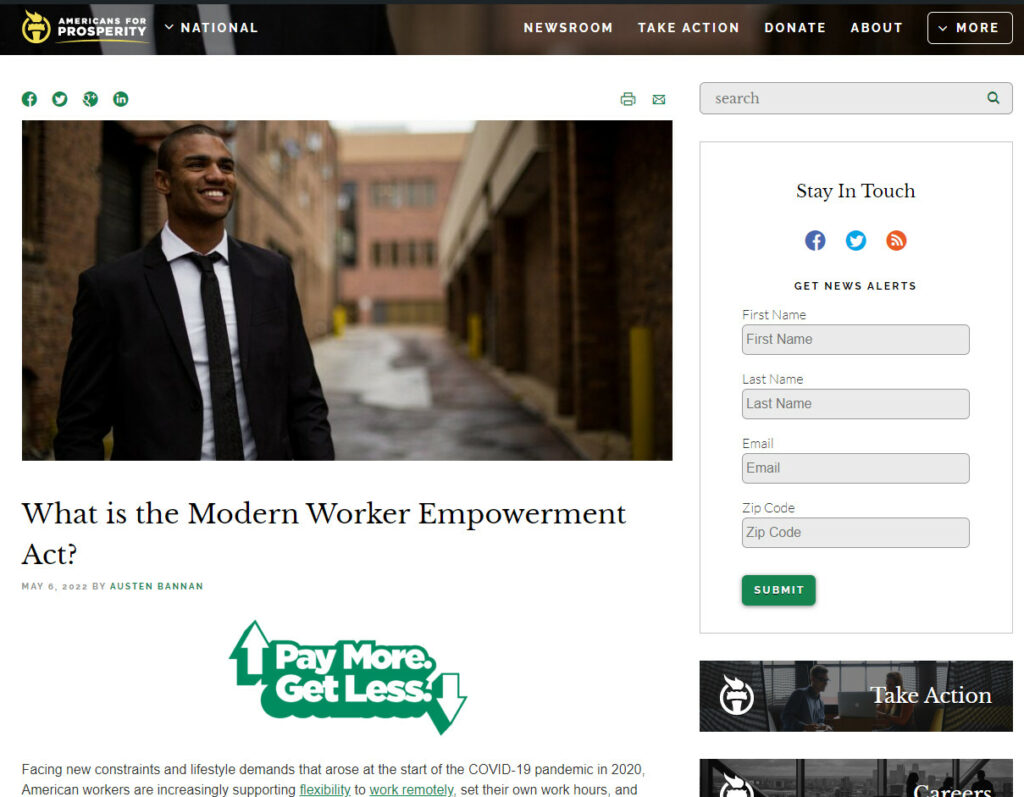 The Employee Rights Act provides protections for local businesses and entrepreneurs
The ERA includes the Save Local Business Act, which would ensure the federal government's joint employer standards protect small and local businesses using vendor, franchise, and contractor models through which entrepreneurs employ millions of Americans.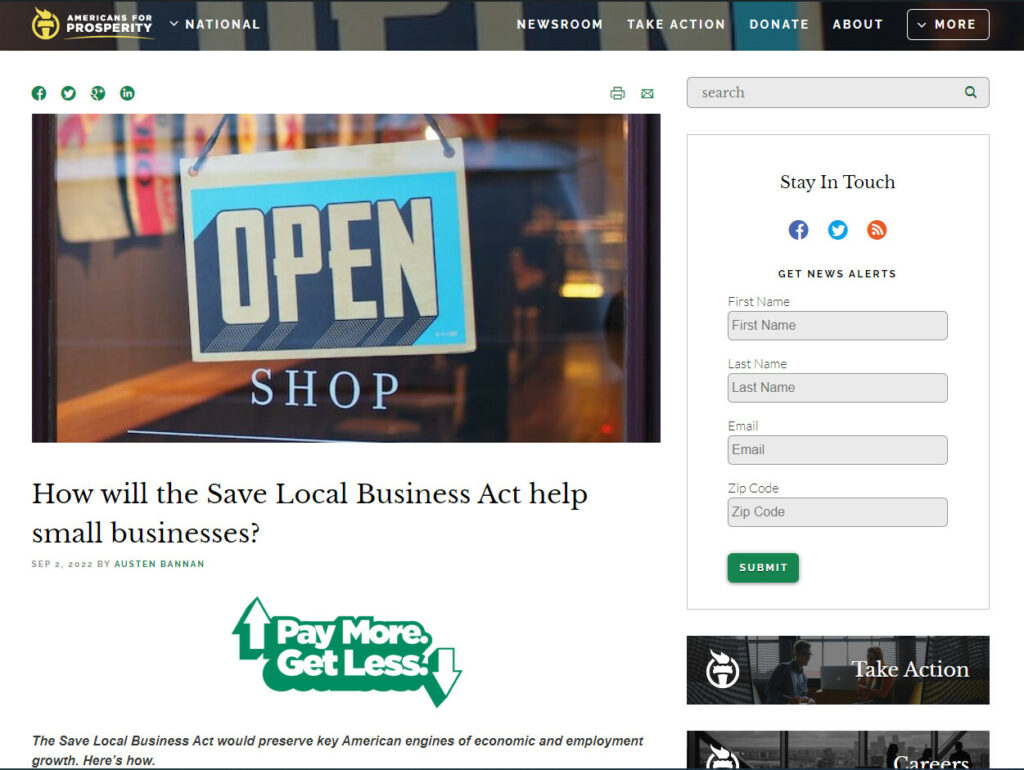 The Employee Rights Act would allow for secret ballot elections
Much like American voters enjoy secret ballot protections voting for candidates in federal, state, and local elections, workers deserve and strongly support a permanent guarantee that their votes for or against union representation are secure and private.
The Employee Rights Act would protect employee privacy
Today, federal law requires employers to hand over personal contact information of employees to union leaders during organizing efforts.
The ERA would allow workers to select only a single form of contact information such as an email address to be provided to the union facing a vote and require that the contact information only be used for matters related to a representation proceeding.
These provisions prevent workers from being contacted or even harassed by union organizers outside of the workplace on personal phones or even at their doorsteps.
The Employee Rights Act would provide protection from political spending
While not all union advocacy qualifies as political spending under ERA, workers will have to "opt-in" to have any of their paycheck used by unions to support political candidates or parties or spend money on non-collective bargaining and contract administration related functions. This particularly helps workers who object to union politics in non-right to work states.
These features contrast with the PRO Act, which would undermine self-employment, small business and vendor franchising models, worker choice concerning union representation, and relations between employers and employees in general.
The Employee Rights Act would help workers, families, and businesses thrive in today's economy
New technologies, lifestyle changes, and significant developments like inflation and pandemics have made the need for flexibility in the economy increasingly important.
By giving workers more choice and power over how unions represent them, workers greater protections in pursuing the dream of self-employment, and entrepreneurs more certainty and protections to start businesses in their communities, the Employee Rights Act provides flexible work policies to help workers and businesses thrive in a dynamic 21st century.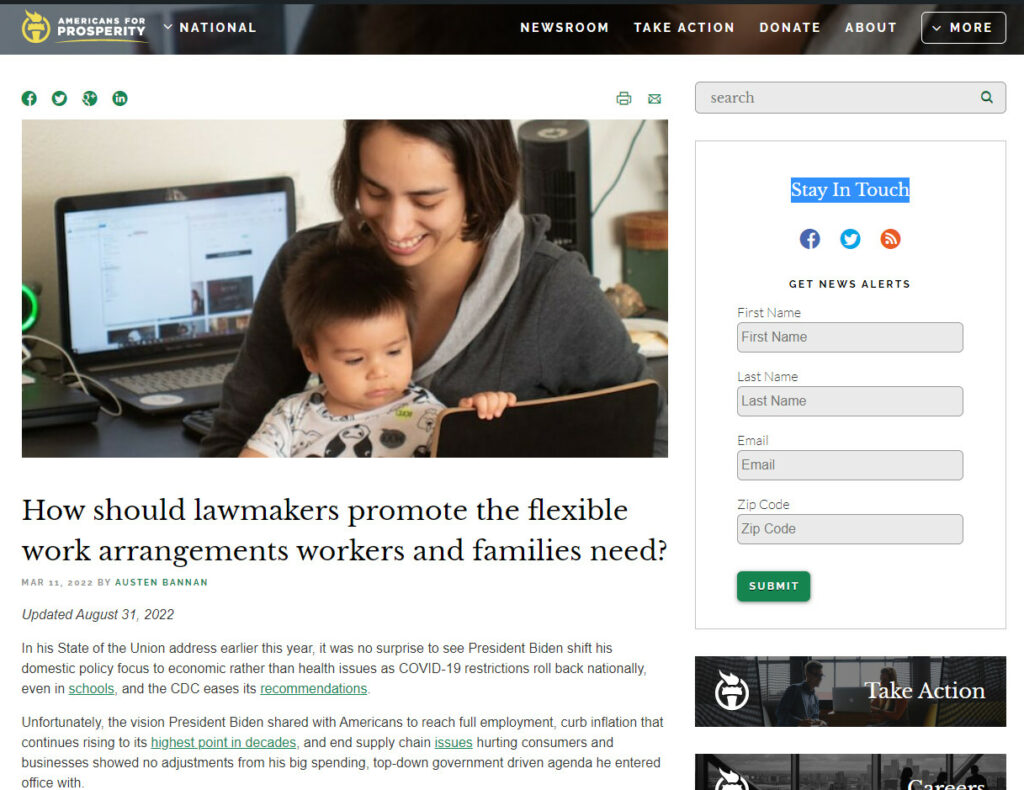 Learn more about AFP's agenda to advance flexible work arrangements for all.