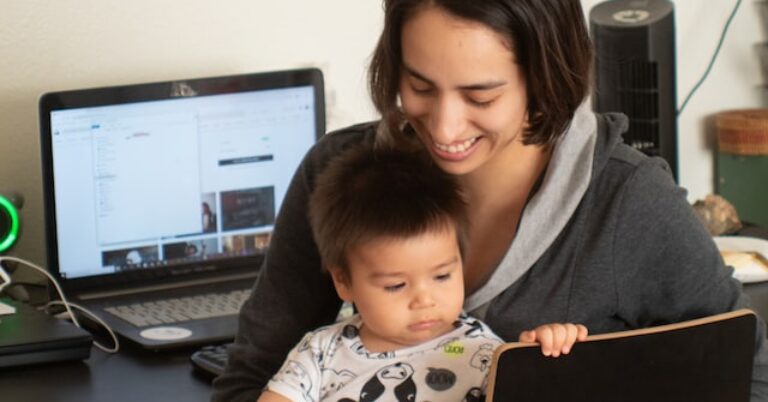 How should lawmakers promote the flexible work arrangements workers and families need?
Updated August 31, 2022
In his State of the Union address earlier this year, it was no surprise to see President Biden shift his domestic policy focus to economic rather than health issues as COVID-19 restrictions roll back nationally, even in schools, and the CDC eases its recommendations.
Unfortunately, the vision President Biden shared with Americans to reach full employment, curb inflation that continues rising to its highest point in decades, and end supply chain issues hurting consumers and businesses showed no adjustments from his big spending, top-down government driven agenda he entered office with.
Pandemic era surveys show that workers continue to demand increased flexibility to work remotely, control their work hours, and pursue self-employment — not only to endure disruptions from pandemics but for families already facing shifting work demands and lifestyles in a technology driven 21st century.
Instead of embracing an agenda to empower American's greatest infrastructure — its people — Biden spoke of 21st century economic competition that would be won by government driven infrastructure spending and directives.
But there's a better way to serve the needs of workers.
AFP's 2022 policy agenda, "Empower people, emerge stronger," lays out that better way. It states:
"Workers should be free to seek employment opportunities that use their unique skills to contribute to society, and businesses should have the flexibility to offer choices to diverse potential workers and clients."
So what agenda should we pursue to provide workers and employers such freedom and flexibility?
How can Congress and the administration promote the flexible work arrangements Americans want?
In Congress right now, there is legislation to advance the flexibility traditional employees, independent workers, and businesses seek.
We detail these bills in our memorandum, "Flexibility to meet the needs of workers and consumers in the 21st century," in which we write:
"Workers and their families have the right to more choice and flexibility, both in pursuit of independent work and traditional employment through greater contract freedom. Pro-worker reforms will help drive 21st century economic opportunity."
These pro-worker reforms include the Working Families Flexibility Act, the Modern Worker Empowerment Act, and the Save Local Business Act.
The Working Families Flexibility Act
The Working Families Flexibility Act would give workers the choice to accumulate paid leave through their employers in lieu of overtime pay, providing a major new pathway for workers and businesses to embrace scheduling flexibility that federal law blocks today.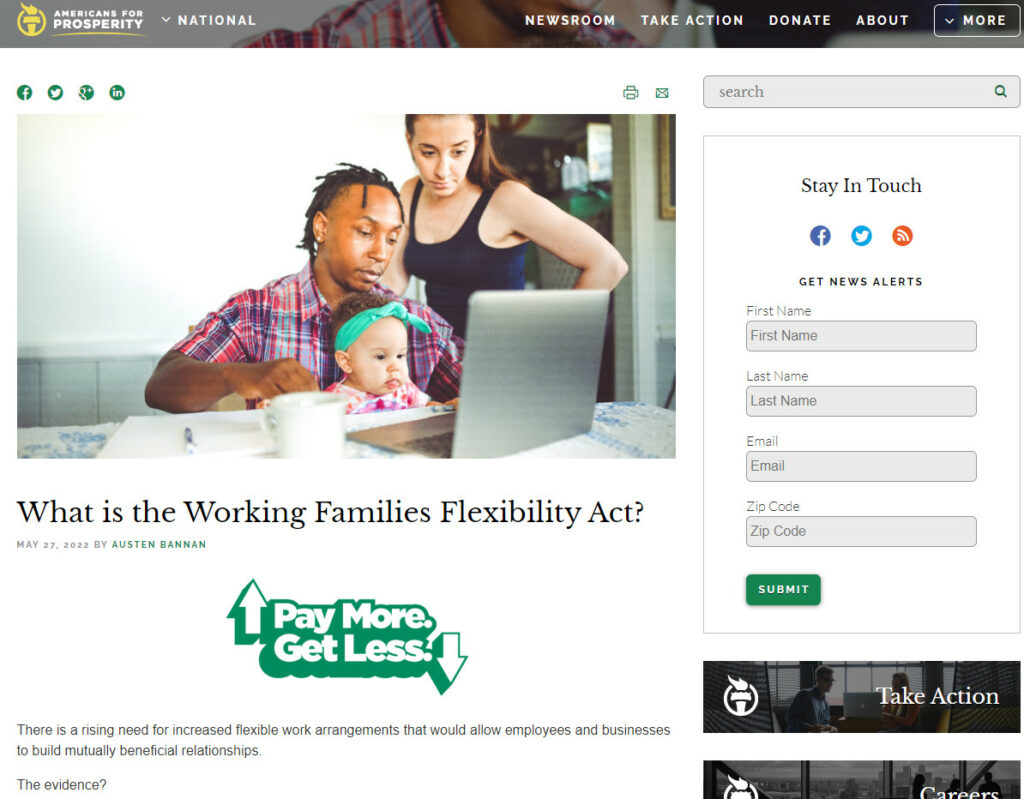 The Modern Worker Empowerment Act
The Modern Worker Empowerment Act would provide a consistent common law employment test across the federal government to protect the ability of workers to use their skills and follow their passions through self-employment. With over 59 million Americans already doing some amount of freelance work, expanding flexible work opportunities for independent contractors would be huge.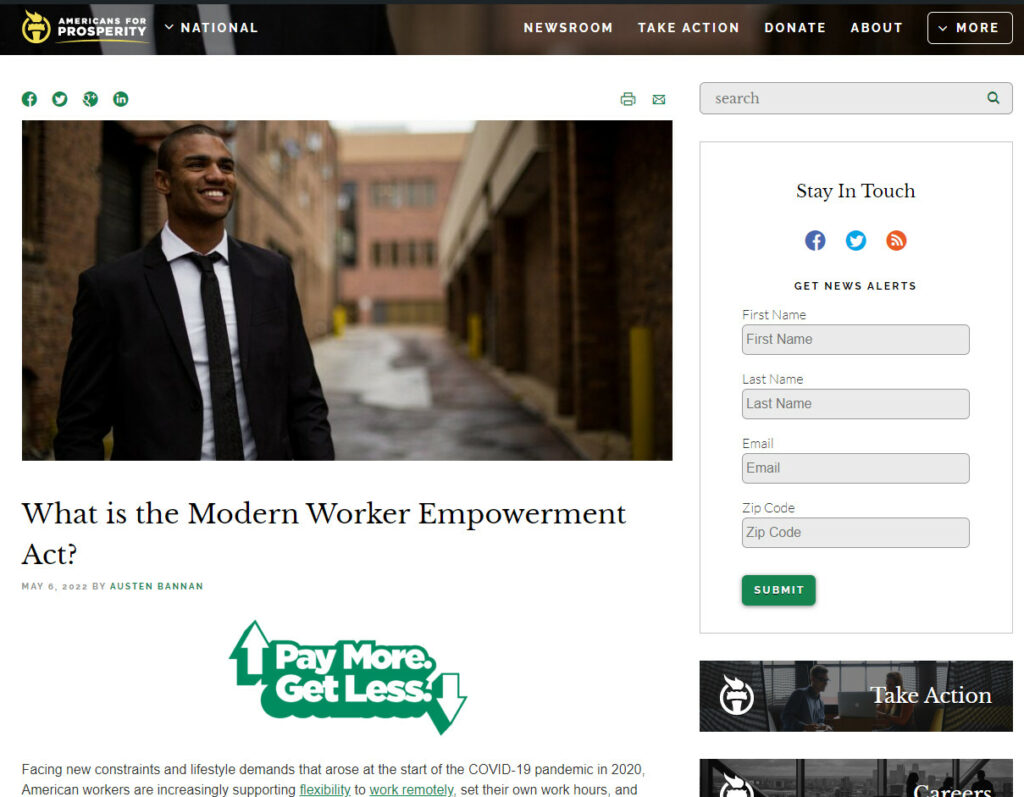 The Save Local Business Act
The Save Local Business Act would ensure a federal joint employer standard that protects rather than undermines small and local businesses using vendor and franchise models that entrepreneurs employ millions of Americans through.
Conversely, President Biden's agenda prioritizes government growth and even outright opposition to the shifting public preferences of flexibility.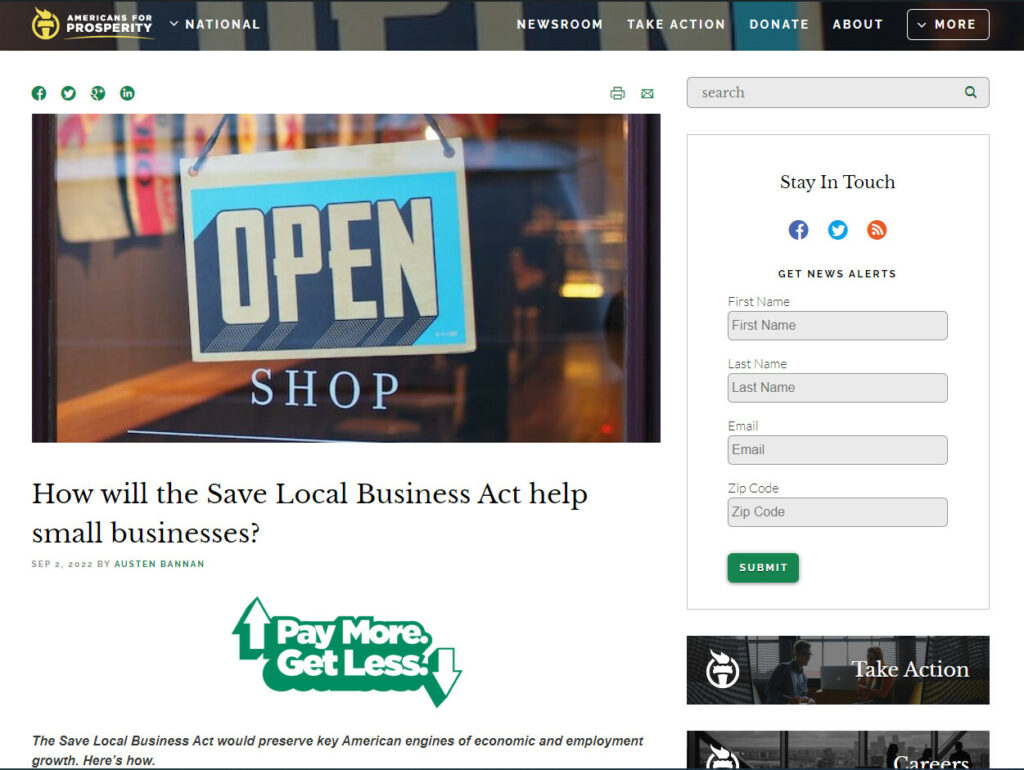 How does Biden's agenda compare to these pro-worker reforms?
Biden touted his so-called American Rescue Plan (ARP), which was enacted in early 2021.
This nearly $2 trillion deficit spending bill represents well over 8 percent of the 2021 U.S. total GDP of approximately $23 trillion – far more than the 5.7 percent 2021 GDP growth President Biden hailed as "the strongest growth in nearly 40 years."
In fact, overall deficit spending of $2.8 trillion in Fiscal Year 2021 represented over 12.4 percent of U.S. GDP over that period, making government deficit spending account for more than double the natural economic recovery from the pandemic Biden was touting as his accomplishment.
But Biden's jobs agenda includes more.
He again championed his support for the PRO Act, a labor union priority passed by the U.S. House that would expand union leader power over workers at private workplaces, undermine self-employment, and discourage franchising and vendor business models – three major strikes against work flexibility among numerous other bad provisions in the legislation.
And he pleaded for Congress to advance his Build Back Better Act (BBBA), a languishing bill including trillions more in deficit spending and additional policies promoting union labor at the expense of other employment including through major fines that can be used to advance union objectives.
Biden and his supporters also continue to champion the America Competes Act in the U.S. House, which among other concerning policies would force companies to accommodate union organizing efforts as well as watch their employees be intimidated by union leaders to sign union support cards publicly instead of protecting their longstanding right to secret ballot elections.
American families are facing the financial stress of rising inflation fueled by government overspending and an economy that will be increasingly challenging to find or keep the employment opportunities they seek.
Instead of doubling down on a languishing, government driven agenda in Congress and through his regulatory agencies, it is time for President Biden to help Americans move past the most restrictive days of the COVID-19 pandemic.
He can do this by working with Congress to seize a moment in history tailor-made for unleashing employment innovation policies that just so happen to be what American families and businesses are already asking for.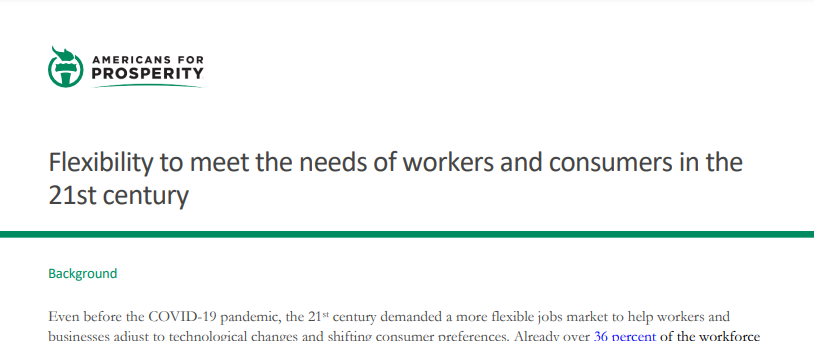 Download our full recommendations for flexible work reforms.