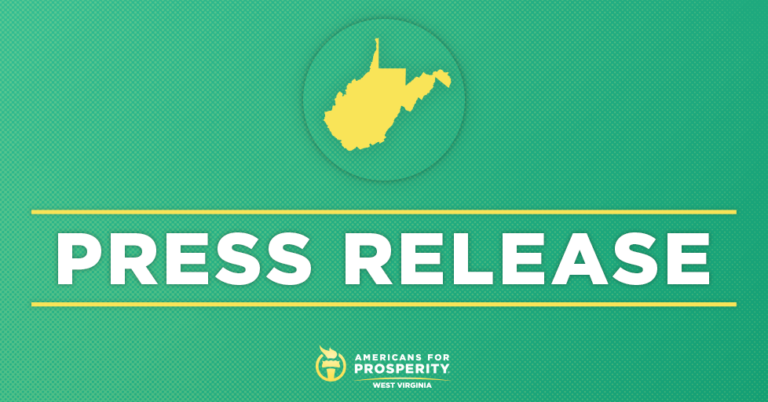 AFP-WV Urges Legislative Action before Crossover Deadline
CHARLESTON, WV—Ahead of Crossover Day in the legislature, Americans for Prosperity -West Virginia (AFP-WV) provided an update on their Path to Prosperity Legislative Agenda. The organization is highlighting the Key Vote Alerts that have been released to lawmakers and working to elevate must-pass bills that have yet to progress.
March 2nd is Crossover Day, meaning that bills must have passed beyond their house of origin on that date. Bills must pass out of the committee(s) to which they've been assigned in their respective chamber of origin by February 27th to ensure each bill may be read three separate days on the floor before being voted upon. AFP-WV is calling on legislative leaders to move key bills out of their house of origin in order to keep vital legislation moving through the legislative process.
AFP-WV State Director Jason Huffman released the following statement:
"Our activists remain thankful that principled leaders continue to advance key priorities that will help to unleash the potential of every West Virginian. However, more must be done this session to fully capture the myriad opportunities before policymakers. With growing evidence that our shared principles are making West Virginia a better place to live, work, and raise a family, it is more important than ever that lawmakers double down on quickly enacting policies that represent a pathway to prosperity, so that every Mountaineer can reach their full potential. We look forward to continuing to work with legislative leaders to further transform West Virginia."
Priority bills that must pass their house of origin before Crossover Day (March 2nd):
SB 488 – Eliminating restrictions on voting rights for formerly incarcerated individuals (Pending in Senate Judiciary Committee)
SB 216 – Creating Student Journalist Press Freedom Restoration Act (Passed Senate Education Committee; Pending in Senate Judiciary Committee)
HB 2007 (or similar legislation) – Provide for occupational licenses or other authorization to practice by recognition for qualified applicants from other states (Pending in House Government Organization Committee)
HJR 102 – Clarifying that the policymaking and rule-making authority of the State Board of Education is subject to legislative review, approval, amendment, or rejection (House Floor, 3rd Reading 2/17/2022)
HB 4001 – Generally relating to broadband (Pending in House Finance Committee)
HB 4354 – Ban the Box Act (Pending in House Workforce Development Committee, then House Judiciary)
SB 271 – Relating to administration of anesthetics (Senate Health and Human Resources Committee, then Senate Finance Committee)
Priority Bills that have already passed their house of origin:
SB 2 – Relating to unemployment benefits program (Pending in House Finance Committee)
SB 3 – Requiring work search activities to qualify for unemployment benefits (Pending in House Finance Committee)
SB 5 – Creating WV Unmanned Aircraft Systems Advisory Council (Pending in House Government Organization Committee)
HB 4007 – To reduce personal income tax rates (Pending in Senate Finance Committee)
HB 4111 – Relating to the prescriptive authority of advance practice registered nurses (Pending in Senate Health and Human Resources Committee, then Senate Judiciary Committee)
HB 4522 – Relating to the expungement of criminal records (Pending in Senate Judiciary Committee)
Priority bills that have completed legislative action:
SB 4 – Repealing ban on construction of nuclear power plants