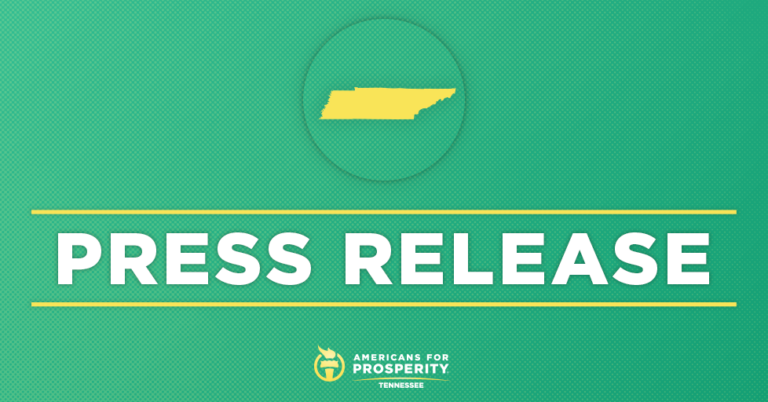 AFP-TN Celebrates First Step Act Anniversary
Grassroots group encourages Governor Lee, legislature to go the next step on criminal justice reform
NASHVILLE, TN – Tomorrow marks the one-year anniversary of President Trump signing the First Step Act into law. The law included prison and sentencing reforms, which will increase public safety, reduce crime and save taxpayer money. As a result of the First Step Act, more than 5,000 individuals have already been empowered to return to their families and communities in a better position than when they entered the criminal justice system.
Americans for Prosperity-Tennessee (AFP-TN) today issued the following statement:
"The First Step Act showed what is possible when policymakers and advocates work together to advance common-sense policies. Although, Congress and the Administration still need to ensure the law gets fully implemented, the First Step Act has already helped make our criminal justice system fairer, more just, and better at rehabilitating people in prison. People like Tennessee native Matthew Charles have shown that we can strengthen communities and improve public safety when we restore dignity to those behind bars.
"Our state has an opportunity to ensure our criminal justice system is no longer a two-tiered society, where the rich and well-connected get better outcomes. We encourage Governor Lee and the state legislature to build on the state and federal momentum and take the next step for comprehensive criminal justice reforms."
Background:
Criminal Justice Task Force Report Shows Need for Further Reforms, 12/19/19
Americans for Prosperity has been at the forefront of advocating for criminal justice reform at the state and national level. The issue was a top priority for the Tennessee chapter this past legislative session.
Read State Director Tori Venable's op-ed in the Tennessean on what policies legislators should pursue in next year's legislative session.
Watch how unlikely allies like Mark Holden and Van Jones worked to advocate for criminal justice reform.