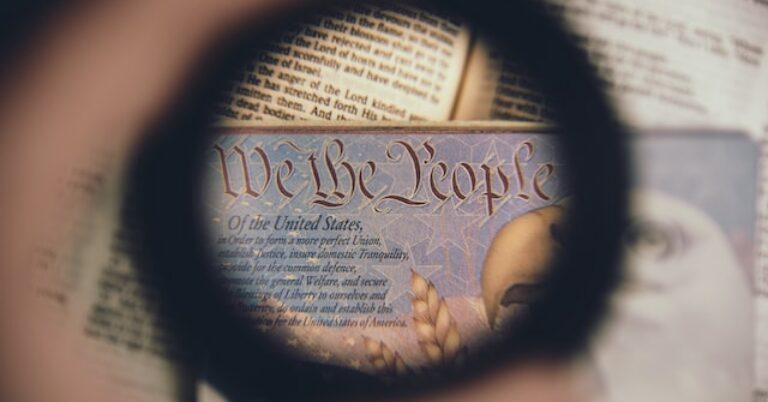 AFP continues to work alongside anyone who defends the Constitution
There's never a full reprieve from free speech controversies. But whether it's because fewer legislatures are in session or because students aren't on campus, July and August tend to be relatively quiet periods for free speech.
This gives us an opportunity to look at some recent work of my colleagues and our partners, as well as stories that caught my eye.
AFP Foundation sues for more information about the Disinformation Governance Board
Last week, Americans for Prosperity Foundation filed a lawsuit to enforce a Freedom of Information Act request for records related to the Disinformation Governance Board. It's notable that weeks after the Department of Homeland Security paused the board, we're still seeing a steady stream of news coverage around it and other top-down efforts around disinformation.
Read more about AFP Foundation's efforts to get Americans the answers they need, particularly from an agency with a mixed record on thinking about and protecting Americans' civil liberties.
Unlikely allies in the fight against SLAPP laws
AFP works with anyone committed to foundational rights to defend the Constitution, and the Des Moines Register underscores how the First Amendment brings together unlikely allies. The story highlights groups fighting back against frivolous lawsuits intended to squelch free speech (known as Strategic Lawsuits Against Public Participation, or SLAPP):
"The effort to rein in lawsuits aimed at silencing critics has drawn support across the political spectrum, from Americans for Prosperity, the Family Leader and the Iowa Firearms Coalition on the right to the American Civil Liberties Union of Iowa and the Iowa Association for Justice on the left."
To learn more about anti-SLAPP reform, read my AFP colleague David Voorman on how state lawmakers can protect Americans' First Amendment rights.
More information on misinformation
In a recent Persuasion piece titled "Misinformation is Here to Stay (and That's Okay)," Isaac Saul writes that,
"Misinformation is a troubling but necessary part of our political discourse. Attempts to eliminate it carry far greater risks than attempts to navigate it, and trying to weed out what some committee or authority considers 'misinformation' would almost certainly restrict our continued understanding of the world around us."
I've previously written about misinformation online – read it here.
Get the details of AFP Foundation's engagement in the latest Supreme Court term
The Supreme Court's term is at an end and you can learn more about AFPF's engagement. This may be my inner (okay, outer) nerd as a First Amendment attorney speaking, but it's truly exciting to see all the efforts we're taking to ensure individuals have the ability to think, speak, and join together freely.
As my colleague AFPF Chief Policy Counsel James Valvo said, "There's one word that sums up our engagement in the October 2021 term: liberty." AFPF was again among the top 5 non-government filers at SCOTUS this last term, filing a total of seven amicus briefs on the merits, including defending First Amendment freedoms in three cases.
A new op-ed from partner Dr. Jianli Yang arguing for the importance of privacy to free speech
Finally, at RealClear Politics, human rights advocate Dr. Jianli Yang writes about how privacy can be a life-or-death matter. His U.S.-based organization, Citizens Power Initiative of China, filed a brief in last year's landmark free speech Supreme Court case: AFPF v. Bonta.
What I recently learned is that just two weeks before the oral argument in the case, a China-based supporter of his organization was forced to go on Chinese government television, confess to the "crime" of financially supporting Dr. Yang's non-profit, and receive an 11-year prison sentence. Dr. Yang writes,
"As political tensions rise in the U.S. and hostility to free speech and democracy persist in America and around the world, it is essential that we protect our privacy. The range of people, causes, and movements that would suffer without it is greater than we may realize – until it is too late."
August will be here before we know it, so as students start to head back to school in the next month or so, I'll be using this space to talk more about free speech on campus. If you have any concerns or articles you want to share, send them my way.
Civil liberties are the solution to uncivil times. Join the defense of Free Speech: