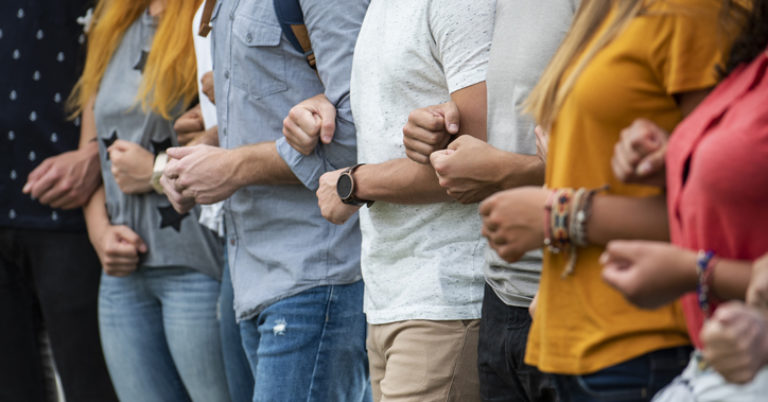 The high stakes of privacy: Renowned Chinese dissident tells Supreme Court that freedom depends on First Amendment protections
Dr. Yang Jianli wants the U.S. Supreme Court to remember that the right to privacy in association is essential to freedom. Not just in the United States, but worldwide.
"There are always some people who tend to use power to interfere with freedom," he says.
This is the thrust of an amicus curiae brief Dr. Yang filed in Americans for Prosperity Foundation v. Bonta, challenging California's demand that nonprofit groups hand over lists of their supporters and their personal information.
His argument is as personal as it is powerful.
Ever since his narrow escape from the Tiananmen Square massacre in 1989, Dr. Yang's work challenging authoritarian regimes has placed him directly in the crosshairs of the Chinese government.
Today, that danger has extended to those who support his work through Citizen Power Initiatives for China (CPI), the human rights group Dr. Yang founded in the United States in 2008 to promote a peaceful democratic transition in China.
As a nonprofit, CPI relies on contributions from people throughout the U.S. — California included. And as with all nonprofits groups whose work involves controversial issues, privacy of their supporters is paramount.
"Whoever wants to support us must have some connection to China. Either they have family, friends or a business," explains Dr. Yang. "China has a long arm to harass and surveil — this is a well-known fact."
He hopes sharing the real-life consequences of intimidation of private citizens by those in power, alongside the nearly 290 other vastly diverse organizations and individuals who have also weighed in on the case, will raise awareness of the range of people, causes, and movements impacted by Americans' ability to maintain privacy.
A movement awakens
Dr. Yang's biography reads like a thriller.
Born in 1963 in Shandong Province, China, he was the son of a Communist Party leader and graduated from college at 19. By the 1980s, he was a rising star in the party.
But he quickly became disenchanted with the corruption and duplicity he experienced in the communist system. At age 23, he left China to study mathematics at the University of California. In 1989, his fellow Chinese students elected him to support their counterparts in China as they demonstrated for democracy in Tiananmen Square. He returned to Beijing, joined the movement, and witnessed the Red Army's massacre of thousands.
The event changed his future.
He narrowly escaped capture and returned to the U.S., earning doctorate degrees, in mathematics at the University of California at Berkeley and in political economy at Harvard.
Along the way, Dr. Yang also earned a blacklist by the Chinese government, which he challenged in 2002 by going back to China to support the nonviolent labor movement. He was arrested, imprisoned, and kept largely in solitary confinement. He was freed five years later after an international outcry and the prodding of U.S. lawmakers.
Dr. Yang formed the Citizen Power Initiatives for China as soon as he was back on American soil, an effort that would not exist without the ability of his supporters to maintain their privacy.
"The Chinese government sees us as its fierce enemy. And whoever donates to us would also be considered a fierce enemy of the government," he says.
'Oh my God'
It is no exaggeration that identifying CPI members and donors is a matter of life and death. It can lead to threats, harassment, and reprisals by the Chinese government, the Chinese Communist Party, and others acting on their behalf.
In 2019, a friend of Dr. Yang's who lives in China but travels yearly to the U.S. was arrested and detained for supporting CPI and Hong Kong activists.
Another major contributor halted his support after learning the Chinese government had discovered his donations. And many sympathetic would-be donors who live in the U.S. have demurred out of fear they'll face persecution or lose their business.
"In China, there's no privacy at all. Whatever the government wants to know, it will find a way to find out," he says. By contrast, he adds, Americans have the fundamental rights that allow them to join together with each other.
California's requirement demanding that organizations — including his — disclose their donors threatens those rights.
Despite promises of confidentiality, donor names have been repeatedly released to the public.
That Chinese authorities can intimidate U.S. citizens is chilling enough. Now, as Dr. Yang sees it, California is enabling the same potential for reprisal by anyone who doesn't agree with an organization's cause.
"Oh my God," he recalls thinking.
Dr. Yang grew concerned about the implications for his supporters as well as other Americans who give to any number of causes that others may violently oppose. He worked with the nonprofit public interest law firm, First Liberty Institute, to craft his amicus curiae brief in a way that brings to life his own experiences with the horrors of China's regime.
In the meantime, the outlook for the imprisoned donor in China has grown far worse.
The week before the Supreme Court argument, Dr. Yang learned his friend and donor, who has been in Chinese custody since 2019, received an 11-year prison sentence and was forced to "confess" his crimes on a national television broadcast.
"Of course, he was forced to say a lot of things. Some are true, and some are not true. And in the show, he mentioned my name and organization multiple times," says Dr. Yang. "So, this is a serious, serious issue. We have to take donor privacy seriously."
Assembly rights transcend ideology, empower progress
Throughout history, progress has often relied on the ability of Americans to anonymously take a stand against injustice.
It was true during the Civil Rights movement. It was true with marriage equality. And it remains true in addressing the injustices we see in America today.
The comparisons to China's grim relationship with human rights and progress are not lost on Dr. Yang.
"In order to guarantee the freedom of the civil society, individuals have to have the freedom to do the things they think are good for the society and to do things according to their conscience," he says.
It's essential to be able to turn those opinions into action without fear of retribution.
The nearly 290 organizations and individuals who filed amicus briefs in this case represent a stunning array of beliefs and interests, including religious liberties, LGBTQ rights, free speech, racial justice, animal welfare, international aid, tax reform, and human rights.
One of those groups confirms Yang's concern about the way California's disclosure regime could be used by the Chinese Communist Party to intimidate and punish its opponents. ChinaAid was founded by Bob Fu, whose experience at the Tiananmen Square massacre and the human rights work he's done since give him firsthand knowledge of the risks taken on by people who support these causes. These signers dramatically diverge on many policies, but they have converged on the First Amendment right to privacy in association as a hallmark of America.
"Upon seeing so many organizations ranging from left organizations, to the right organizations, regardless of where you fall on the political spectrum, we're on the same page," says Dr. Yang. "That speaks volumes about this issue."
'A life and death issue'
Today, a mere Tweet can spark passions on all sides of a hot-button issue.
And in today's politically charged tinderbox where opponents are increasingly seen as evil instead of just wrong, those passions often teeter from vibrant debate to violent hate.
After last year's racial justice demonstrations, for example, there were calls to uncover supporters of the Black Lives Matter movement in Louisville, Kentucky, and the Justice Department launched inquiries in several major U.S. cities concerning the funding for protests.
As the risk of violence grows, so too does the potential harm if people cannot support causes privately.
"I'm really concerned about political polarization in this country," says Dr. Yang. "I do see extreme acts by many people in this country, left or right. And they do think they are entitled to vandalize verbally, or even physically against those who do not share views with them. So, we have to be very strong, very firm in defending individual rights."
A lower court noted that it takes only a single exposure of a donor's identity to invite harassment and reprisals. Once a donor list hits the internet, there is no way to meaningfully restore confidentiality.
"We should not let that door open," says Dr. Yang. "Even if it's just slightly open, that may represent a chance that the government power will increase to the point that the individual's privacy will be violated."
And the consequences could be dire, as with his imprisoned friend and donor.
"Eleven years is not a small matter. And more serious things can happen to other donors. This is really a life and death issue. We have to take this seriously."
Our First Amendment protections empower everyone to make progress toward America's founding ideals. Learn more about Americans for Prosperity Foundation's work to defend and promote these civil liberties.