A quick look at Senators Tillis and Sinema's promising plan to solve the border crisis
Senators Thom Tillis and Kyrsten Sinema are working toward a plan that restores control over our border in exchange for a solution for Dreamers.  
With border crossings approaching their highest levels in over two decades and the unconstitutional Deferred Action for Childhood Arrivals program likely to get struck down, Senators Tillis and Sinema are taking an opportunity to solve two immigration crises at once.  
This non-partisan leadership is the only way we can permanently restore accountability when enforcing our immigration laws.  
Increasing U.S. Border Patrol staff 
These lawmakers are seeking input from security officials and other stakeholders at the border, which is why the framework includes record investments to ramp up staffing of U.S. Border Patrol agents.  
Research from the University of Michigan finds that every 10% increase in hours spent patrolling the border reduces unlawful crossings by as much as 8%. Other studies find similar results.  
The chart below from IZA World of Labor illustrates how a surge in Border Patrol staffing causes illegal immigration to collapse.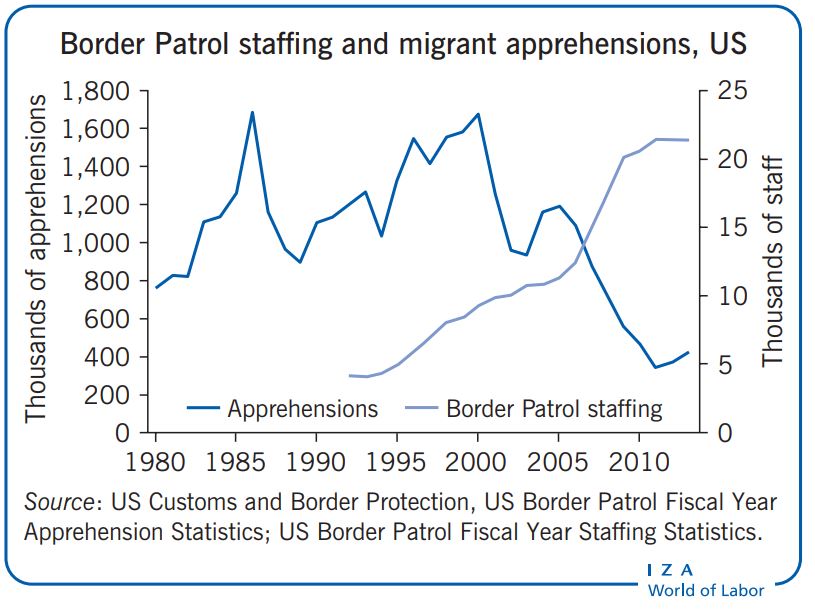 Fixing our asylum system 
The Tillis/Sinema framework also corrects misaligned incentives that encourage frivolous asylum claims.  
According to one DHS report, the 2019 asylum crisis diverted as much as 60% of our Border Patrol agents from their routine surveillance duties in order to process asylum applicants. This left many parts of our border unmanned and resulted in numerous security breaches.  
Because asylum claims are often pending for years before getting decided, applicants can knowingly file unsuccessful claims while reaping the benefits of living in the U.S.  
The Tillis/Sinema framework invests resources in our asylum system to ensure that those with frivolous cases are swiftly rejected and removed so that our humanitarian systems can be utilized as they were intended.   
Providing Dreamers with certainty 
Finally, the Tillis/Sinema framework provides Dreamers a 10-year pathway to lawful permanent residency, but only for applicants who have lived in the U.S. for years, pass a clean background check, and meet particular work and education requirements.  
Given that there are over 200,000 U.S. citizens who are married to a Dreamer and over 750,000 citizen children with at least one Dreamer parent, failure to pass a lawful alternative to DACA would inflict hardship on thousands of U.S. households across the country as their ability to work and protections from deportation get revoked. 
Despite over 70% of voters wanting Congress to secure the border and provide certainty for Dreamers, the political extremes have prevented lawmakers from acting.  
This framework offered by Senators Tillis and Sinema is an invitation for lawmakers to finally listen to their constituents and solve these problems.  
Read our joint statement with The LIBRE Initiative to learn more about why it's time to address our border crisis and provide certainty for Dreamers.