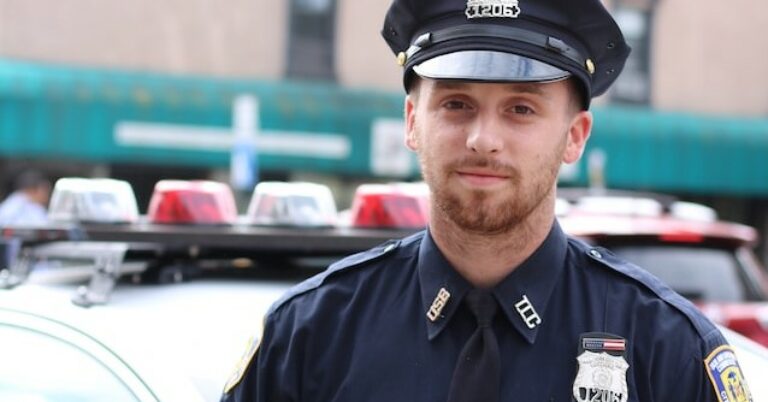 The best way to provide support to law enforcement during National Police Week 2023
May 14th kicks off National Police Week 2023! Americans for Prosperity is taking this time to honor our officers, spread awareness about the challenges they're facing, and lead initiatives to help officers best serve their communities.
Here's what you should know about National Police Week 2023 and what can be done to support officers around the U.S. this week and beyond:
Celebrating Police Week 2023
Americans have been celebrating Police Week for over 60 years. This week is a time to honor those who lost their lives in the line of duty and support our retired and currently serving officers. AFP recognizes the vital role police officers play in keeping our communities safe and thanks officers for the work they do.
The proposed changes to policing that make the nation less safe
The last few years have been particularly difficult for law enforcement, with stark and simplistic statements about how to fix policing in America.
On one side, demands are being made to "defund the police" (even though 85% of Americans don't want to cut police budgets). On the other end of the spectrum are calls for overly-punitive, draconian policies that have been shown to backfire on public safety.
However, neither of these 'solutions' actually solve any problems. Cutting funding to law enforcement will make America less safe
On the other hand, an overly aggressive approach often leads to unnecessary interactions between citizens and the criminal justice system, which can trigger recidivism and cycles of crime and incarceration. Likewise, this makes America less safe in the long-term.
The policies preventing officers from protecting and serving
Law enforcement should be focused on preventing and solving serious crimes.
But many government policies demand that law enforcement officers spend the vast majority of their time dealing with other issues, such as non-criminal calls, traffic-related incidents, and minor offenses. As a result, only about 42% of violent crimes result in an arrest by law enforcement.
For example the former executive director of the Law Enforcement Action Partnership, Major Neill Franklin (Ret.) points to laws regarding suspended driver's licenses that hinder the ability of officers to combat legitimate crime.
"Suspending licenses for non-driving-related reasons decreases road safety and forces police to spend hours making unnecessary arrests and waiting for towing companies," he explained.
Police often have to handle mental health crises and substance use issues that are much better handled by community groups and organizations who have the expertise, training, and time to handle these situations properly.
Police are overburdened, overworked and their own well-being suffers because of that — which effects how they do their jobs. They need more support — from local governments, community groups, and other organizations — to be able to focus on their mission of upholding public safety.
Exploring the best ways to support law enforcement during Police Week 2023
The best way to support our law enforcement is to empower officers to fulfill their constitutional mandate: preventing and solving serious crimes.
While Police Week 2023 is a great time to highlight the challenges law enforcement faces, AFP is committed to advancing solutions to these issues year-round.
Here are a few examples of how AFP supports law enforcement in protecting and serving all Americans:
Reshifting police focus to serious and violent crimes
To refocus law enforcement efforts on preventing and solving serious crimes, steps must be taken to shift police time away from things that remove focus from these core functions.
AFP joined the Fraternal Order of Police and Major City Chiefs Association to support the Driving for Opportunity Act, which does just that. The Driving for Opportunity Act equips states that want to end driver's license suspensions for court debt with the financing they need to do so.
This is an enormous step forward for law enforcement agencies like the Washington State Patrol, which used to spend more than 31,000 hours a year dealing with drivers who had their license suspended because of court debt.
Ensuring law enforcement has the necessary training and tools to effectively do their job
Police in the United States receive significantly less training than other countries, especially when it comes to critical areas of their job such as dealing with individuals struggling with mental health, addiction, or poverty, how to effectively integrate into the community, as well as proper use of force in varying situations.
Overwhelming evidence shows that increased training in these areas leads to less crime, fewer arrests, and better relationships with the public.
AFP supports a measure in Ohio that would create a dedicated fund to increase resources for law enforcement agencies to receive this necessary training. Additionally, the funding in this measure will go to help officers with their own personal wellness, which is sadly often overlooked and can lead to tragic consequences.
Listening to the individualized needs of LE departments and their communities
Rather than thinking of criminal justice reform as a one-size-fits-all approach, AFP believes the best way to solve the issues facing law enforcement is through reforms tailored to each community's needs.
This year AFP is joining the Public Safety Solutions for America Coalition (PSSA) on a national tour of ten major U.S. cities to chat with community leaders, law enforcement, and local government. On each stop, AFP and PSSA is learning about the unique challenges facing each community, solutions that have worked, and what hasn't worked.
Through the work of the PSSA and the national tour, AFP will then use these takeaways to fight for proven policies that help police reduce community violence, including better police funding to ensure officers get proper training, equipment, and compensation.
We also hope to find ways to better support community organizations that deal with issues like mental illness, drug addiction, and homelessness. Their assistance is a vital piece of reducing the burden on law enforcement and ensuring officers can focus on their core duties—protecting and serving the public.
Check out the findings from the PSSA event in Dallas this March.