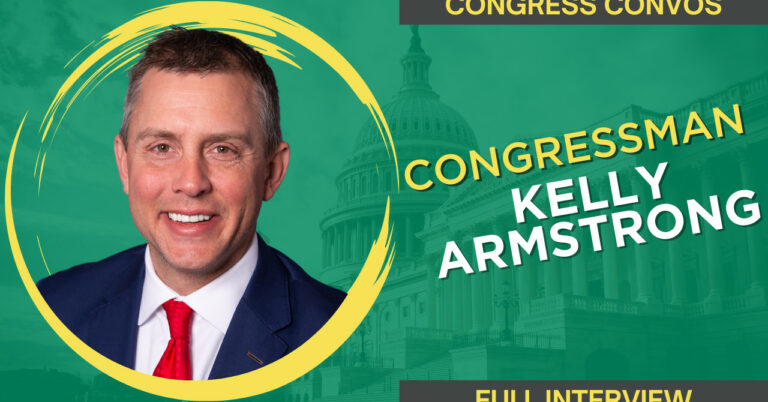 Representative Kelly Armstrong offers solutions to end energy inflation
What can Washington do bring down energy prices and help U.S. farmers and ranchers?
Americans for Prosperity Vice President of Government Affairs Akash Chougule recently interviewed Representative Kelly Armstrong to find out. The discussion was part of AFP's #CongressConvos series.
Inflation hurts American farmers and ranchers
Congressional Democrats and Biden administration officials have tried to convince Americans U.S. businesses are pocketing profits from higher prices.
Armstrong said that notion is flat wrong.
"[I]f you're a cattle rancher and you walk into a grocery store, if you can find steak … it's twice as expensive as it was a year ago. And, you know, not a single penny of that increase is coming back to your operation."
That's because the energy prices farmers and ranchers pay have risen about 35% since last year. While countries like Germany are burning more coal than they were 13 years ago, Armstrong said the United States is the only major economy to reduce its carbon emissions.
"It gets really, really frustrating," Armstrong concluded. "Instead of celebrating small American, North Dakota [energy] companies that are putting people to work, that have revitalized communities … we have an entire administration … that is trying to demonize what makes my state great."
North Dakota is sitting on generous energy reserves that could address rising energy prices. "If the federal government would just get out of the way," Armstrong said prices would decline.
Congress must reform the federal permitting process to speed up development of domestic energy projects, Armstrong advised.
Inflation is one of the greatest short-term threats facing Americans
Armstrong said inflation is one of the greatest short-term threats facing the country. The greatest long-term threat is the national debt.
The national debt has risen exponentially under President Joe Biden's watch.
Chougule asked Armstrong about the president's decision to cancel student loan debt.
Armstrong said 60% of the benefits will be enjoyed by the top 40% of earners.
"You are literally redistributing wealth from blue collar guys who are responsible, who have good jobs to Ivy League people," Armstrong said.
"I'm a psych major with a law degree. Nobody likes book learning as much as I do. But to be quite frank, you can make a really great career being a welder, being a linesman, doing all of these things, and you can make a whole lot of money with a lot less student debt."
Inflation erases an entire month's paycheck
According to Armstrong, inflation has cost his constituents $7,000 in disposable income since President Biden took office. Essentially, it's caused families to lose an entire month's paycheck.
Rising costs also impact North Dakotans in the form of more expensive infrastructure projects. With materials costs going up, Armstrong said one $41 million project in his state is now projected to cost $57 million.
"[P]eople are seeing the real consequences of what happens when you continue to fund things with money that you do not have," Armstrong said.
Armstrong said Congress should:
Enact a strict ten-year balanced budget that lawmakers will stick to
Reform the health care system so there is more price transparency
Stop approving legislation like the Inflation Reduction Act, which won't cut inflation, but will raise taxes
Enacting these reforms will not be easy, the congressman acknowledged.
"We just have to have the political courage to do it," Armstrong said.
Watch our interview with Senator Marsha Blackburn to hear more ideas for reducing inflation and high energy prices.