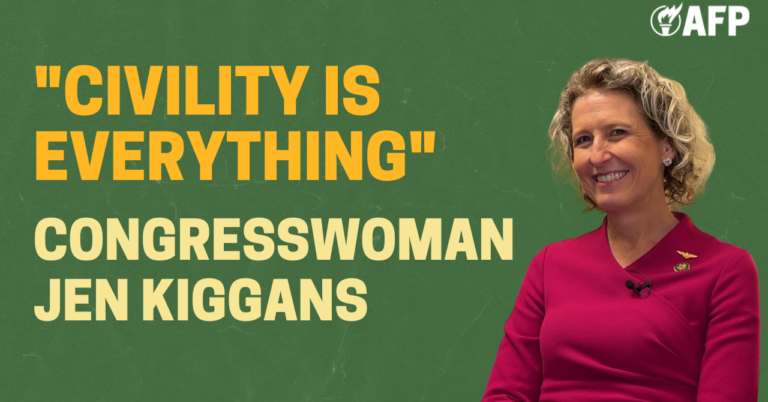 Congresswoman Jen Kiggans advocates productive political discourse
Civility matters in politics. On too many occasions, we see Democrats and Republicans closed off to one another's ideas.
Virginia Republican Congresswoman and nurse practitioner Jen Kiggans spoke with Americans for Prosperity in mid-May to discuss civility in politics, debt ceiling negotiations, and defense spending, among other things.
She believes that politicians can come together to have productive conversations on tough issues and disagree without attacking each other.
"This doesn't mean we have to be rocket scientists and the smartest person in the room. I think you can really just implement a lot of common-sense decision making, which is what I try to do on a daily basis, just do the right thing."
Rep. Jen Kiggans on debt ceiling negotiations: A call for prudent spending
One area where Rep. Kiggans is trying to do this is the debt ceiling. At the time we spoke to her, she said,
"The main objective of that bill is reducing the wasteful spending, which we've seen come out of the Biden administration for the past two years. The position that our debt is in, the trajectory over the next 10 years is that we'll have a $10 trillion debt. That's too much."
She added that her kids and so many other Americans inherit that debt and there were things brought forward during negotiations by the Democrats that she and her Republican colleagues didn't agree with.
Kiggans made clear that the debt ceiling bill doesn't touch veterans' benefits, social security Medicare and the defense budget.
Memorial Day debt ceiling deal: Impact on Americans and federal spending
Since then, House Speaker Kevin McCarthy and President Joe Biden agreed on a deal over the Memorial Day weekend to reduce federal spending and raise the debt ceiling.
The most important part is that the debt ceiling could be raised through 2025. The United States has a $31.4 trillion debt ceiling right now.
The Treasury department believes the U.S. will use the rest of its available cash after that date. In exchange for the suspension, Republicans requested a variety of policy concessions from President Biden.
The new changes mean that some people who get food stamps and help from the Temporary Aid for Needy Families program will have to work for these benefits.
Politicians from both parties have agreed to speed up the process of approving certain energy projects.
They also agreed to build a new natural gas pipeline, running from West Virginia to Virginia.
The Hill reported on Wednesday evening that after talking for just over an hour, the House voted to pass the debt ceiling bill. Congress approved it with 314 votes, even though it needed only 218 to pass. However, more than 70 Republicans voted no.
Congress needed to approve the agreement before June 5 so the government could continue to borrow money and pay its bills.
Take a look back at our conversation with Rep. Pete Stauber on the permitting process within energy reform.