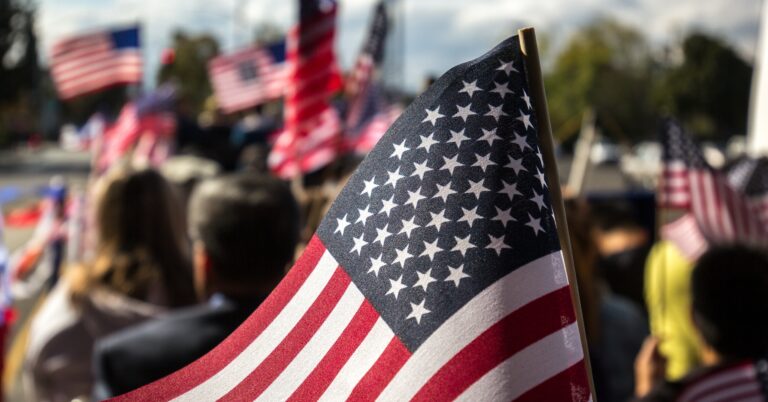 Constitution Day is almost here – 3 tips to ensure you're ready to celebrate one of our country's founding documents
Allow me to be the first to wish you a happy Constitution Day Eve Eve Eve!
Yes, in just a few days, our country will celebrate the signing of the U.S. Constitution – September 17 marks Constitution Day.
In my humble opinion as a constitutional attorney, this day deserves much more celebration. Constitution Day celebrates one of the most pivotal moments in America's history. Other nations have won their Independence. But it's our Constitution that made (and makes) America unique.
Unfortunately, major retailers haven't quite caught on yet. At least, I never see any Constitution Day merchandise in stores at this time of year. (Which is a shame, because it feels like we're missing a real opportunity to dress in powdered wigs and tricorn hats across the nation.)
As a result, you might be wondering how to mark the occasion on Sunday (or even all weekend!). Well, I'm not from the government, but I'm here to help.
Here are a few ways to celebrate:
Read the U.S. Constitution?
O.K, that may sound obvious. Or boring. But start your celebrations by simply reading the document. It's not that long, clocking in at 7,591 words – including the amendments. That'll take you about a half hour. You wasted a lot more than that watching football last weekend (especially if you're a Giants fan).
When many people think about "the Constitution," they think about the amendments (e.g., the First Amendment, Second Amendment, etc.). But the O.G. Constitution is the first bulwark defending those amendments, via the Bill of Rights.
And you might find some surprises.
For example, did you know that the government can just suspend the operation of the Constitution upon declaring an "emergency"? It's right there in Article… wait, no, actually, that's not in there, at all. No wonder so many Americans were concerned about COVID-19 policies stripping them of their civil liberties. And government officials continuing to believe that they have the power to just suspend the Constitution shows we should all spend that half hour brushing up.
Pop a big ol' bowl of popcorn and fire up YouTube.
Your top civics draft picks include National Constitution Center, Bill of Rights Institute, and Freedom Forum, which all provide some great resources to help you remember just how unique our Constitution is.
The National Constitution Center is dedicated to the study of the Constitution, with a mission to bring together "people of all ages and perspectives, across America and around the world, to learn about, debate, and celebrate the greatest vision of human freedom in history, the U.S. Constitution." For Constitution Day, you can explore NCC's online civic education programs at its website, watch some of its national town halls and public debates, or even go visit the interactive museum in person in Philadelphia, Pennsylvania. I've been and it was Constitution nerd heaven.
The Bill of Rights Institute is an educational organization focused on civics, with a mission to "equip students and teachers to live the ideals of a free and just society." BRI offers a vast library of resources, including videos, to support teachers and to engage students – including a free online U.S. history book Life, Liberty, and the Pursuit of Happiness: A History of the American Experiment, which uses point-counterpoint lessons to encourage critical thinking.
Freedom Forum is dedicated to the First Amendment, with a mission to "foster First Amendment freedoms for all." The organization offers classes on the First Amendment, promotes a First Amendment pledge, and even has a newsletter and YouTube channel to showcase First Amendment freedoms and celebrate free speech champions.
Create a shared playlist with your friends.
Now, when it comes to Christmas music, the rule is not until after Thanksgiving. But whether you agree with me about that or are wrong, Mariah Carey can wait because we have Constitution Day music to listen to!
If you're not able to create your own, here are some resources that are good on their own.
Personally, I'm partial to this Schoolhouse Rock! Video:
And the Bill of Rights Institute also has a Constitution Day playlist. Here's just one of the videos within BRI's playlist:
---
One reason it's especially worth highlighting Constitution Day this year is that younger generations lack confidence in America and democracy.
This holiday is an opportunity to help younger Americans understand the blessings of liberty, tranquility, and justice the Constitution was intended to secure for us – the founders' posterity. And while the continued challenges of our nation have led some to see the Constitution negatively, the reality is that many of the difficulties America faces stem from failing to follow the Constitution.
Yes, America is messy and complicated. We Americans disagree on lots of things. And our country makes mistakes.
But the Founders left us the best guide we could have asked for, in the form of our Constitution.
The beauty of this great and radical American experiment is that we're always working to correct past wrongs and striving for better. For justice. For opportunity. And following the Constitution is how we work toward that "more perfect Union."
The only path to bring us together and heal partisan divides is through our Constitution. Not without it, not against it. Through it.
So, does the Constitution still work? Unequivocally, emphatically, resoundingly: Yes. We just have to do a better job at following it.
Americans for Prosperity and grassroots activists like you help ensure our country adheres to the Constitution. This Constitution Day, I'd also like to celebrate you. Thanks for being here.
Civil liberties are the solution to uncivil times. Join the defense of Free Speech and subscribe to Casey's newsletter today: