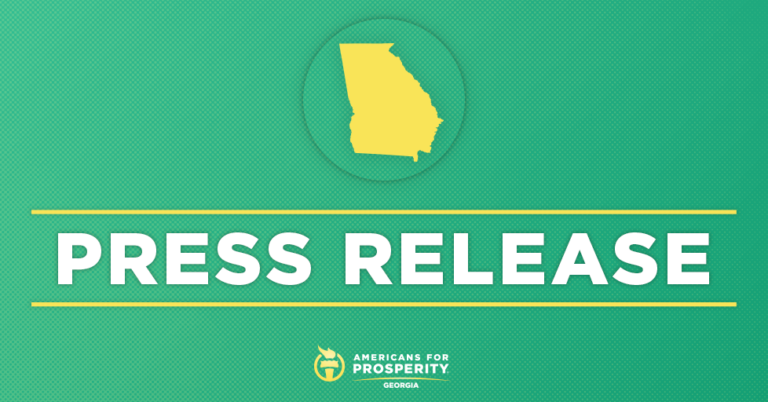 Americans for Prosperity Launches Nationwide Campaign Tying Government Spending to the Rising Costs of Living
The "True Cost of Washington" campaign offers solutions to unleash energy abundance, end wasteful spending, and ignite innovation
ATLANTA – Today, Americans for Prosperity (AFP) launched "The True Cost of Washington" campaign. The new initiative, which will engage citizens in Georgia and eight other states over the next five months, connects today's rising costs of living to harmful government economic policies, offering solutions to make life more affordable for everyday Americans.
The trillions of dollars in new spending that members of both parties have approved in recent years – coupled with regulations that stifle energy supply and economic growth – have produced nearly eight percent inflation, a level not seen in four decades. That translates to:
LESS CASH IN AMERICANS' WALLETS: The average American household will have to spend an extra $5,200 this year just to maintain the same standard of living as the year before
MORE PAIN AT THE PUMP: The average American household will pay $1,433 more for gas this year;
HIGHER COSTS AT THE CHECKOUT COUNTER: The average American household will spend $430 more on groceries this year
Americans for Prosperity – Georgia Deputy State Director Tony West released the following statement:
"It is frustrating to watch Georgians struggle to afford basic necessities while Washington continues to swipe the taxpayer's credit card. Instead of more out-of-control government spending, we should be taking action to empower the entrepreneurs, business owners, and innovators who are working to make household goods more affordable. Americans for Prosperity is excited to engage with our activists and fight for relief for Georgia taxpayers."
Background:
AFP believes that the best way to make life more affordable is through policies that:
The "True Cost of Washington" campaign will engage Americans throughout 2022 in nine states: Nevada, Georgia, New Hampshire, Arizona, Ohio, Pennsylvania, North Carolina, Wisconsin, and West Virginia. AFP local chapters will hold events in all nine states, as well as Washington, D.C. The organization will also run targeted ads on television, radio, and digital channels, both nationally and at the state level to rally support and encourage voters to make their voices heard.