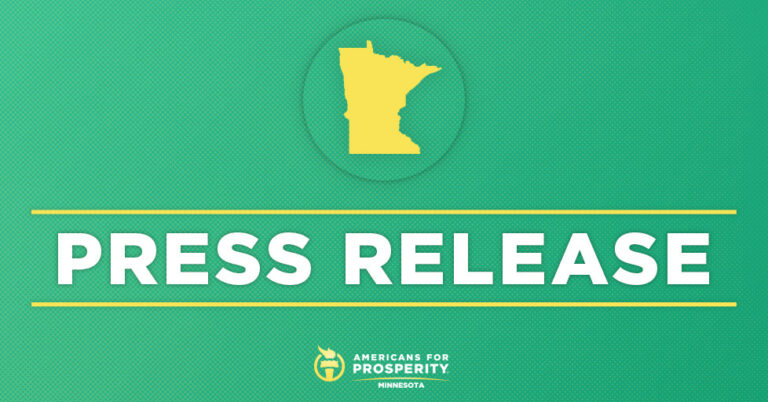 AFP's Stop Overspending Campaign Urges Senator Smith to Cut Spending, Support Rescission
Senator Smith should follow House in seizing opportunity to cut $15 billion in spending by passing rescission package grassroots group says
ST. PAUL, MN – Following the House passage of H.R. 3, the Spending Cuts to Expired and Unnecessary Programs Act, Americans for Prosperity–Minnesota (AFP-MN) is now calling on Senator Smith to take up the measure that would save taxpayers almost $15 billion in unspent funds from previous years.
In a continuation of AFP's long-term Stop Overspending campaign, the organization announced today a new round of digital ads urging Senator Smith to support the White House's rescission plan. AFP launched a similar effort earlier this month urging House members to support the measure.
"Federal spending is reaching critical levels and threatens our country's fiscal and economic future. Fortunately, Senator Smith has the chance to take a first step toward getting control of Washington's out of control spending and protecting taxpayers by supporting this rescission package," said Jason Flohrs, AFP-MN State Director. "Taxpayers and Minnesotan families cannot afford for Senator Smith to miss this opportunity to demonstrate the fiscal responsibility Minnesotans need in Washington. We urge Senator Smith to support rescission and help ensure economic growth and opportunity is not undermined by continued wasteful spending."
The launch of AFP's "Stop Overspending" campaign included mailers and digital ads thanking Congressmen Tom Emmer and Jason Lewis for recognizing that Congress has a spending problem and urged them to continue their commitment to fiscal responsibility by supporting the recession package. Both representatives voted for the rescission package. Earlier this month, AFP-MN encouraged Reps. Erik Paulsen and Tim Walz to take immediate measures to help protect taxpayers by focusing on cutting wasteful spending.
While tax reform was a significant achievement for hard-working Americans, AFP has long-advocated the importance of pairing tax cuts with spending restraint to grow the economy and improve the lives of all Americans. Unchecked spending in Washington threatens to undermine economic growth.
Background:
AFP Launches Major Campaign Against Wasteful Government Spending
AFP-Minnesota to Reps. Paulsen, Walz: Cut Wasteful Spending, Support Rescission