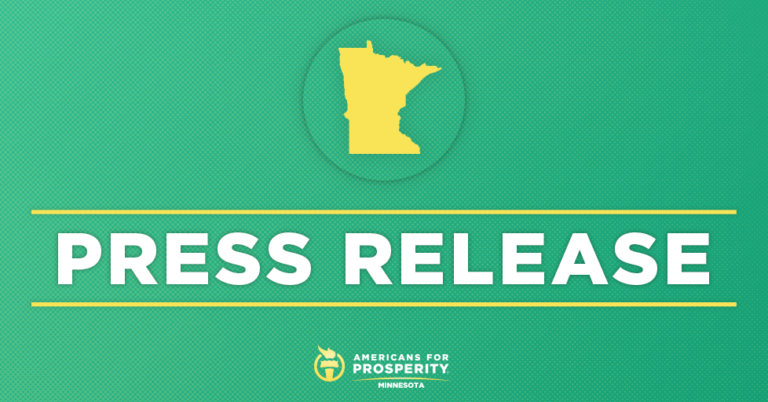 AFP-Minnesota to Reps. Paulsen, Walz: Cut Wasteful Spending, Support Rescission
Congress has opportunity to cut $15 billion in spending by passing President Trump's rescission package  
ST. PAUL, MN – On the heels of launching the first phase of its "Stop Over Spending" campaign to call attention to the dramatic over-spending that takes place in Washington, Americans for Prosperity (AFP) is calling Minnesota Representatives Erik Paulsen and Tim Walz to take the first step in reining in wasteful spending by passing the rescission package proposed by President Trump that would cancel $15 billion in unspent funds from previous years.
Last month, AFP thanked Congressmen Tom Emmer and Jason Lewis for recognizing that Congress has a spending problem and are counting on them to continue their commitment to fiscal responsibility by supporting the recession package. AFP-MN is now also encouraging Reps. Erik Paulsen and Tim Walz to take immediate measures to help protect taxpayers by focusing on cutting wasteful spending.
Currently, no U.S. Representative from Minnesota's delegation is a cosponsor of the rescission package, which was introduced as H.R. 3.
"Representatives Paulsen and Walz have a great opportunity to not just talk about the national debt or overspending, but actually do something about it. It's time they put their money where their mouth is and demonstrate their commitment to fiscal responsibility by co-sponsoring and supporting this rescission package," said Jason Flohrs, AFP-MN State Director. "The upcoming rescission vote is a great step for our elected officials to show they do not just pay lip service to fiscal prudence, but actually take cutting wasteful spending seriously."
Background:
The "Stop Over Spending" campaign includes robust digital, direct-mail, print, and radio advertising in congressional districts across the country to thank or hold accountable members based on their vote on the $1.3 trillion omnibus spending package for fiscal year 2018. That omnibus pushed total federal spending over $4 trillion, or $33,000 per household.
Fiscal year 2019 spending legislation, which is currently being written, will be the last chance for members of Congress to prove before the midterm elections that they can be trusted stewards of taxpayer dollars. AFP views the 2019 spending debate as a critical test for lawmakers and will be engaging grassroots activists throughout the summer to hold both parties accountable for reckless spending and stress the importance of getting spending under control.
Walz: In His Own Words
"Middle class families and small businesses across Minnesota know that the key to balancing a budget is paying for what you spend and making smart, targeted investments for the future. I believe government needs to adhere to the same principles and as we move toward economic recovery, we need to put our country back on the path to fiscal discipline as well." (Policy Issues, "Economic Issues and Fiscal Responsibility," Rep. Tim Walz)
Paulsen: In His Own Words
"You deserve a government that spends its money as wisely as you do. Washington needs accountability, transparency, and more leadership to get our country's fiscal house in order…We need to sunset unnecessary government programs, eliminate wasteful Washington spending, and balance the budget so we can lower the national debt.  Minnesota families and small businesses are making sacrifices and cutting costs, and Washington must do the same." (Issues, "Restoring Fiscal Discipline to Washington," Rep. Erik Paulsen)
For further information or an interview, reach Jason Flohrs at JFlohrs@afphq.org. 
###