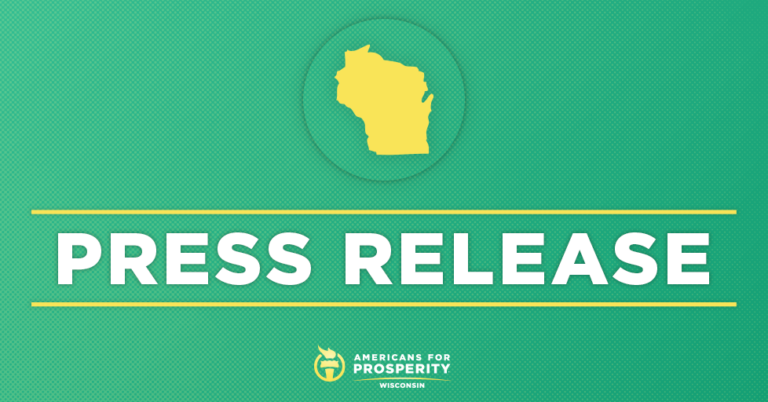 AFP-WI Offers Solutions to Address Ongoing Impacts of COVID-19
MADISON, WI-– Americans for Prosperity-Wisconsin (AFP-WI) today released a statement as Wisconsin's public health and economy continue to be impacted by COVID-19 and related business shutdowns. The grassroots organization urged elected officials to work through the legislative process to pass solutions that will help Wisconsin, the economy, and citizens recover and rebuild. 
AFP-WI State Director Eric Bott issued the following statement offering solutions for elected officials to consider:
"Each branch of our government has a critical role to play in getting our state back on track to address the health and economic hardships our state is facing right now.
"To address the needs of our health care system, Wisconsin must extend the regulatory relief offered by Act 185 that allows pharmacists to extend prescriptions, universal health care licensure recognition, and expedites licensure renewals. These solutions helped our health care systems and workers in the Spring address the first surge of the virus and we know that these solutions will help us moving forward. Additionally, we must increase access to telehealth treatment through telehealth parity, ensuring that Wisconsinites are able to use this critical service for their health care needs. We encourage expanding scopes of practice for physician assistants and nurse practitioners to ensure each provider is practicing at their highest level of training to help all patients in our health systems. Removing these burdensome barriers to quality health care will help our state quickly and nimbly respond to the ongoing health impacts of COVID-19.
"Our state also needs to take steps to help our struggling economy recover and revive in the coming months. The Legislature and the Governor must adopt liability protections for businesses, schools, universities, and nonprofits so they can operate safely without fear of frivolous and costly lawsuits and work to address the ongoing backlogs in receiving unemployment insurance. The unemployment backlog must be fixed immediately to help those who were harmed by government-mandated shutdowns. Finally, any financial relief provided to businesses through this legislation must be targeted, timely, and temporary to help businesses survive the government-mandated closures and capacity limitations.
"Wisconsinites continue to be impacted by the economic and health effects of COVID-19. AFP-WI strongly encourages the Governor and the Legislature to begin working together through the legislative process to consider and adopt approaches to break down the barriers that continue to hinder our state's response to COVID-19." 
For further information or an interview, reach Nicole Tardif at NTardif@afphq.org or (571) 329-0161.