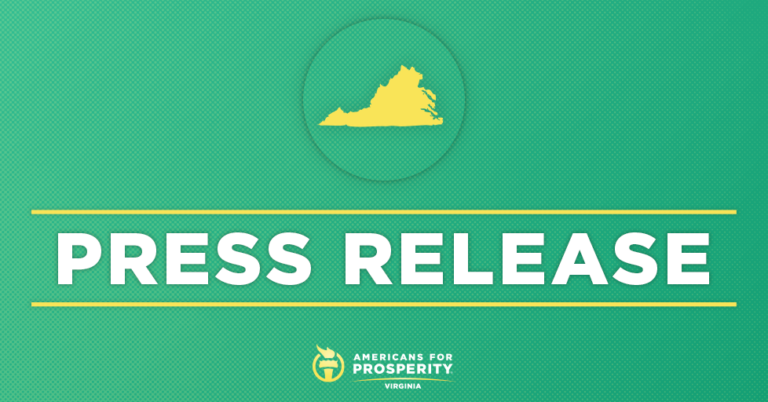 AFP-VA to Lower Cost of Gas at Main Street Market to Highlight the "True Cost of Washington's Spending"
Event is part of a campaign tour that has made over 100 stops across the county 
Waynesboro, Virginia — On Tuesday, Aug. 18, Americans for Prosperity-Virginia (AFP-VA) will partner with a local gas station, Main Street Market in Waynesboro, lower the price of gas to $2.38 per gallon – which was the national average in mid-January 2021 – as compared to the current average gas price in Virginia at $3.85 per gallon. This grassroots awareness event is part of AFP's national "The True Cost of Washington" campaign, which highlights rising costs for Americans and their businesses. In May alone, Virginians spent an extra $644 out of pocket due to inflation.
AFP-VA experts will be present to discuss the truth behind rising costs and propose real solutions to make everyday life more affordable for Virginians and their businesses. More information on the True Cost of Washington can be found here.
WHO:   Flint Engleman, AFP-VA Grassroots Engagement Director, Rachel Adams, AFP-VA Director of External Affairs
WHAT: AFP-VA gas station takeover will lower the price of gas to $2.38 a gallon—the average price of unleaded gasoline when Biden first took office in January 2021. Only regular, unleaded gas (85) will be available for a reduced price. Gasoline discounts are given on a first-come, first-served basis for a limited time. No RVs or gas cans.
WHEN: Thursday, August 18th | 11:30am-1:00pm
WHERE:   Main Street Market
2716 W. Main Street Waynesboro, VA 22980
WHY: The federal government's top-down spending policies and burdensome regulations have led to skyrocketing costs, the highest levels of inflation in four decades, and supply chain crises. The Commonwealth its communities, and businesses are feeling the impact as everyday goods have become significantly more expensive.
More background on "The True Cost of Washington:"
AFP's The True Cost of Washington campaign is educating Americans across the country, about the truth behind rising costs while offering real solutions to make everyday life more affordable. Thanks to bad policies out of Washington skyrocketing inflation, Americans across the country can expect to spend an extra $5,200 to maintain the same standard of living as last year, and an extra $1,433 for gasoline.
A poll recently conducted by Public Opinion Strategies for AFP found that 75 percent of Americans reported that the increase in costs has impacted their consumer behavior over the past year. Most individuals surveyed agreed that government policies and regulations have caused price increases. 61 percent of those surveyed blamed President Biden for this increase.
AFP's solutions to combat these rising prices garnered support, with 88 percent of respondents agreeing the government should make it easier to produce energy domestically, and 82 percent agreeing with getting government spending under control by tackling the federal debt and reducing federal budget deficits.