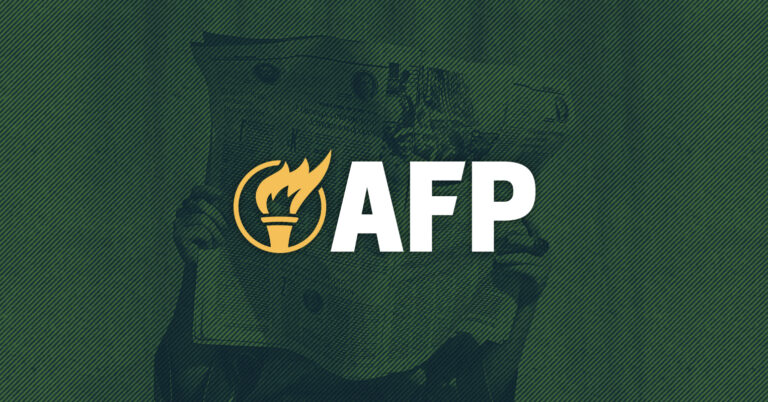 AFP to Lawmakers: Bailouts are Bad Deals
Arlington, Va. – Americans for Prosperity (AFP) boosted its national campaign urging Congress to reject bailouts for state and local governments as lawmakers continue to negotiate potential COVID-19 spending packages.
The campaign includes digital ads to supplement the organization's signature grassroots mobilization activity. Recent reports have found states haven't spent the vast majority of COVID-19 assistance funds the federal government has approved in earlier rounds of COVID-19 assistance legislation, though some lawmakers continue to insist that more bailout funding be part of any relief package.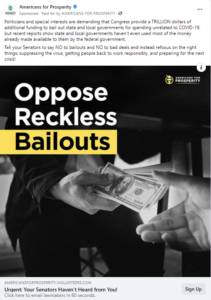 Americans for Prosperity President Tim Phillips issued the following statement:
"The spending packages that have come out of recent congressional negotiations have been bad deals for Americans, and including state and local bailouts would make those bad deals even worse. Our activists have been clear – taxpayers shouldn't be on the hook for financial problems states and localities had long before COVID-19. Helping families and our economy bounce back from this crisis stronger should be Congress' priority, but a trillion dollars of new federal spending to shore up failed pensions and other routine expenditures won't accomplish this.

"Bailing out state and local governments for spending unrelated to COVID-19 only enables more fiscal irresponsibility and is unfair to Americans. Congress needs to instead focus on solutions that could help families and our economy emerge from this crisis stronger."
AFP's Work to Help Americans Recover Stronger than Before:
AFP has long opposed bailouts for state and local governments for spending that has nothing to do with COVID-19. This phase of the campaign includes an increased investment in digital ads that empower constituents to contact their U.S. Senators and encourage them to oppose bailouts and other bad deals.
In April, AFP sent a letter to congressional leaders urging them reject bailing out politicians for irresponsible decisions they made prior to the crisis. Last month, AFP announced it was ramping up its "No Bad Deals" campaign, dedicated to mobilizing its grassroots activists against bailouts and other bad deals that could undermine economic recovery.
AFP also recently released "Recover Stronger: A Starting Point to Build An Economy that Works for All," a set of principles and recommendations that offer lawmakers a starting point to build a stronger economy as the country recovers from COVID-19. As Congress continues to consider additional massive spending bills, the guidance is intended to present better alternatives to help the economy recover – and ultimately create a new, stronger economy.
AFP also recently produced "Federal Budget Assistance: For State & Local Governments", a report detailing the nearly $2 trillion in federal assistance already available to state and local governments, including more than $1.1 trillion that has been provided in the wake of the outbreak of COVID-19. The analysis, conducted by AFP Policy Manager Matthew Dickerson and AFP Senior Fellow Alison Winters, also calculates the flexible federal assistance available to each state. The report suggested that this unprecedented amount of federal funding combined with responsible decisions at the state and local level should allow state and local governments to maintain necessary services without expediting a massive bailout bill from Congress.