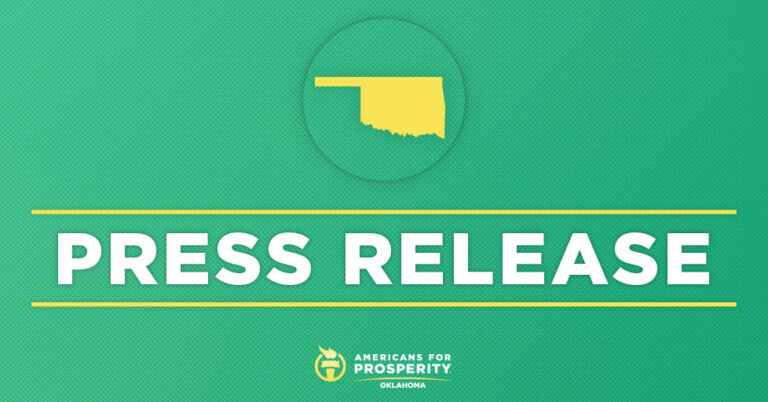 AFP Launches Campaign to Support Criminal Justice Reform Efforts
OKLAHOMA CITY, OK—Americans for Prosperity-Oklahoma (AFP-OK) today announced a grassroots thank you campaign in support of legislative efforts made during the 2019 session to improve the Sooner State's criminal justice system and future reforms. Legislative champions will see digital advertisements and direct mail in their districts touting the importance of their past support and going forward curtailing the monetary and human costs of Oklahoma's criminal justice system.
AFP-OK will launch these efforts thanking: Rep. Mark Lepak, Rep. Kevin McDugle, Rep. Sherrie Conley, Rep. Avery Frix, Rep. Ronny Johns, Rep. Zack Taylor, Rep. Garry Mize, Rep. Denise Crosswhite Hader, Rep. Jay Steagall, Rep. Mike Osburn, Rep. Jon Echols, Rep. Darcy Jech, Sen Julie Daniels, Sen. Nathan Dahm, Sen. Lonnie Paxton, and Sen. Greg Treat.
AFP-OK State Director John Tidwell issued the following statement:
"Thanks to Governor Stitt and the Legislature's leadership, Oklahoma is making great strides to surpass Texas in providing individuals with opportunities to acquire a second chance. Following the historic mass commutation the Sooner State saw last month and the reforms that were championed this legislative session, we're thanking lawmakers for their efforts to allow for more second chances across the Sooner State and encouraging them to implement more reforms. As we look towards 2020's legislative session, we urge lawmakers to consider more ways to improve our criminal justice system and allow for more second chances."
Background:
Following Governor Stitt's historic mass commutation, AFP-OK issued a statement applauding legislative action to provide second chances.
AFP-OK supported several criminal justice reform bills during the 2019 legislative session, including SB 252, HB 1269, HB 2218, and HB 2273.
For further information or an interview, reach Nicole Tardif at NTardif@afphq.org or (571) 329-0161.