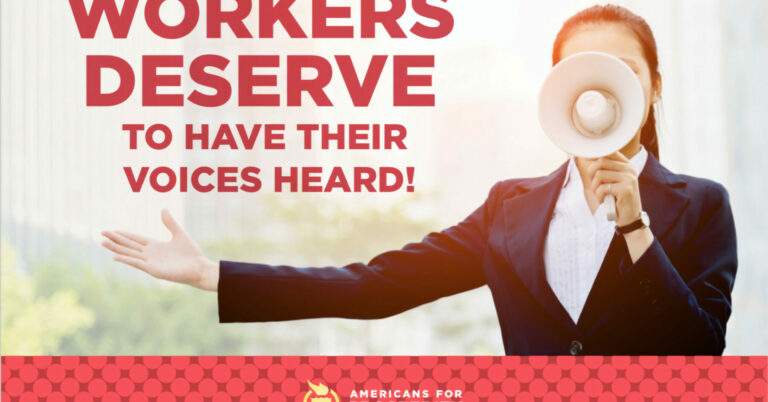 AFP-FL Mail Campaign Urges Floridians to Support Worker Rights Legislation
Tallahassee, FL – Americans for Prosperity-Florida (AFP-FL) launched a new direct mail piece calling on Floridians to support Rep. Plakon's worker right's legislation, House Bill 25 (HB 25), which would expand union accountability and worker freedom. The legislation would require unions to hold regular elections and obtain 50 percent of their actively paying dues members in order to be certified by the state.
Most U.S. union members are represented by unions they have not voted for. Last year, a study conducted by the Heritage Foundation found that unions covered under the National Labor Relations Act only represented 6 percent of their current members that voted for union representation.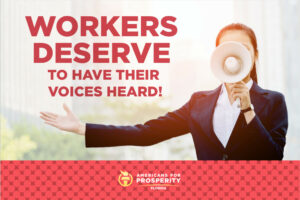 AFP-FL's state director, Chris Hudson released the following statement:  
"Unions need to be accountable and represent the views of their current members. With over 90% of workers represented by a union they never voted for, this legislation ensures unions operating in Florida are more transparent and better serve its members. We thank Rep. Plakon for sponsoring this bill and now call on the Florida Senate to pass this bill. AFP-FL will continue to educate citizens on the benefits of empowering workers with more freedom."
AFP-FL sent the members of the Government Accountability Committee a key vote letter on HB25, urging support for measure. AFP-FL will score votes on HB25 for its annual Economic Freedom Scorecard.
Background:
Last week, AFP-FL launched the first of four direct-mail piece that will hit mail boxes over the first two weeks of 2018. Their grassroots partners at Generation Opportunity (GenOpp) also launched an effort to eliminate so-called "free speech" zones on college campuses that actually limit free speech. And this week, AFP-FL also launched an effort to educate activists about Director Primacy Care and ending handouts to professional sports teams.
AFP-FL state director, Chris Hudson also laid out the group's priorities for 2018 in an open letter that ran in the Tallahassee Democrat, Florida Today, Naples Daily News, and Ft. Myers News Press. Hudson reminds Floridians that "Last year, our legislators kept many New Year's resolutions: trimming the fat from the state budget, making sure taxpayers kept more of their hard-earned money, and expanding educational opportunity for children across the state," and that "This session, there are several legislative proposals that would maintain the steady momentum toward a more efficient and effective state government." Those proposals include expanding Direct Primary Care, cutting spending and corporate welfare, and continuing to promote common sense health care, education, and labor reforms.
AFP-FL will include HB13 in the group's annual Economic Freedom scorecard, and will show votes in support to it as favorable. The group will announce the slate of bills they intend to support and oppose before the first day of session kicks off in early 2018.