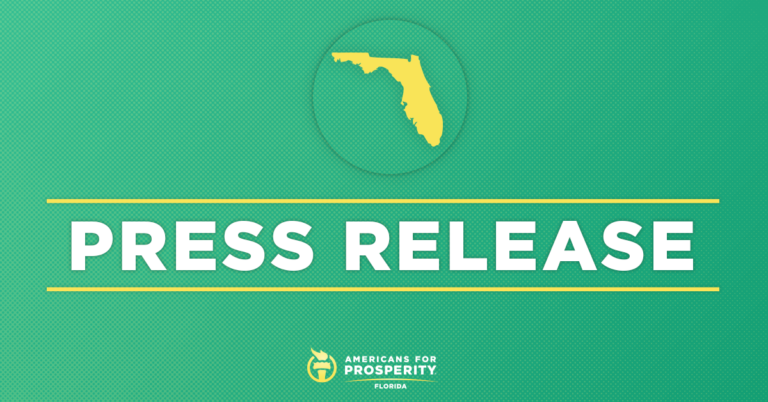 Florida Should End Stadium Handouts
AFP-FL sends direct mail to House and Senate sponsors of anti-corporate welfare legislation
Tallahassee, FL – Americans for Prosperity-Florida (AFP-FL), the leading grassroots advocacy voice against corporate welfare for sports stadiums, launched a new direct mail piece urging constituents to back legislation that would eliminate taxpayer handouts to build stadiums on public lands and end a program that gives professional sports teams subsidies to expand their stadiums.
The group is calling on Floridians to reach out to their state legislators and encourage them to vote "Yes" on two House bills that would eliminate corporate welfare handouts to sports teams. The first bill, sponsored by Reps. Bryan Avila and Senator Tom Lee, would repeal the Florida Sports Development Fund and ban Florida sports teams from receiving taxpayer money to renovate stadiums on public land. The second proposal, HB 6005, also sponsored by Rep. Avila, would prohibit sports franchises from developing facilities on public lands without meeting strict fair-market value requirements. Senator Garcia has sponsored similar legislation, SB 352, in the Senate.
A recent report by the Brookings Institution showed that billions of taxpayer dollars have been spent on sports subsides. To make matters worse, numerous economic experts have long stated stadiums do not spur economic growth.
AFP-Florida State Director Chris Hudson released the following statement:
"It's not the role of government to be in the sports and entertainment business. Continuing to use millions of dollars in taxpayer money to build or renovate professional sports stadiums, while there are real infrastructure needs across Florida just doesn't make sense. We thank Reps. Avila, and Diaz for introducing these bills in the House and commend Senators Lee and Garcia for sponsoring identical bills in the Senate. We urge the House and Senate to quickly act and pass these bills into law, which will finally get taxpayers off the hook from financing private business ventures with little to no return on investment."
Background:
The legislature, led by Speaker Richard Corcoran and the Florida House has been successful in recent years at keeping taxpayer funds out of the hands of professional sports teams like.
Last week, AFP-FL launched the first of four direct-mail piece that will hit mail boxes over the first two weeks of 2018. Their grassroots partners at Generation Opportunity (GenOpp) also launched an effort to eliminate so-called "free speech" zones on college campuses that actually limit free speech. And this week, AFP-FL also launched an effort to educate activists about legislation sponsored by Sen. Lee and Rep. Burgess to reform Director Primacy Care.
AFP-FL state director, Chris Hudson also laid out the group's priorities for 2018 in an open letter that ran in the Tallahassee Democrat, Florida Today, Naples Daily News, and Ft. Myers News Press. Hudson reminds Floridians that "Last year, our legislators kept many New Year's resolutions: trimming the fat from the state budget, making sure taxpayers kept more of their hard-earned money, and expanding educational opportunity for children across the state," and that "This session, there are several legislative proposals that would maintain the steady momentum toward a more efficient and effective state government." Those proposals include expanding Direct Primary Care, cutting spending and corporate welfare, and continuing to promote common sense health care, education, and labor reforms.
AFP-FL will include HB13 in the group's annual Economic Freedom scorecard, and will show votes in support to it as favorable. The group will announce the slate of bills they intend to support and oppose before the first day of session kicks off in early 2018.