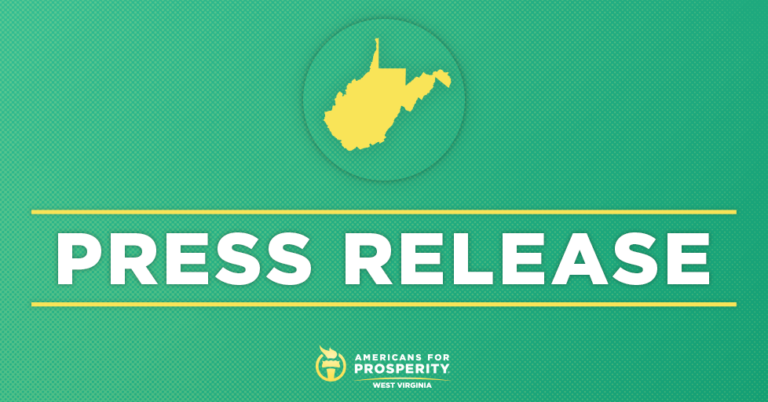 AFP and Cardinal Institute Encourage Governor Justice to Take Additional Action to Address COVID-19
CHARLESTON, WV – Americans for Prosperity-West Virginia and the Cardinal Institute today sent Governor Justice a letter offering steps his administration can take to remove barriers and expand access to critical health care services.
AFP-WV's State Director, Jason Huffman, issued the following statement:
"As the COVID-19 outbreak continues to spread, it is imperative our elected officials examine any regulations, fees, and other unnecessary hurdles that will make it harder for us to address this public health crisis. Temporarily waiving some red tape and regulations have been a great step to helping West Virginians access the health care services we need, but more action is needed.
"We're urging Governor Justice to continue his work to help increase access to critical health care services that states across the country have enacted. By removing barriers on medical professionals and businesses, we can help overcome the challenges our state faces during this public health crisis."
Garrett Ballengee, Executive Director for the Cardinal Institute released the following statement:
"COVID-19 necessitates innovative ways of thinking, so that we can allow individuals to respond to the crisis in effective ways. In order to accomplish this, it is critical that we identify, modify, and remove the barriers that stand in the way of businesses, entrepreneurs, civic organizations, and anyone else attempting to do their part. We hope that these suggestions can help guide Governor Justice as he continues to seek ways to ensure West Virginia defeats this disease and returns to normal as quickly as possible."
Background:
Americans for Prosperity sent Governor Justice an initial letter of reforms his administration should take. Governor Justice and Attorney General Morrisey enacted many of these reforms in a series of executive orders, following what many other states have done across the country.
The Cardinal Institute also sent a letter to Governor Justice last week urging the governor to suspend the state's burdensome Certificate of Need laws. Several states have suspended their CON laws, including South Carolina and North Carolina.
This letter includes the following areas, among others, that address the challenges West Virginians face from COVID-19:
Enable APRNs, CRNAs, and physician assistants to freely prescribe medication without supervision – ending these barriers will allow providers more flexibility to prescribe potential treatments for COVID-19
Expedite tax refunds to businesses and individuals owed money by the State of West Virginia
Systematic review – and suspension – of all regulations that may unnecessarily inhibit the operation, profitability, or likelihood of post-COVID19 recovery such as prevention of to-go sales of liquor
Immediate and indefinite suspension of all certificate-of-need processes that inhibit the delivery of vital healthcare services, as several states have done
Allow medical and nursing students the ability to support physicians fighting COVID-19
Allow health care practitioners expanded scope of practice if doing so is necessary to allow the health care facility to meet required staffing ratios or otherwise ensure the continued and safe delivery of health care services, as Maryland has done