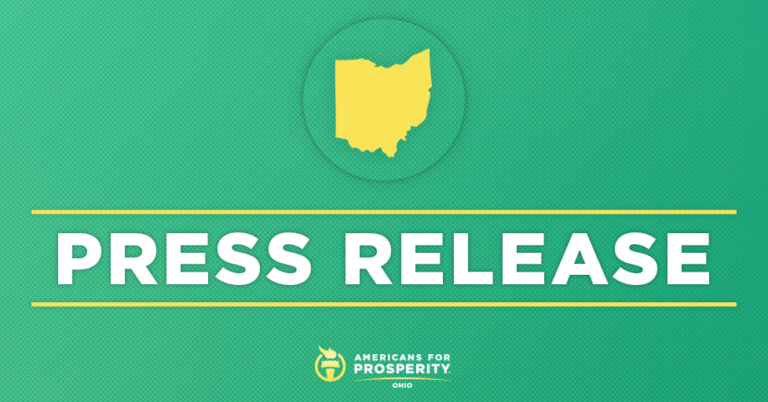 Activists Rally with AFP-OH, State Rep. Merrin Against Infrastructure Bills
Perrysburg, OH – Americans for Prosperity-Ohio (AFP-OH) announced it is hosting an event with state Representative Derek Merrin about wasteful infrastructure proposals Congress is considering. AFP-OH's Grassroots Engagement Director Douglas Simpson will discuss with Rep. Merrin why the so-called bipartisan infrastructure package and Sen. Bernie Sanders' $3.5 trillion reconciliation "infrastructure" proposal will do little to improve roads and bridges for the state of Ohio and harm small businesses and the economy with historic tax hikes.
AFP-OH Grassroots Engagement Director Douglas Simpson issued the following statement:
"These so-called infrastructure proposals will pile on the unsustainable debt we already have while doing little to nothing to improve roads. We look forward to talking with Ohioans about what's really in these bills. Our Ohio congressional delegation needs to stand up for Ohio families and reject these trillion-dollar bills that are closer to a partisan wish list than the regulatory reforms needed to maintain and improve our infrastructure."
WHAT: Pork Is For Food, Not Policy
WHO: AFP-OH, State Representative Derek Merrin
WHEN: Saturday, August 7th at 11:30 AM
WHERE: Holiday Inn Express & Suites Toledo South-Perrysburg
12710 Roachton Rd, Perrysburg, OH 43551
All media are invited to attend. RSVP with Douglas Simpson at dsimpson@afphq.org.
Background:
The event is part of AFP's seven-figure campaign, called "End Washington Waste: Stop the Spending Spree," that connects Americans with the harms of the proposal while leveraging the full weight of the grassroots group's capabilities to drive opposition to President Biden's $4 trillion infrastructure proposal.
So far, AFP's efforts have generated more than 1 million letters to federal lawmakers. That number surpasses any other grassroots advocacy campaign in AFP history. More than 33,000 people have called their congressional offices, too.