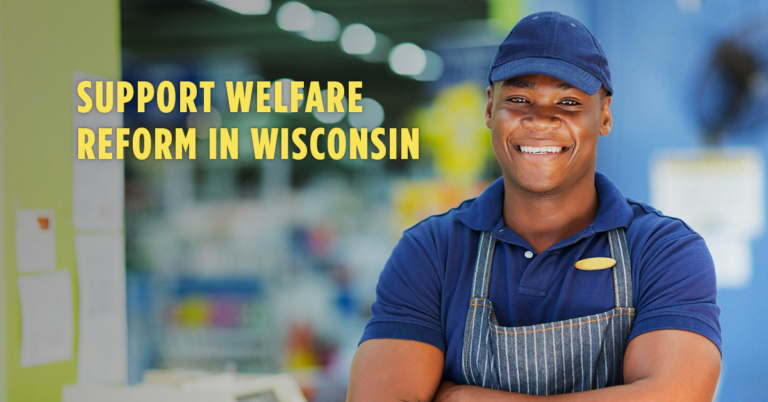 Win of the Week: Gov. Walker Signs AFP-Backed Welfare Reform Package in Wisconsin
Your weekly round-up of the major wins making headlines thanks to AFP's grassroots activists across the country (April 9 through April 13). 
The Big W: Gov. Scott Walker Signed Landmark Welfare Reform Backed by AFP
What it is: The newly signed landmark Walker welfare reform law removes barriers to job opportunities, rewards hard work and cracks down on waste, fraud and abuse in Wisconsin's welfare system.
Why it's important: The new law will help thousands of Wisconsinites find dignity and happiness through work by ensuring that no able-bodied adults are left behind.
The Walker welfare reform law provides able-bodied Wisconsinites with the tools they need to re-enter the workforce, find gainful employment and succeed, through hands-on job training and job-search resources.
The grassroots impact: More than 130,000 AFP-Wisconsin grassroots activists have worked hard to urge Wisconsin lawmakers and Gov. Walker to enact the "Wisconsin Works for Everyone" welfare reform law.
AFP-Wisconsin activists should be proud of their efforts canvassing neighborhoods, making phone calls and talking with legislators and neighbors, which helped lead to the successful passage of this legislation.
Prosperity produced: Thanks to pro-growth policies, Wisconsin's unemployment rate is at a record low 2.9 percent and companies are struggling to find workers to fill openings. The new law will give those Wisconsinites who have fallen on hard times a chance to get back on their feet.
By removing barriers to job opportunities and eliminating waste, fraud and abuse within Wisconsin's welfare system, the new welfare reform law will increase employment opportunities, open doors for more Wisconsinites and serve as a model for the nation.
But the #winning doesn't stop there!
AFP-New Mexico – Otero Becomes the Second County in New Mexico to Pass Right-to-Work
Americans for Prosperity – New Mexico applauds Otero County Commissioners for recently enacting common-sense labor reforms, making the county the second in New Mexico to enact a right-to-work ordinance. Right-to-work will empower New Mexico workers and entrepreneurs while ensuring that employees in Otero County have more freedom and are not forced to hand over their hard-earned money to a union that may not represent their best interests.
In the days ahead, Americans for Prosperity's grassroots activists will continue carrying the torch for freedom as we urge lawmakers across the country to keep passing bold policy reforms that advance economic freedom and prosperity!
Stay tuned for next week's win from Americans for Prosperity!
For further information or to set up an interview, please send an email to media@afphq.org.
Americans for Prosperity (AFP) exists to recruit, educate, and mobilize citizens in support of the policies and goals of a free society at the local, state, and federal level, helping every American live their dream – especially the least fortunate. AFP has more than 3.2 million activists across the nation, a local infrastructure that includes 36 state chapters, and has received financial support from more than 100,000 Americans in all 50 states. For more information, visit www.americansforprosperity.org
###