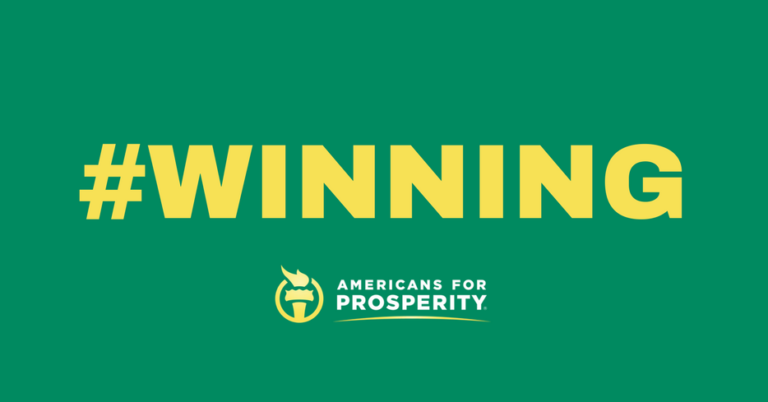 Win of the Week
Your weekly round-up of the major wins making headlines thanks to AFP's grassroots activists across the country (July 23-July 27).
The Big W: Roosevelt and Lea counties become sixth and seventh New Mexico counties to pass a right-to-work ordinance.
What it is: Right-to-work legislation gives workers the freedom to opt out of union dues.
Why it's important: At most unionized workplaces in the state of New Mexico, workers are required to pay dues to keep their jobs, even if they don't want to be represented by the union. Workers in New Mexico — and in every state for that matter — should be free to choose whether union representation is worth giving up part of their paycheck. Right-to-work legislation also benefits the economy, with outlook and employment higher in states that have it in place.
The grassroots impact: AFP-NM has been the most vocal advocate in the state encouraging local governments to pass policies that empower New Mexico workers. Last September, AFP-NM launched the "New Jobs New Mexico' campaign – a robust grassroots, direct mail and digital effort to educate citizens about the impact of right-to-work. AFP-NM first rallied in Sandoval County in August 2017, which passed right-to-work the following January. AFP-NM then mobilized in Otero County, which passed right-to-work on April 12. Lincoln, Chaves and Eddy counties followed on May 15, May 21 and July 17, respectively. AFP's grassroots impact on this issue is bringing New Mexico that much closer to becoming the countries' 28th right to work state.
Prosperity produced: Expanding worker freedom will improve the New Mexico business climate and ultimately make it a better place to live, work and raise a family. This right-to-work ordinance removes barriers, giving workers more control over their hard-earned paychecks.
Runner up: AFP-Indiana has made some 84,000 calls and knocked on hundreds of doors in support U.S. Supreme Court nominee Judge Brett Kavanaugh. These monumental efforts have earned media recognition.