Please select your state
so that we can show you the most relevant content.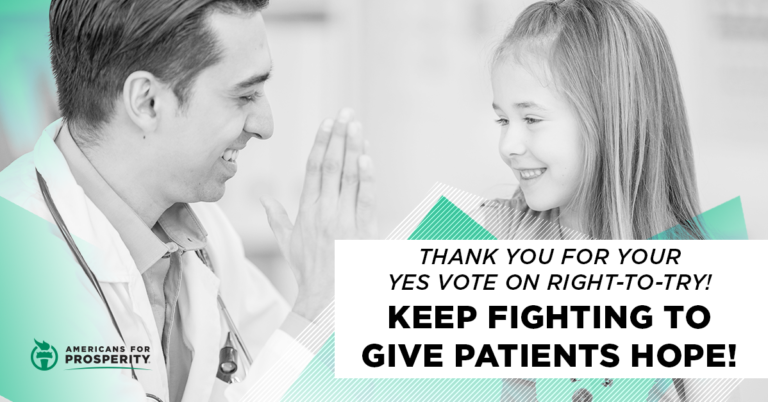 These Lawmakers Stood Up for Terminally Ill Patients
Congress is debating right-to-try legislation that would give terminally ill patients and their families hope. Right-to-try gives patients access to potentially life-saving treatments and medications that haven't received final government approval.
Thirty-eight states have right-to-try laws, but a solution is still needed for doctors and patients at the federal level.
While the House of Representatives recently failed to pass a version of right-to-try under a procedure that required two-thirds votes for passage, there will be another chance for this crucially important policy to become law with a majority vote when it is considered again this week.
Below is the list of lawmakers who voted yes on the House right-to-try bill. Click here to tell them we're still counting on them to keep up the fight for right-to-try and urge them to support this bill again and keep fighting to see it pass the Senate.
Rep. Ralph Abraham (R-LA-5)
Rep. Robert "Bob" Aderholt (R-AL-4)
Rep. Rick Allen (R-GA-12)
Rep. Justin Amash (R-MI-3)
Rep. Mark Amodei (R-NV-2)
Rep. Jodey Arrington (R-TX-19)
Rep. Brian Babin (R-TX-36)
Rep. Don Bacon (R-NE-2)
Rep. Jim Banks (R-IN-3)
Rep. Lou Barletta (R-PA-11)
Rep. Andy Barr (R-KY-6)
Rep. Nanette Barragan (D-CA-44)
Rep. Joe Barton (R-TX-6)
Rep. John "Jack" Bergman (R-MI-1)
Rep. Andy Biggs (R-AZ-5)
Rep. Gus Bilirakis (R-FL-12)
Rep. Michael "Mike" Bishop (R-MI-8)
Rep. Rob Bishop (R-UT-1)
Rep. Sanford Bishop (D-GA-2)
Rep. Diane Black (R-TN-6)
Rep. Marsha Blackburn (R-TN-7)
Rep. Rodney "Rod" Blum (R-IA-1)
Rep. Mike Bost (R-IL-12)
Rep. Kevin Brady (R-TX-8)
Rep. Dave Brat (R-VA-7)
Rep. Jim Bridenstine (R-OK-1)
Rep. Mo Brooks (R-AL-5)
Rep. Susan Brooks (R-IN-5)
Rep. Anthony Brown (D-MD-4)
Rep. Vern Buchanan (R-FL-16)
Rep. Kenneth "Ken" Buck (R-CO-4)
Rep. Larry Bucshon (R-IN-8)
Rep. Ted Budd (R-NC-13)
Rep. Michael "Mike" Burgess (R-TX-26)
Rep. Bradley Byrne (R-AL-1)
Rep. Ken Calvert (R-CA-42)
Rep. Salud Carbajal (D-CA-24)
Rep. Buddy Carter (R-GA-1)
Rep. John Carter (R-TX-31)
Rep. Steve Chabot (R-OH-1)
Rep. Liz Cheney (R-WY-1)
Rep. Mike Coffman (R-CO-6)
Rep. Steve Cohen (D-TN-9)
Rep. Tom Cole (R-OK-4)
Rep. Chris Collins (R-NY-27)
Rep. Doug Collins (R-GA-9)
Rep. James Comer (R-KY-1)
Rep. Barbara Comstock (R-VA-10)
Rep. Mike Conaway (R-TX-11)
Rep. Paul Cook (R-CA-8)
Rep. Jim Cooper (D-TN-5)
Rep. Lou Correa (D-CA-46)
Rep. Jim Costa (D-CA-16)
Rep. Ryan Costello (R-PA-6)
Rep. Kevin Cramer (R-ND-1)
Rep. Rick Crawford (R-AR-1)
Rep. Charles "Charlie" Crist (D-FL-13)
Rep. Henry Cuellar (D-TX-28)
Rep. John Culberson (R-TX-7)
Rep. Carlos Curbelo (R-FL-26)
Rep. John Curtis (R-UT-3)
Rep. Warren Davidson (R-OH-8)
Rep. Rodney Davis (R-IL-13)
Rep. John Delaney (D-MD-6)
Rep. Jeff Denham (R-CA-10)
Rep. Charlie Dent (R-PA-15)
Rep. Scott DesJarlais (R-TN-4)
Rep. Mario Diaz-Balart (R-FL-25)
Rep. Daniel "Dan" Donovan (R-NY-11)
Rep. Sean Duffy (R-WI-7)
Rep. Jeff Duncan (R-SC-3)
Rep. John "Jimmy" Duncan (R-TN-2)
Rep. Neal Dunn (R-FL-2)
Rep. Thomas "Tom" Emmer (R-MN-6)
Rep. Ron Estes (R-KS-4)
Rep. Dwight Evans (D-PA-2)
Rep. Blake Farenthold (R-TX-27)
Rep. John Faso (R-NY-19)
Rep. Drew Ferguson (R-GA-3)
Rep. Brian Fitzpatrick (R-PA-8)
Rep. Chuck Fleischmann (R-TN-3)
Rep. Bill Flores (R-TX-17)
Rep. Jeff Fortenberry (R-NE-1)
Rep. Virginia Foxx (R-NC-5)
Rep. Rodney Frelinghuysen (R-NJ-11)
Rep. Matt Gaetz (R-FL-1)
Rep. Michael "Mike" Gallagher (R-WI-8)
Rep. Thomas "Tom" Garrett (R-VA-5)
Rep. Greg Gianforte (R-MT-1)
Rep. Bob Gibbs (R-OH-7)
Rep. Louie Gohmert (R-TX-1)
Rep. Bob Goodlatte (R-VA-6)
Rep. Paul Gosar (R-AZ-4)
Rep. Josh Gottheimer (D-NJ-5)
Rep. Trey Gowdy (R-SC-4)
Rep. Kay Granger (R-TX-12)
Rep. Garret Graves (R-LA-6)
Rep. Sam Graves (R-MO-6)
Rep. Tom Graves (R-GA-14)
Rep. Morgan Griffith (R-VA-9)
Rep. Glenn Grothman (R-WI-6)
Rep. Brett Guthrie (R-KY-2)
Rep. Colleen Hanabusa (D-HI-1)
Rep. Karen Handel (R-GA-6)
Rep. Gregg Harper (R-MS-3)
Rep. Andy Harris (R-MD-1)
Rep. Vicky Hartzler (R-MO-4)
Rep. Jeb Hensarling (R-TX-5)
Rep. Jaime Herrera Beutler (R-WA-3)
Rep. Jody Hice (R-GA-10)
Rep. Clay "Captain" Higgins (R-LA-3)
Rep. French Hill (R-AR-2)
Rep. Jim Himes (D-CT-4)
Rep. George Holding (R-NC-2)
Rep. Trey Hollingsworth (R-IN-9)
Rep. Richard Hudson (R-NC-8)
Rep. Bill Huizenga (R-MI-2)
Rep. Randy Hultgren (R-IL-14)
Rep. Will Hurd (R-TX-23)
Rep. Evan Jenkins (R-WV-3)
Rep. Lynn Jenkins (R-KS-2)
Rep. Bill Johnson (R-OH-6)
Rep. Mike Johnson (R-LA-4)
Rep. Sam Johnson (R-TX-3)
Rep. Walter Jones (R-NC-3)
Rep. Jim Jordan (R-OH-4)
Rep. Dave Joyce (R-OH-14)
Rep. John Katko (R-NY-24)
Rep. Mike Kelly (R-PA-3)
Rep. Trent Kelly (R-MS-1)
Rep. Ron Kind (D-WI-3)
Rep. Pete King (R-NY-2)
Rep. Steve King (R-IA-4)
Rep. Adam Kinzinger (R-IL-16)
Rep. Steve Knight (R-CA-25)
Rep. David Kustoff (R-TN-8)
Rep. Raul Labrador (R-ID-1)
Rep. Darin LaHood (R-IL-18)
Rep. Doug LaMalfa (R-CA-1)
Rep. Doug Lamborn (R-CO-5)
Rep. Leonard Lance (R-NJ-7)
Rep. John Larson (D-CT-1)
Rep. Bob Latta (R-OH-5)
Rep. Alfred "Al" Lawson (D-FL-5)
Rep. Jason Lewis (R-MN-2)
Rep. Frank LoBiondo (R-NJ-2)
Rep. Dave Loebsack (D-IA-2)
Rep. Zoe Lofgren (D-CA-19)
Rep. Billy Long (R-MO-7)
Rep. Barry Loudermilk (R-GA-11)
Rep. Mia Love (R-UT-4)
Rep. Frank Lucas (R-OK-3)
Rep. Michelle Lujan Grisham (D-NM-1)
Rep. Thomas "Tom" MacArthur (R-NJ-3)
Rep. Sean Maloney (D-NY-18)
Rep. Kenny "Ken" Marchant (R-TX-24)
Rep. Tom Marino (R-PA-10)
Rep. Roger Marshall (R-KS-1)
Rep. Thomas Massie (R-KY-4)
Rep. Brian Mast (R-FL-18)
Leader Kevin McCarthy (R-CA-23)
Rep. Michael McCaul (R-TX-10)
Rep. Tom McClintock (R-CA-4)
Rep. Patrick McHenry (R-NC-10)
Rep. David McKinley (R-WV-1)
Rep. Cathy McMorris Rodgers (R-WA-5)
Rep. Martha McSally (R-AZ-2)
Rep. Mark Meadows (R-NC-11)
Rep. Luke Messer (R-IN-6)
Rep. Paul Mitchell (R-MI-10)
Rep. John Moolenaar (R-MI-4)
Rep. Alex Mooney (R-WV-2)
Rep. Markwayne Mullin (R-OK-2)
Rep. Dan Newhouse (R-WA-4)
Rep. Kristi Noem (R-SD-1)
Rep. Ralph Norman (R-SC-5)
Rep. Devin Nunes (R-CA-22)
Rep. Tom O'Halleran (D-AZ-1)
Rep. Pete Olson (R-TX-22)
Rep. Beto O'Rourke (D-TX-16)
Rep. Steven Palazzo (R-MS-4)
Rep. Gary Palmer (R-AL-6)
Rep. Steve Pearce (R-NM-2)
Rep. Ed Perlmutter (D-CO-7)
Rep. Scott Perry (R-PA-4)
Rep. Collin Peterson (D-MN-7)
Rep. Robert Pittenger (R-NC-9)
Rep. Ted Poe (R-TX-2)
Rep. Bruce Poliquin (R-ME-2)
Rep. Jared Polis (D-CO-2)
Rep. Bill Posey (R-FL-8)
Rep. John Ratcliffe (R-TX-4)
Rep. Dave Reichert (R-WA-8)
Rep. Jim Renacci (R-OH-16)
Rep. Tom Rice (R-SC-7)
Rep. Cedric Richmond (D-LA-2)
Rep. Martha Roby (R-AL-2)
Rep. Phil Roe (R-TN-1)
Rep. Hal Rogers (R-KY-5)
Rep. Mike Rogers (R-AL-3)
Rep. Todd Rokita (R-IN-4)
Rep. Francis Rooney (R-FL-19)
Rep. Tom Rooney (R-FL-17)
Rep. Jacklyn "Jacky" Rosen (D-NV-3)
Rep. Peter Roskam (R-IL-6)
Rep. Dennis Ross (R-FL-15)
Rep. Keith Rothfus (R-PA-12)
Rep. David Rouzer (R-NC-7)
Rep. Ed Royce (R-CA-39)
Rep. Steve Russell (R-OK-5)
Rep. John Rutherford (R-FL-4)
Rep. Mark Sanford (R-SC-1)
Whip Steve Scalise (R-LA-1)
Rep. David Schweikert (R-AZ-6)
Rep. Austin Scott (R-GA-8)
Rep. Jim Sensenbrenner (R-WI-5)
Rep. Pete Sessions (R-TX-32)
Rep. John Shimkus (R-IL-15)
Rep. Bill Shuster (R-PA-9)
Rep. Kyrsten Sinema (D-AZ-9)
Rep. Adrian Smith (R-NE-3)
Rep. Chris Smith (R-NJ-4)
Rep. Jason Smith (R-MO-8)
Rep. Lamar Smith (R-TX-21)
Rep. Lloyd Smucker (R-PA-16)
Rep. Elise Stefanik (R-NY-21)
Rep. Chris Stewart (R-UT-2)
Rep. Steve Stivers (R-OH-15)
Rep. Thomas "Tom" Suozzi (D-NY-3)
Rep. Scott Taylor (R-VA-2)
Rep. Claudia Tenney (R-NY-22)
Rep. Glenn "G.T." Thompson (R-PA-5)
Rep. Mac Thornberry (R-TX-13)
Rep. Scott Tipton (R-CO-3)
Rep. David "Dave" Trott (R-MI-11)
Rep. Michael "Mike" Turner (R-OH-10)
Rep. Fred Upton (R-MI-6)
Rep. David Valadao (R-CA-21)
Rep. Marc Veasey (D-TX-33)
Rep. Ann Wagner (R-MO-2)
Rep. Tim Walberg (R-MI-7)
Rep. Greg Walden (R-OR-2)
Rep. Mark Walker (R-NC-6)
Rep. Jackie Walorski (R-IN-2)
Rep. Mimi Walters (R-CA-45)
Rep. Randy Weber (R-TX-14)
Rep. Daniel "Dan" Webster (R-FL-11)
Rep. Brad Wenstrup (R-OH-2)
Rep. Bruce Westerman (R-AR-4)
Rep. Roger Williams (R-TX-25)
Rep. Joe Wilson (R-SC-2)
Rep. Rob Wittman (R-VA-1)
Rep. Steve Womack (R-AR-3)
Rep. Rob Woodall (R-GA-7)
Rep. Kevin Yoder (R-KS-3)
Rep. Theodore "Ted" Yoho (R-FL-3)
Rep. David Young (R-IA-3)
Rep. Don Young (R-AK-1)
Rep. Lee Zeldin (R-NY-1)
© 2023 AMERICANS FOR PROSPERITY. ALL RIGHTS RESERVED. | PRIVACY POLICY