Please select your state
so that we can show you the most relevant content.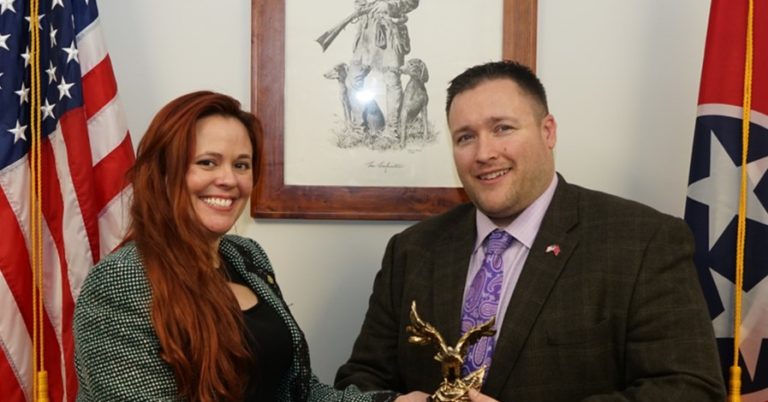 State Rep. Micah Van Huss Receives Champion of Prosperity Award
Taxpayer hero honored by leading grassroots organization
NASHVILLE, Tenn. – Americans for Prosperity-Tennessee (AFP-TN), the leading free market grassroots organization fighting for lower taxes and limited government in Tennessee, named state Rep. Van Huss a "Champion of Prosperity."
"Representative Van Huss has been a courageous leader in the legislature to advance policies that preserve and expand freedoms for every Tennessean. He embodies the integrity and leadership people should expect from their elected officials. It's fitting he receive our highest honor, the 'Champion of Prosperity' award," said AFP-TN State Director Tori Venable. "His dedication to free market policies and lower taxes on behalf of hardworking Tennessee families sets a great example for others to follow."
The "Champion of Prosperity" award is given to lawmakers who have distinguished themselves by scoring 90 or higher on AFP-TN's biannual legislative scorecard, which measures lawmakers' allegiance to economic freedom and fiscal responsibility. Rep. Van Huss has been named a "Taxpayer Hero" with a score of 101.
"I believe that lower taxes and less government are the key to maintaining our freedoms and help us to be a more prosperous society," said Rep. Van Huss. "Americans for Prosperity shares these beliefs. It has been an honor to have their support on legislation, like the repeal of the Hall Income Tax, that makes the lives of my constituents and all Tennesseans better. I look forward to continuing this work with them."
© 2023 AMERICANS FOR PROSPERITY. ALL RIGHTS RESERVED. | PRIVACY POLICY