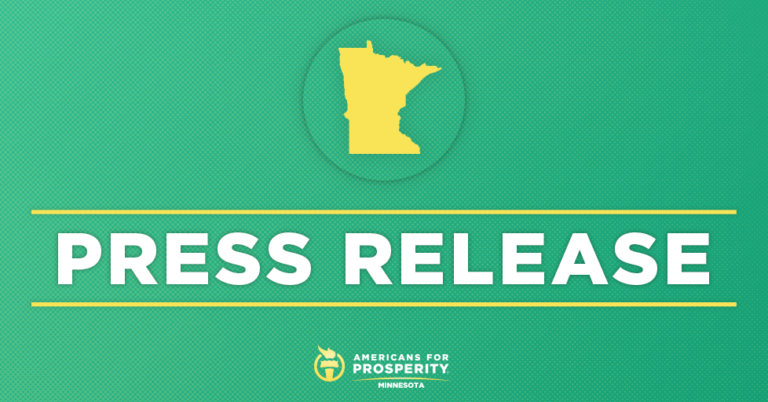 Rep. Pete Stauber Discusses JUSTICE Act with AFP-MN
St. Paul, MN – Americans for Prosperity-Minnesota (AFP-MN) today held a Facebook Live with U.S. Representative Pete Stauber on the JUSTICE Act, a common-sense bill that brings needed reforms to our nation's policing policies.
Rep. Stauber, who has more than 20 years of experience as a police officer in Duluth, is the lead House sponsor of the JUSTICE Act.
You can watch the discussion here.
Rep. Pete Stauber said this about working with Senator Scott in introducing the JUSTICE Act:
"Some of these reforms that I put forward along with Senator Scott should have been done a long time ago. Communities are calling for change. Our nation is calling for change. And that's exactly what our bill did. I got together with Senator Scott who grew up as a black man in South Carolina and I was a police officer in northern Minnesota, we put what we thought was a very, very, very good bill that actually has a very good potential to get signed into law."
Rep. Pete Stauber discussed recent developments of the bill and the need for change in policing standards:
"The Senate Democrats showed they would rather make this a partisan issue for an election year than actually get something done… In my police career, I could see some changes that needed to be done. And now I'm in a place to bring common-sense, pragmatic solutions of transparency, performance, and accountability measures that every good cop wants."
AFP-MN State Director Jason Flohrs issued the following statement:
"The JUSTICE Act should be a no brainer for Congress to pass. It addresses major issues within our criminal justice system, helps improve our nation's policing standards and restores trust between law enforcement and the communities they serve. At the very least, lawmakers should bring this bill up for debate."
Background:
Criminal justice reform remains a top priority for Americans for Prosperity-Minnesota at both the state and national level. The grassroots group recently released a letter to state lawmakers with reforms that will bring needed changes to  policing standards and the criminal justice system.
The JUSTICE Act implements include, among others, the following reforms:
Requiring state and local governments receiving certain federal funds to report use of force incidents
Requiring state and local governments receiving certain federal funds to report all no-knock warrants
Requiring the DOJ Community Oriented Policing Services (COPS) to develop curriculum and certification standards for training regarding use of force, de-escalation, and responding to behavioral health crises
Requiring the AG to develop training for local and state law enforcement regarding officers intervening when another officer engages in excessive use of force
Criminalizing federal law enforcement engaging in sexual acts with an individual who is under arrest, is detained or is in prison