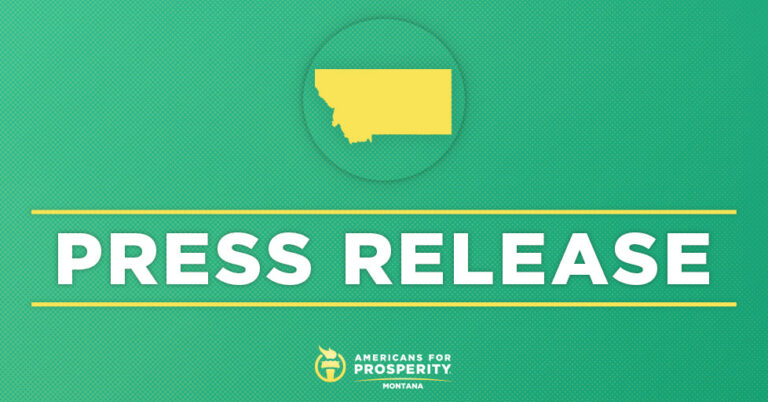 Montanans Want the Bipartisan FIRST STEP Act
BOZEMAN, MT – A newly-released poll shows that 62% of likely Montana voters support the FIRST STEP Act, prison reform legislation that cleared the U.S. House by a vote of 360-59. The poll also shows that 76% of Montana voters say that criminal justice reform is an important factor in determining who they will vote for in the upcoming midterm election.
"96% of men and women in federal prison will eventually be released back into our communities. The bipartisan FIRST STEP Act would equip those seeking a second chance with the tools needed to become productive, law-abiding citizens," said AFP-Montana State Director David Herbst. "The FIRST STEP Act will increase public safety, save taxpayers money, and put people who have paid their debt to society on the path to a better life. Senator Tester should listen to the majority of Montanans who support this bipartisan legislation."
The FIRST STEP Act would create new, evidence-based risk and needs assessment tools that would be used to prepare incarcerated individuals to successfully reenter their communities as law-abiding individuals. The bill would also ban the shackling of pregnant inmates, allow individuals to earn good time credits of up to 54 days per year, allow outside programs into federal prisons to enhance rehabilitation and reentry, and require prisoners, based on their level of risk, to be placed in facilities within 500 driving miles of their primary residence.
Background:
The FIRST STEP Act is Based on Successful Reforms Implemented in States Like Texas. In 2007, the Texas Legislature projected the state would need 17,000 new prison beds over the next five years. After implementing criminal justice reforms, including expanded drug courts and mental health programs, crime dropped to levels not seen since the 1960s. The state closed four prisons and has plans to close four more — and the state saved $3 billion in the process. (Mark Holden & Brooke Rollins, Austin-American Statesman, 2/9/18)
White House Council of Economic Advisers: "On average, programs that address the prisoner's mental health or substance abuse problems may reduce the cost of crime by about $0.92 to $3.31 per taxpayer dollar spent on prison reform and long-run incarceration costs by $0.55 to $1.96, for a total return of $1.47 to $5.27 per taxpayer dollar." (White House Council of Economic Advisers Report, 5/18/18)
President Trump on the FIRST STEP Act: "Get a bill to my desk. I will sign it, and it's going to be strong, it's going to be good, it's going to be what everybody wants." (President Trump, Remarks at the White House, 5/18/18)
Poll Methodology: Voters were randomly sampled from voter registration rolls and interviewed by live operators calling on a combination of landlines and cellphones. Sampling frames and quotas were utilized to ensure appropriate sampling of the state's population. Post stratification weighting was conducted utilizing multiple geographic, demographic, voter, and consumer variables to ensure accurate representation of the target population. The likely voter screen was determined using a combination of vote history and respondent's modeled propensity to vote in the 2018 midterm election.