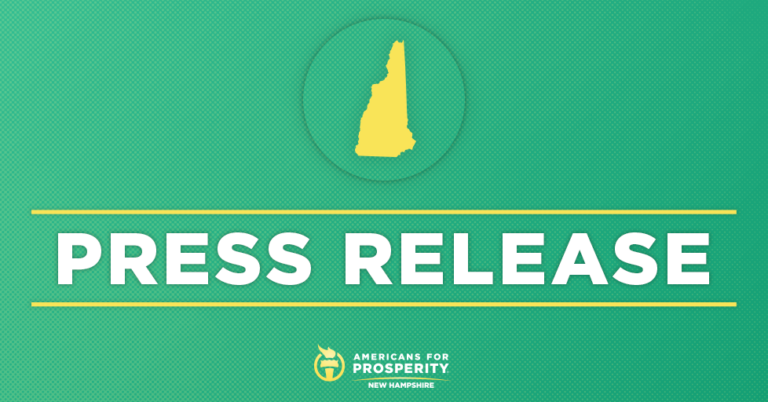 MEDIA ADVISORY: Americans for Prosperity Activists Rally to Tell Rep. Pappas: End Washington Waste
MANCHESTER, NH—Americans for Prosperity-New Hampshire (AFP-NH) announced its latest effort to ensure U.S. Representative Chris Pappas hears loud and clear from constituents that Washington's latest $4.7 trillion "infrastructure" proposal is bad for New Hampshire families and undermines the New Hampshire advantage.
With Rep. Pappas headed back to Washington next week, AFP-NH activists are hosting their own "town hall" in front of his district office in Manchester tomorrow. Media interested in attending are welcome and interviews with AFP-NH spokespeople and activists will be readily available.
AFP-NH State Director Greg Moore issued the following statement:
"If Rep. Pappas won't hold a town hall with Granite Staters about the Biden-Sanders 'infrastructure' proposals, we'll go to his office to make our voices heard. Spending $4.7 trillion that prioritizes tax hikes, infective energy mandates, and a government takeover of health care over actually improving our infrastructure is a road most Granite Staters don't want to go down."
WHERE: Rep. Pappas' District Office in Manchester
889 Elm St, Manchester, NH 03101
WHEN: Thursday, August 19th 2021
10:00 AM – 12:00 PM
WHO: AFP-NH State Director Greg Moore and AFP-NH Activists.
Media can RSVP by reaching Kevin Brinegar at KBrinegar@afphq.org.
Americans for Prosperity is also ramping up its ongoing campaign to oppose the Biden-Sanders infrastructure proposal. The new push, which are part of the grassroots group's seven-figure "End Washington Waste: Stop the Spending Spree" mobilization campaign, includes a new wave of radio ads and direct mail to supplement the work of AFP's activists across the country.
View Sample Spending Spree Mail Piece