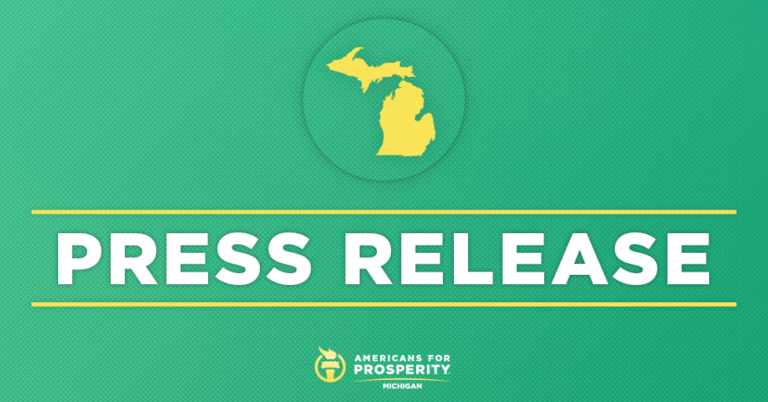 Lame Duck Criminal Justice Efforts Put Bipartisan End to Polarizing Year
Grassroots group says reforms passed this week will change lives, remove barriers for Michiganders
Lansing, Mich. — Americans for Prosperity-Michigan (AFP-MI) commended state lawmakers for their tireless work moving critical criminal justice reforms through the State Legislature this week before adjourning the two-year legislative session.
HB 5844, 5846-5857 and SB 1046-1051 all arose from recommendations introduced by the state's bipartisan Jail & Pre-Trial Task force earlier this year.
AFP-MI Community Engagement Director Diana Prichard had this to say:

"These reforms are a win for citizens and law enforcement alike. We're keeping Michiganders with their families and in their jobs while still holding them accountable for mistakes. At the same time, we're also reinforcing law enforcement discretion, expanding the tools officers have to avoid escalation, and giving them more time in the community and less time doing paperwork in each shift.

"House Judiciary Chairman Graham Filler (R-93) worked tirelessly throughout these final days to make sure these could make their way to the Governor before the new year. Filler, Senate Judiciary Chairman Pete Lucido (R-08), both House and Senate leadership teams, all of the bill sponsors, and countless stakeholders from both sides of the aisle have poured their hearts and souls into this work over the past year and we're thrilled to see them on their way to the Governor's desk in time for the holidays. I can't think of a better gift for Michiganders than a justice system that better lives up to its name."
The House bills were passed out of the Senate last week and those with amendments were concurred by the House on Thursday. They'll remove mandatory minimum sentencing for some misdemeanors, and eliminate the practice of suspending drivers licenses for technical violations such as an inability to pay fines or fees that have nothing to do with safe driving.
Due to house cancellations for Covid-19 the Senate bills faced a tighter timeline. Appearing in House Judiciary Committee for the first time on Wednesday, they passed the House on Thursday and were concurred by the Senate during a special session on Friday. They'll allow police greater flexibility to issue tickets instead of making arrests, allow judges greater discretion over sentencing and warrants for non-violent offenses, and raise the age limit on the Holmes Youthful Trainee Act so young people who make mistakes have a better shot at a true second chance. Only one bill from the packages, HB 5851, remained outstanding Friday afternoon and is expected to pass during a special session early next week.
The recommendations are supported by a broad-bipartisan coalition of organizations from across the political spectrum, including AFP-MI's grassroots network. Most of the bills enjoyed unanimous or nearly unanimous passage in both chambers.