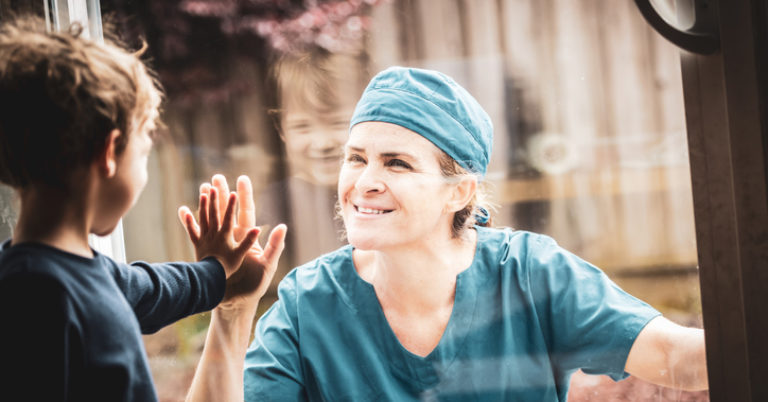 Four ways to beat COVID-19: A better approach to health care reform
The rollout of the COVID-19 vaccines has shown Americans a way out of this pandemic. But with coronavirus infections still growing by the tens of thousands and daily deaths often exceeding 4,000, we have more work to do.
Doctors, nurses, and other health care professionals will need help to get Americans vaccinated, ensure testing can be made more accessible, treat patients with lifesaving therapeutics, and lower other barriers to care.
What does that effort look like?
The following reforms give us a picture. These improvements would help guide us through this pandemic and prepare us for the next health crisis.
A better way to increase access to vaccinations
Several companies were willing and able to produce the vaccines America needs to end the COVID-19 crisis. But the country's vaccine response should not be limited to those companies. There are additional vaccines still in research and production that we cannot afford to hold up in red tape.
Our lawmakers must pressure the Food and Drug Administration to vet these new and often innovative vaccines as quickly as possible, with the help of the agency's highly respected independent advisory panels.
The agency took weeks to approve the first two vaccines, after receiving complete clinical trial data – an unconscionably long time. For future vaccines, it can and should approve them within 48 hours, as the United Kingdom was able to do with the initial Pfizer vaccine.
There is no excuse for other advanced countries operating with the same data to approve vaccines in a fraction of the time it takes our FDA. Delay means lives lost.
But bringing more shots to market is only the start. We must also make sure patients have greater access to these shots. As states and the federal government coordinate their vaccine distribution plans, they must ensure doses are used efficiently, transparently, and equitably – and that none must be thrown out because of poor planning.
We must also ensure that patients' fundamental civil and privacy rights are fully respected.
More COVID-19 testing, faster
America was caught flatfooted in the beginning months of the pandemic when it came to creating and administering COVID-19 tests. The United States has thousands of private and public labs, large and small, with the capability to create these tools. But the FDA originally allowed only one lab to create a test for the virus: The Centers for Disease Control and Prevention.
Unfortunately, the CDC's test failed. The FDA put all its eggs into a single basket — then dropped it. That put the U.S. behind other nations, such as South Korea and Taiwan, which allowed their labs to create the tests they needed to bring the virus under control.
The FDA eventually allowed more labs to create their own tests, vastly improving our ability to detect the virus' growth and movement. But by then, it was too late to contain it.
Testing will still prove essential until the vaccines produce herd immunity. That's why Americans need greater access to self-administered home rapid tests. Here, the FDA needs another push.
The agency has approved only one self-administered rapid test, without the requirement of a doctor's prescription or lab processing, for home use. And while this new tool is a breakthrough for testing — it delivers results in 15 minutes through a smartphone application boasting 95 percent accuracy — it is still relatively expensive and not widely accessible.
The FDA must work to quickly approve an inexpensive COVID-19 paper strip test capable of delivering results in minutes, not days, to Americans who want them.
Making these tests widely available would allow epidemiologists to track the virus in real time and break transmission chains. That would save countless lives.
Faster development of COVID-19 therapeutics to help patients recover
Researchers have come a long way over the past year in developing better treatment and techniques to help high-risk COVID-19 patients survive and return to their families.
But American can do even better. The more therapeutics on the market, the more tools our medical professionals will have to help their patients recover.
That's why the FDA must speed up approvals of new therapeutic drugs and medical devices. It must also allow doctors and patients to try promising but not-yet-approved therapies on an emergency basis.
Finally, researchers must be able to share critical information with each other, which has been one of our key strategies in fighting the coronavirus.
The free flow of information has allowed our medical providers and researchers to collaborate to find what works, reject what doesn't, and create better treatment for COVID-19 patients.
That's why the FDA should allow drug and medical device manufacturers to share valid scientific data with prescribers about promising off-label uses of already-approved therapies, something that would better serve patients.
Make permanent the temporary reforms that increased access to less expensive, quality care
When the pandemic began, several states acted quickly to temporarily suspend many of their regulations that made health care more expensive and less accessible.
Twenty-four states opted to lift the requirement that hospitals and other medical providers comply with certificate-of-need (CON) laws.
These laws intentionally restrict the supply of providers and, often, the equipment they need to treat patients.
They even allow incumbent providers to file objections to a local CON board in order to spike the applications of emerging competitors.
By restricting the number of providers in an area, CON laws reduce access to care, increase its price, and hurt its quality.
Many states also scaled back their scope-of-practice restrictions, which prevent nurse practitioners and other medical professionals from offering many types of treatment and diagnostics they are qualified of providing without the supervision of a physician.
These laws haven't increased the quality of care. Rather, they made it less accessible, particularly for rural Americans.
Certificate-of-need laws and scope-of-practice restrictions simply did not work before the pandemic. Now, with many hospitals nearing capacity, keeping them on the books would prove disastrous.
States should permanently repeal these laws, along with other restrictions on telehealth and the ability for providers to see out-of-state patients, to improve care during this pandemic and after.
You're needed to help push these solutions over the finish line. Contact your lawmakers and tell them: Support these reforms to empower our providers and researchers to fight this pandemic and help us emerge stronger than before.