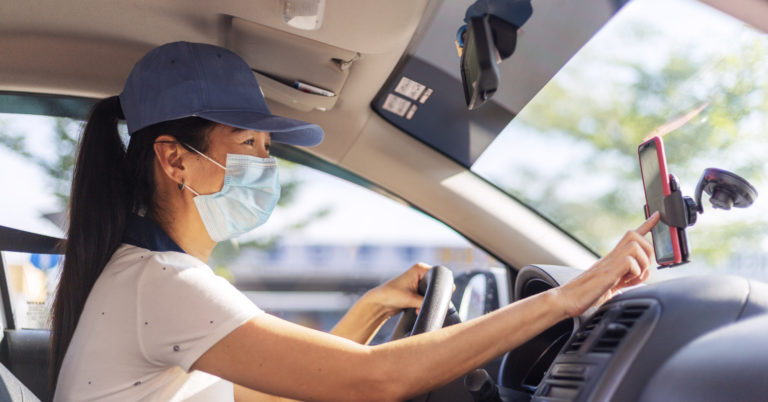 How gig work is helping one student through college – and why lawmakers should embrace it
The rise of the gig economy has helped college students across the country pick up extra cash and gain valuable work experience between classes. Allison Rigterink counts herself among them.
Rigterink, a senior political science major at Saginaw Valley State University, and an intern at the Mackinac Center for Public Policy, picked up gig work in January 2019. She became a courier for Shipt, an app-based company that facilitates front-door delivery of everything from groceries to electronic gadgets.
But recent legislative efforts, such as the House-passed PRO Act, California's AB 5, and similar restrictions across the states, threaten to put a stop to most gig work, freelancing, and independent contracting.
These restrictions are designed to reclassify these workers as employees, with few exceptions.
Rigterink is worried that this avenue of flexible, rewarding work will be cut off to her and others who benefit from it.
Gig work offered Allison the flexibility to fit her lifestyle
Rigterink began her gig work after she spotted a few "green shirts" — couriers, identifiable by their light green shirts emblazoned with the company's logo, who make deliveries to Shipt customers — in her area and asked about their schedules and the work they do.
"Honestly, what impressed me most was how flexible it was," Rigterink recalled. "And as a college student, that was something that I was really looking for because my previous job was very strict on hours."
So she signed up with Shipt. Unlike her previous job, Rigterink could now choose when and where to work. She wasn't required to meet a quota, either. Working a gig with Shipt allowed her to choose her own hours.
"Every semester I have a different schedule," Rigterink said. "Sometimes I'm taking 12, 13 credits. Sometimes it's more like 15, 16."
She was still able to tailor her work with Shipt around her obligations in school, despite the variation in her schedule.
"Some weeks, if I had a really big week at school, I could take a few orders," she said. "And on my lighter weeks, I could take more."
Last year, she took three months to study abroad in Italy, something she had planned before joining Shipt. She still had a job waiting for her when she returned.
Why should lawmakers embrace gig work?
With legislative efforts aimed at eliminating most gig and independent contracting work on the horizon, Rigterink and millions of Americans like her would likely face two choices under such a regime. They would either be reclassified as full-time employees and lose the flexibility they value in their contracts, or lose their jobs entirely if their companies couldn't afford to put them on payroll.
Rigterink believes this is a bad approach for lawmakers to take.
"Independent contracting is an area that's very necessary," she said, adding, "College students need that. It's something I know a lot of moms do, because it's very flexible, and there's other independent contracting that's for professionals in their jobs."
So, should lawmakers go forward with legislation like the PRO Act? No, said Rigterink.
"It's a vital part of our economy that should not be stripped away," she said.
She hopes that lawmakers who support barriers to work will reconsider and recognize that many Americans, who would not be well-served by 9-to-5 employment, rely on independent contracting.
She credits her work under a 1099 — the IRS tax form used to report payments to independent contractors — for allowing her to pursue other work relevant to her college major.
"Having a 1099 actually allowed me to look for the internship that I'm doing right now at the Mackinac Center for Public Policy," Rigterink said. "I wouldn't have as much flexibility to look for that if I didn't have the 1099."
Sign the petition to show you support independent entrepreneurs and oppose unfair efforts to limit worker freedom.