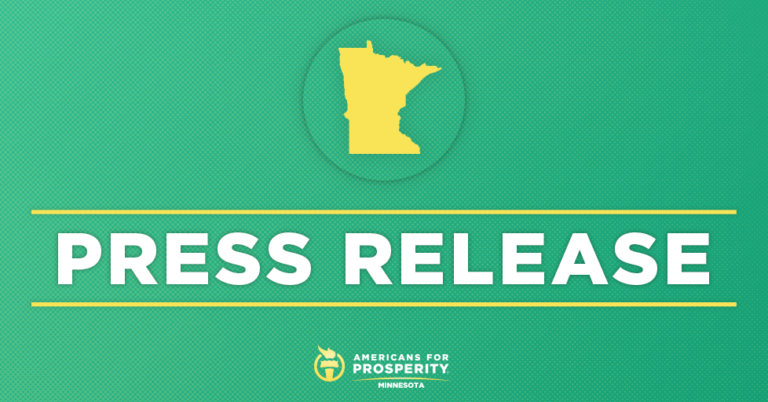 Governor Dayton's Veto Denies Tax Relief for Minnesotans
Grassroots group disappointed in missed opportunity to grow economy, lower tax burden
ST. PAUL, Minn. – Americans for Prosperity–Minnesota (AFP-MN), the state's leading grassroots advocacy organization for economic freedom, on Wednesday expressed disappointment in Governor Dayton refusing to give Minnesotans tax relief by vetoing HF947, a tax reform package that would have provided a state income tax cut for Minnesota families and conform the state's tax code with reformed federal regulations.
"Even after Minnesota lawmakers met the demands of Governor Dayton, the governor almost without thinking abandoned the hard work the legislature did to provide the tax relief that Minnesotan families and taxpayers have long needed. It's unacceptable that Governor Dayton decided to torpedo this great opportunity to bring economic growth to our state and put money back in Minnesotans' pockets," said Jason Flohrs, AFP-MN State Director.
"Thank you to all the activists who engaged legislators and the governor on this important issue," Flohrs continued. "We will continue to advocate for policies that lower our tax burden and will double down on our efforts in the next legislative session to enact pro-growth, comprehensive tax reform."
Background:
Minnesotans will now face unintended state tax increases and a much more complicated filing process as a result of the state tax code's interaction with federal tax changes. The bill featured what would have been the first individual income tax rate reduction in almost 20 years and ensured Minnesota has more control over its tax code by altering the base Minnesota tax code calculation from federal taxable income to adjusted gross income.
Tax Conformity and Education Funding Omnibus Bill is Win for Minnesota Families, Businesses, and Schools (AFP-MN Press Release, 5/21/18)
AFP-MN Urges Governor Dayton to Sign Tax Conformity Bill and Provide Tax Relief for Minnesotans (AFP-MN Press Release, 5/16/18)
AFP-MN Launches Statewide Tax Reform Digital Campaign (AFP-MN Press Release, 5/9/18)
For further information or an interview, reach Jason Flohrs at JFlohrs@afphq.org. 
###