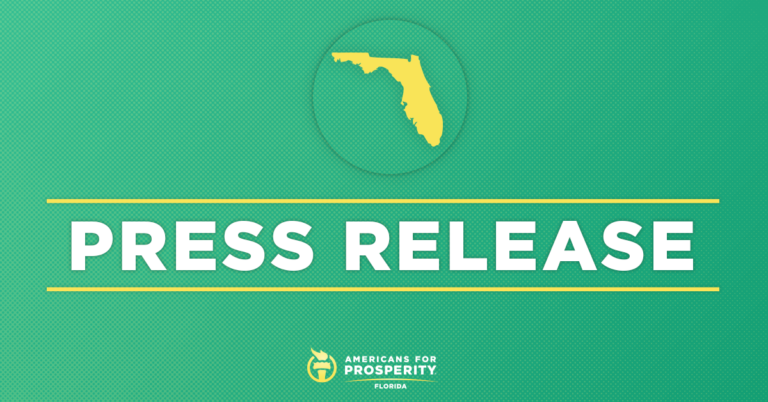 Florida First Step Act: A Win for Public Safety and Taxpayers
Grassroots group praises new Florida criminal justice reform bill
Tallahassee, FL – Americans for Prosperity-Florida (AFP-FL) today commended Senator Jeff Brandes for introducing the Florida First Step Act, legislation modeled off the federal First Step Act which improved federal prison and sentencing policies, and was signed into law at the end of last year. AFP-FL and its coalition partners: Right on Crime, FAMM, the James Madison Institute, the American Conservative Union Foundation, the Faith & Freedom Coalition, Americans for Tax Reform, and FreedomWorks praised the legislation as the initial move to implement smart-on crime, state-based criminal justice reforms in the Sunshine State.
AFP-FL will unleash the full force of its grassroots infrastructure to help drive this critical issue at the capitol and around the state.
Skylar Zander, AFP-FL State Director, issued the following statement:
"Nearly every person who walks into a state prison will one day walk out. The Florida First Step Act will help ensure they're better prepared to get a job and stay on the straight and narrow. That's a win for public safety and for taxpayers. AFP thanks Senator Brandes for his leadership."
Chelsea Murphy, Florida director for Right on Crime, said Floridians are ready for reform. "Poll after poll shows Florida voters are ready to get smart on crime. We'd get better public safety if we reserve prison for people we're afraid of," she said, noting a recent report by the Office of Program Policy Analysis and Government Accountability (OPPAGA) that found Florida could save tens of millions of dollars annually and reduce recidivism by diverting low-risk offenders from prison.
"The Florida First Step Act would be Florida's boldest criminal justice reform in 25 years," said Greg Newburn, FAMM's state policy director.
Background: 
Americans for Prosperity, part of the Koch Seminar Network, has made criminal justice reform a top priority. AFP helped lead the charge for the federal First Step Act, and the Network recently challenged business leaders to help take the next step by pledging to hire more people with criminal records.
Nearly one in three American adults has some type of criminal record and more than 2 million Americans are in state and federal prisons. More than 95% of them—roughly 650,000 each year—will one day leave prison and face the challenges of reintegrating into our communities.
Sadly, statistics show that 77% of inmates are rearrested within five years. While American prisons excel at punishment, they fail to appropriately equip individuals released from incarceration for successful reintegration and keep our communities safe.
The FIRST STEP Act is Based on Successful Reforms Implemented in States Like Texas. In 2007, the Texas Legislature projected the state would need 17,000 new prison beds over the next five years. After implementing criminal justice reforms, including expanded drug courts and mental health programs, crime dropped to levels not seen since the 1960s. The state closed four prisons and has plans to close four more — and the state saved $3 billion in the process. (Mark Holden & Brooke Rollins, Austin-American Statesman, 2/9/18)
White House Council of Economic Advisers: "On average, programs that address the prisoner's mental health or substance abuse problems may reduce the cost of crime by about $0.92 to $3.31 per taxpayer dollar spent on prison reform and long-run incarceration costs by $0.55 to $1.96, for a total return of $1.47 to $5.27 per taxpayer dollar." (White House Council of Economic Advisers Report, 5/18/18)