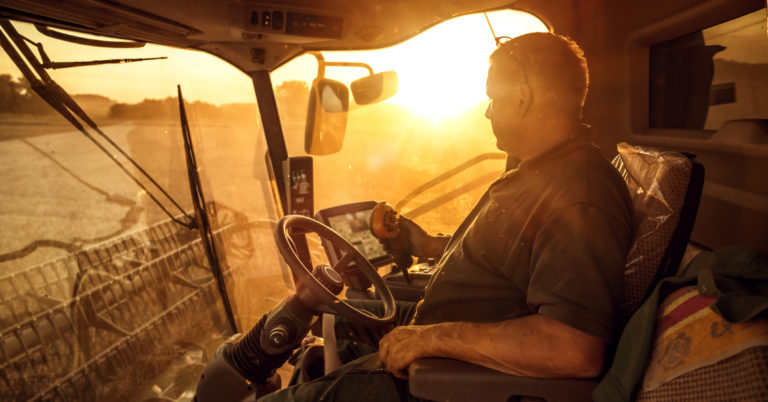 How farming and agriculture would be hurt by White House "infrastructure" plan

America's agricultural sector is a critical component of the U.S. economy, contributing more than $1 trillion to the nation's gross domestic product.
But farm communities across America were hit hard by coronavirus lockdowns, and our farmers and ranchers are working hard to try to recover. This has important ramifications for all of those who earn their living by feeding America and the world, and for the many millions who rely on them.
If lawmakers in Washington develop a prudent, fiscally responsible plan to improve transportation, farmers would be among the greatest beneficiaries. A more efficient system of roads, bridges, and related infrastructure would be good for the nation's farmers and their customers.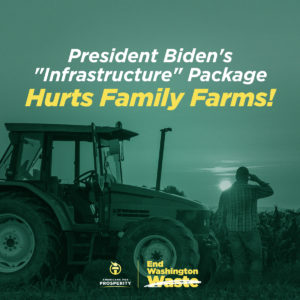 Unfortunately, the $4 trillion spending plan put forward by the White House in the name of infrastructure would hurt our farmers and farm communities in general.
New taxes would raise costs and stifle economic growth.
The proposal would deliver few benefits to America's agricultural producers, failing to improve the transportation infrastructure on which they rely.
It also delivers more than $1 trillion in corporate welfare to politically-favored companies and industries.
Here's a breakdown of the most significant problems this so-called infrastructure package would include.
Historic tax increases
This package and the proposed presidential budget include a slew of tax increases to deliver an estimated $2.75 trillion more for the federal government to spend over the next ten years. Retroactive capitals gains tax increases would punish farmers who succeed in improving their properties. Changes to the estate tax would make it harder to pass on an intact farm to the next generation.
This fiscal blueprint would increase the corporate tax rate to the highest level in the OECD, hurting U.S. competitiveness and slowing our economy. These changes would actually reduce the after-tax income of the lowest U.S. earners by 1.5 percent.
Additionally, when Congress cut the corporate tax rate to 20 percent, it created the qualified business income (QBI) deduction now used by farms and small businesses. If Congress increases the corporate rate to 28 percent, the business income deduction could be reduced to match.
Wasteful spending that won't improve transportation
America's farmers and ranchers depend on reliable transportation infrastructure to move products to market. But less than 5 percent of this spending bill goes to roads and bridges.
Even including money for inland waterways, ports, and harbors, the number is still below 8 percent. This package fails to deliver simple reforms to reduce congestion, expedite the addition of new capacity where needed, and encourage private sector investment.
In all these ways, Congress is throwing away an important opportunity to deliver real improvements.
More than $1 trillion in corporate welfare
This "infrastructure" package not only includes little funding for roads and bridges, it delivers more than $1 trillion in taxpayer-funded favors to politically connected companies and industries. Americans will cover the cost of these payoffs in their taxes, but they won't help workers and families build the American dream.
Unnecessary tax hikes will increase the cost of upgrading facilities, purchasing new equipment, and reinvesting in existing operations.
This hurts the families and workers who make up America's farm communities. Missing a valuable opportunity to enhance transportation infrastructure and damaging U.S. competitiveness will hurt even more.
Our economy won't become any stronger from a plan that uses massive tax increases to fund more wasteful spending. It will only be made weaker.