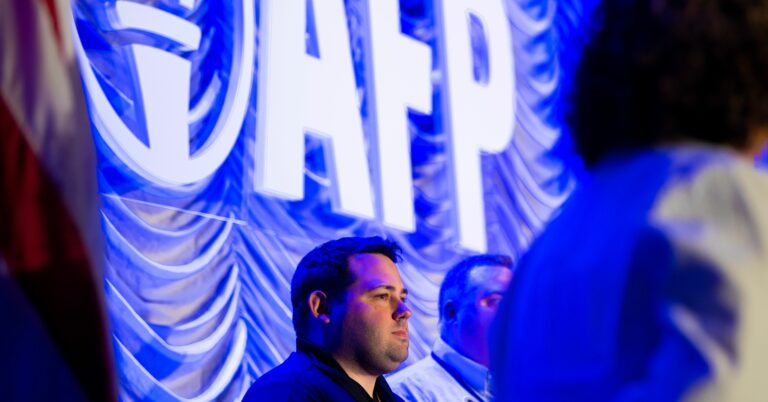 How do you motivate your grassroots volunteers after a hurricane?
AFP-North Carolina Grassroots Engagement Director Cobi Bruner talks about organizing after Hurricane Ian, burnout, resilience, and his journey with AFP in the following Q&A.
In an era characterized by divisive politics and social unrest, Cobi Bruner stands as a beacon of perseverance, dedication, and unity.
As the grassroots engagement director for Americans for Prosperity in North Carolina, Bruner's consistency led to his nomination for the 2023 George Gibbs Outstanding Engagement Director of the Year award, an honor that left him both surprised and deeply humbled.
He reflected on the hard work he put in, saying, "I busted my tail every day last year. It's an honor. This organization has changed my life for the better."
When it comes to getting things done, Bruner is all in. He managed to achieve an impressive 265,000 citizen contacts in North Carolina. He's learned a great deal about connecting with people, too: "The biggest thing I've learned with AFP is reaching across [party lines], bringing people together, unifying people, bringing out the potential in others."
Bruner shared lessons and victories from his engagement efforts, including motivating his volunteers after Hurricane Ian last year, his personal story about school choice, and why he emphasizes the importance of connection, encouragement, and treating each other like family.
What challenges have you faced in fostering engagement, and how did you overcome them?
CB: Motivating my team during a hurricane [Hurricane Ian, 2022]. We didn't have the actual hurricane, but we had a lot of the after-effects come in through the central part of the state.
That was a challenge. That's something that I struggled with myself. Back in August and September, we had been knocking on doors in the hot sun since June. Everybody was burnt out.
What we would do on days of action is, my team would meet in one spot [for breakfast]. We went over the plan of where people would go that day, how long they would be out, and what our door numbers needed to be that day.
One of the guys looked at me and said, "Cobi, I can't do it," "What are you talking about?" I said.
He's like, "I'm burnt out. I was like, "well, take a day," and he's like, "no, I can't." Why not? Because he's from Venezuela, he said, "I must keep fighting… this country cannot become what my country is."
I looked at everybody else at the table and said, "Everybody has a reason to be here, correct?"
Everybody said, "well, yeah, duh. Of course, we do, or we wouldn't be sitting here."
That's what we need to think about. We need to think about exactly why we're all here. Some of us are getting paid. Some of us aren't. Some of us could care less about the money. He doesn't care. He's doing this so this country does not end up like his. We've got to find that motivation, and we've got to push through.
You would have thought I gave them a shot of adrenaline because everyone walked out of that restaurant after breakfast that morning, and they killed it.
We hit a record number of doors on that day of action. We did great and went until almost 8:00 p.m. when the sun went down.
Can you speak about a time when your engagement efforts had a significant impact on your organization/program/project?
CB: So, in North Carolina right now, we've been pushing for these educational savings accounts.  One of my big why's is education, because at five years old, I had an [individualized education plan]. I had a math disability. How an IEP meeting works is you have all your teachers around, the superintendent of the school system, your parents, a psychiatrist, and another doctor.
I came from a single-family household. I had my mom there. They give you all these tests [to see] how well you perform. If you fail, you fail. If you don't, they tell you exactly how life will go. That's what they told me at five years old.
I still remember sitting in this room across from my mom. They told me, "Cobi's not going to be able to achieve anything because he's got a disability in math, and he's never going to be able to figure out things in life. So don't expect too much from him."
I remember my mom rolling her eyes. Does a five-year-old have dignity? Well, I can tell you. Yes, that hurt because I was told I would be a failure.
There was nothing they could do about it. There was nothing that they wanted to do about it. They didn't want to help me. They didn't want to help at all.
I remember my mom coming to me when we were leaving, and she got down [to my level]. She said, "Don't let anybody tell you what you can and can't do. Prove them wrong."
That stuck with me, and it made me think about education because I [came] from a single-parent household. My mom couldn't financially afford to take me to another school that would fit my needs better.
The whole school choice thing, I'm a big advocate for that. The ZIP code structure [is] ridiculous.
Parents should be able to choose wherever their child should go to school, whatever best fits their needs. One thing I do for AFP, as a grassroots engagement director, is go out and recruit people to go to these legislative days.
When we were doing a lobby day for House Bill 823 (Choose Your School, Choose Your Future), I cried in front of many of my activists and volunteers in a meeting, telling people about this bill being introduced in the North Carolina General Assembly.
That helped me connect with a lot of people. [They] didn't know that about me. They didn't know that I was told that I wouldn't achieve anything at five years old and why I thought school choice would be the best option for certain families.
How do you develop your grassroots engagement strategy?
CB: I develop it with more of a family aspect. In the past, when I have done engagement work with other organizations, I took a more robotic approach.
That's one thing that I've changed since engaging with AFP is having the family aspect, making sure that everyone feels appreciated, that they feel as if they can come to me for anything, that at the end of the day, no matter what it is, I will be there for you, no matter if it has to do with AFP or in their personal life.
Treat them like human beings. Love them like family and encourage them to do their absolute best because they can do anything they think is achievable. They showed that last year by hitting 65,000 doors. I'm proud of my people.