Please select your state
so that we can show you the most relevant content.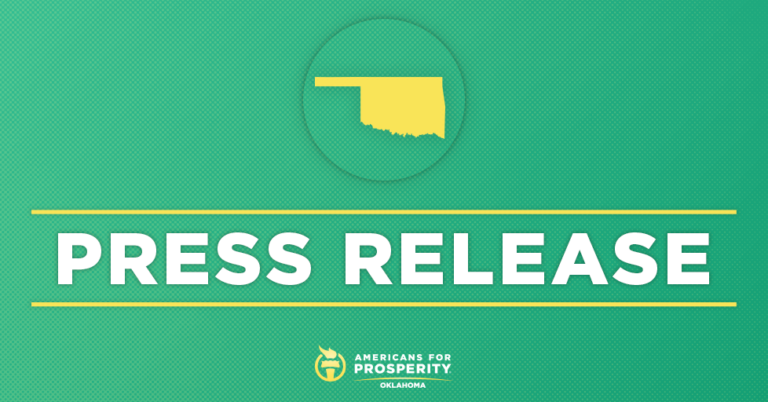 Americans for Prosperity-Oklahoma Launches 2021 Policy Priorities: Prosperity Across the Prairie Agenda
OKLAHOMA CITY, OK—Americans for Prosperity-Oklahoma (AFP-OK) today launched its legislative agenda—outlining important steps the Sooner State can take to promote Prosperity Across the Prairie and improve the lives of all Oklahomans.
The priorities outlined include:
Reducing Red Tape & Increasing Economic Opportunity: Increase transparency between government and Oklahomans.
Educational Freedom for ALL Oklahomans: Reforming our state's open enrollment and open transfer rules, and reforming our antiquated three-year average funding structure.
Increasing Access to Quality, Affordable Health Care: Expanding Scope of Practice for Highly Skilled, Highly Trained Medical Professionals and Expanding Access to tele-health technologies.
Promoting Real Second Chances: Curbing overcriminalization, providing real opportunities for those reentering society, assuring punishment fits the crime, and changing the way our courts use fines and fees.
VIEW PROSPERITY ACROSS THE PRAIRIE HERE TO LEARN MORE.
AFP-OK State Director John Tidwell issued the following statement:
"We are excited to announce our 'Prosperity Across the Prairie' policy agenda for the 2021 legislative session. The messages we heard this week from Governor Stitt's 'State of the State' Address and legislative previews from House and Senate leadership show a clear path forward on several key issues that impact all Oklahomans.
"The pandemic has put so much into perspective for our families and the top legislative issues at hand seek to ease the government's burden on the lives of all Oklahomans. Issues like open enrollment and real-time funding, moving away from a 3-year high and dedicating funds directly to districts rather than several months delays is a huge step forward for our kids.
"Furthermore, opportunities to address the administrative rules process, reforming our occupational licensing system, and even offering broader support for small business like food trucks and home grown businesses are direct ways for the legislature to cut red tape and get state government out of way. These are pivotal ways to grow our economy and create more opportunity for our fellow citizens."
For further information or an interview, reach Nicole Tardif at NTardif@afphq.org or (571) 329-0161. 
© 2023 AMERICANS FOR PROSPERITY. ALL RIGHTS RESERVED. | PRIVACY POLICY