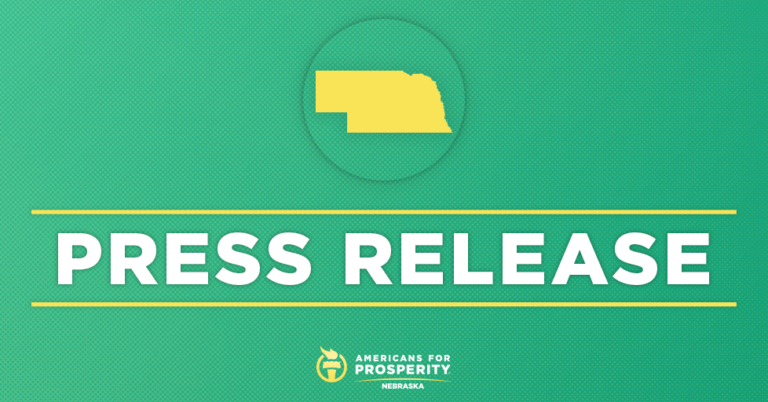 Americans for Prosperity-Nebraska Announces New Wave of State Legislative Endorsements
LINCOLN, Neb. – Americans for Prosperity-Nebraska (AFP-NE) today announced its support for six additional candidates for the Nebraska State Legislature: Russ Barger (LD-26), Brian Hardin (LD-48), Teresa Ibach (LD-44), Loren Lippincott (LD-34), Christian Mirch (LD-06), and former State Sen. Merv Riepe (LD-12).
AFP-NE State Director Jessica Shelburn issued the following statement:
"AFP-NE is thrilled to throw our full support behind Russ Barger, Brian Hardin, Teresa Ibach, Loren Lippincott, Christian Mirch, and Merv Riepe for the State Legislature. From advocating for greater economic prosperity to expanding educational opportunities and increasing access to health care our families can trust, these exceptional candidates are ready and able to step up to the plate and lead in the best interest of Nebraskans. Our activists are looking forward to connecting with folks at the doors in support of these candidates."
Russ Barger (LD-26):
Russ Barger will be a champion for Nebraska families. Barger will fight to improve Nebraska's economy by helping small businesses grow and reduce the tax burden on hard-working families. He also supports expanding educational opportunities for Nebraska children through universal education savings accounts.
Brian Hardin (LD-48):
Brian Hardin knows that government must remove roadblocks to Nebraska's success. That's why he's committed to cutting burdensome red tape and lowering taxes. In office, Hardin will also fight to advance educational opportunities that put students and families first.
Teresa Ibach (LD-44):
As a mother, Teresa Ibach, knows how critical it is to expand educational opportunities in Nebraska to ensure the next generation has the best education possible. In office, Ibach will fight to empower families with choices that meet individual learning needs, work to remove regulatory burdens that are stifling growth in Nebraska's rural communities, and lower taxes so hardworking families can keep more of what they earn.
Loren Lippincott (LD-34):
Loren Lippincott understands the value of hard work and that's why he will fight to allow Nebraskans to keep more of their hard-earned money. Lippincott will fight for Nebraska taxpayers and stand up to big government to lower taxes and rein in irresponsible spending. He  also supports expanding educational opportunities to empower students to reach their full potential throughout their lives.
Christian Mirch (LD-06):
Christian Mirch will be a strong advocate of igniting Nebraska's economy and supports reducing burdensome regulations to make it easier to work and create jobs. Mirch will also support policies to improve educational outcomes in Nebraska, such as adopting education savings accounts.
Merv Riepe (LD-12):
During his last tenure in office, former State Sen. Merv Riepe led on significant legislation to remove barriers to quality health care. In office, Riepe will continue to advocate for policies that increase access to care, such as, certificate of need reform. He will also support reforms that put families in control of their children's education by expanding educational opportunities.
Background: 
AFP-NE is active across several races in the state, utilizing its grassroots for door-to-door canvassing, phone calls, and paid advertising. Earlier this year, the group endorsed Jim Pillen for governor, Mike Hilgers for attorney general, and a number of state legislative candidates: Sen. John Arch (LD-14), Sen. Robert Clements (LD-2), Sen. Ben Hansen (LD-16), Sen. Dave Murman (LD-38), and Rick Holdcroft (LD-36).
Paid for by Americans for Prosperity. 411 S. 13TH ST, Suite 101, Lincoln, NE 68508. Not authorized by any candidate or candidate's committee. americansforprosperity.org.