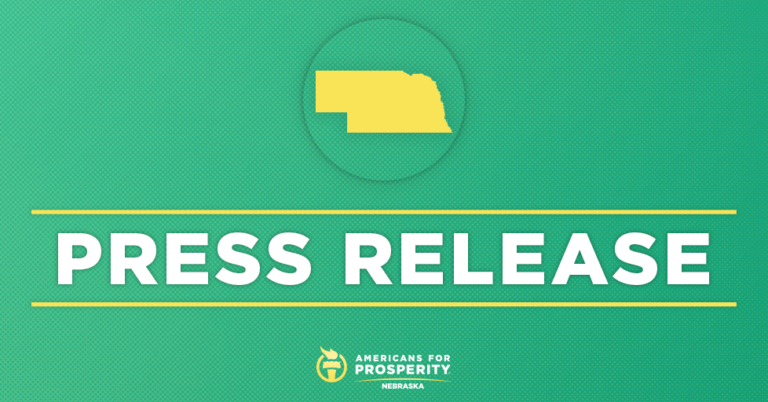 Americans for Prosperity Endorses Policy Champions for Nebraska State Legislature
LINCOLN, Neb. – Americans for Prosperity-Nebraska (AFP-NE) today announced its endorsement of four policy champions for reelection to the Nebraska State Legislature. The following candidates have a proven track record of putting Nebraskans first and supporting common-sense policy reforms to make Nebraska the best state to live, work, and raise a family: Sens. John Arch (LD-14), Robert Clements (LD-2), Ben Hansen (LD-16), and Dave Murman (LD-38).
AFP-NE State Director Jessica Shelburn issued the following statement:
"Each one of these individuals has demonstrated their dedication to Nebraskans, day after day, by putting policy over politics. These principled leaders will continue to help families and businesses thrive by supporting much needed tax reform, economic opportunity, and increased educational freedom across our great state. Our activists are ready to throw their full support behind Sens. John Arch, Robert Clements, Ben Hansen, and Dave Murman to get them reelected to the state legislature."
Sen. John Arch (LD-14):
Sen. John Arch is leading the charge to expand access to quality, affordable health care in Nebraska. As chair of the Health and Human Services Committee, Arch has used his role to help expand telehealth services and other key health care reforms in the state. Arch also supports expanding educational opportunities for every child, regardless of their ZIP code.
Sen. Robert Clements (LD-2):
Sen. Robert Clements is a tried-and-true policy champion whose leadership has helped to advance opportunity in Nebraska. Clements has been a staunch advocate for labor reform and sponsored JANUS legislation to promote worker freedom. He has also been a strong supporter of reining in wasteful government spending and will continue to advance fiscally responsible policies.
Sen. Ben Hansen (LD-16):
Sen. Ben Hansen has championed expanding economic opportunity across Nebraska by supporting policies that prioritize spending and lower the tax burden on hardworking Nebraskans. Hansen is also a strong supporter of greater educational freedom and a sponsor of an "Opportunity Scholarships" bill that took key steps toward larger scale K-12 education reform.
Sen. Dave Murman (LD-38):
Sen. Dave Murman has been a positive voice for reforming the state's labor laws to promote economic growth and help Nebraskan's find meaningful work. Murman has sponsored legislation that would help reduce the impact of unnecessary occupational licensing restrictions, particularly in the health care space. Murman also supports better access to health care through a personalized health care option and voted in support of telehealth expansion.