Please select your state
so that we can show you the most relevant content.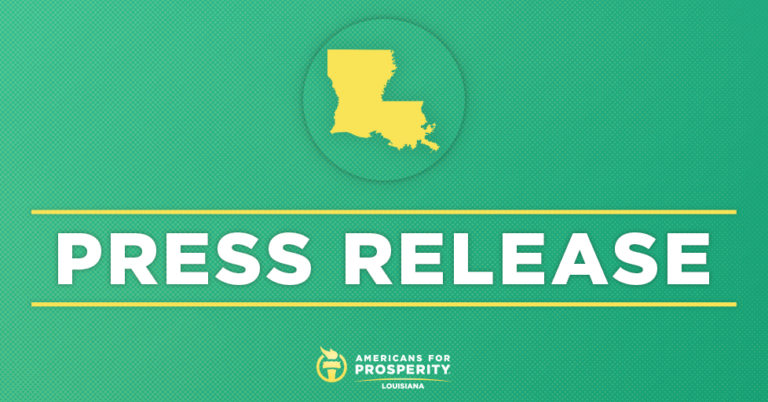 Americans for Prosperity-Louisiana Supports Pelican Action's Campaign Urging Yes Vote on Amendment Four
BATON ROUGE, La. – Americans for Prosperity – Louisiana (AFP-LA) and Pelican Action today announced that AFP-LA will be assisting Pelican Action to encourage Louisianans to vote "yes" on Constitutional Amendment Four on November's ballot. If passed, the ballot measure would amend the state constitution by removing the existing expenditure limit formula and changing the growth factor calculation to limit growth to no more than five percent per year.
The grassroots groups support the measure that will base the spending limits on vital economic indicators, including the state economy's growth, state population growth and regional inflation. The measure also shares the support of the legislature, where overwhelming bipartisan majorities passed the proposal.
AFP-LA State Director Matthew Hurtt issued the following statement:
"Louisiana lawmakers will be empowered to budget and spend more responsibly upon the passage of Constitutional Amendment Four. These changes will make it easier for lawmakers to predict the amount of funds needed in the budget for the upcoming year. This planning will allow for them to spend based on the economy and stop tax increases. Legislators across the aisle have demonstrated that they are ready to refocus on the state's financial health through their support for the ballot measure. It's now up to voters to allow for them to do so by voting yes on Amendment Four."
Pelican Action Director John Kay issued the following statement:
"In the wake of Hurricane Laura and the COVID-19 pandemic, it could not be more critical for us to make budgeting in Louisiana more predictable. This more reliable and accountable approach to budgeting will allow Louisiana lawmakers to focus on the right things, such as better prioritizing hard-earned tax dollars where they are truly needed. As we add predictability to our budget process, we will also encourage job growth that provides a better life and strengthens Louisiana working families. This is something we need now, more than ever before, and we encourage Louisianans to safeguard our future by voting yes on Amendment Four."
© 2023 AMERICANS FOR PROSPERITY. ALL RIGHTS RESERVED. | PRIVACY POLICY